Here is a very incomplete list of some of the trips the Eldon have been up to recently.
Members, login to write a new trip report....
Details

Written by

Jon Pemberton

Hits: 94
The day technically started the night before as we celebrated my birthday in fashion playing chess, drinking beer and being obnoxious! The company was grand but people soon started peeling off and we tucked into bed around 2:00 a.m. I was the first one up feeling a tad rough, I went downstairs to drink a gallon of water before breakfast which eventually sorted me out. After humming and aaring for seemed a good few hours, we eventually decided to descend Aygill Cavers which is located just a 10-minute walk from Bull Pot Farm.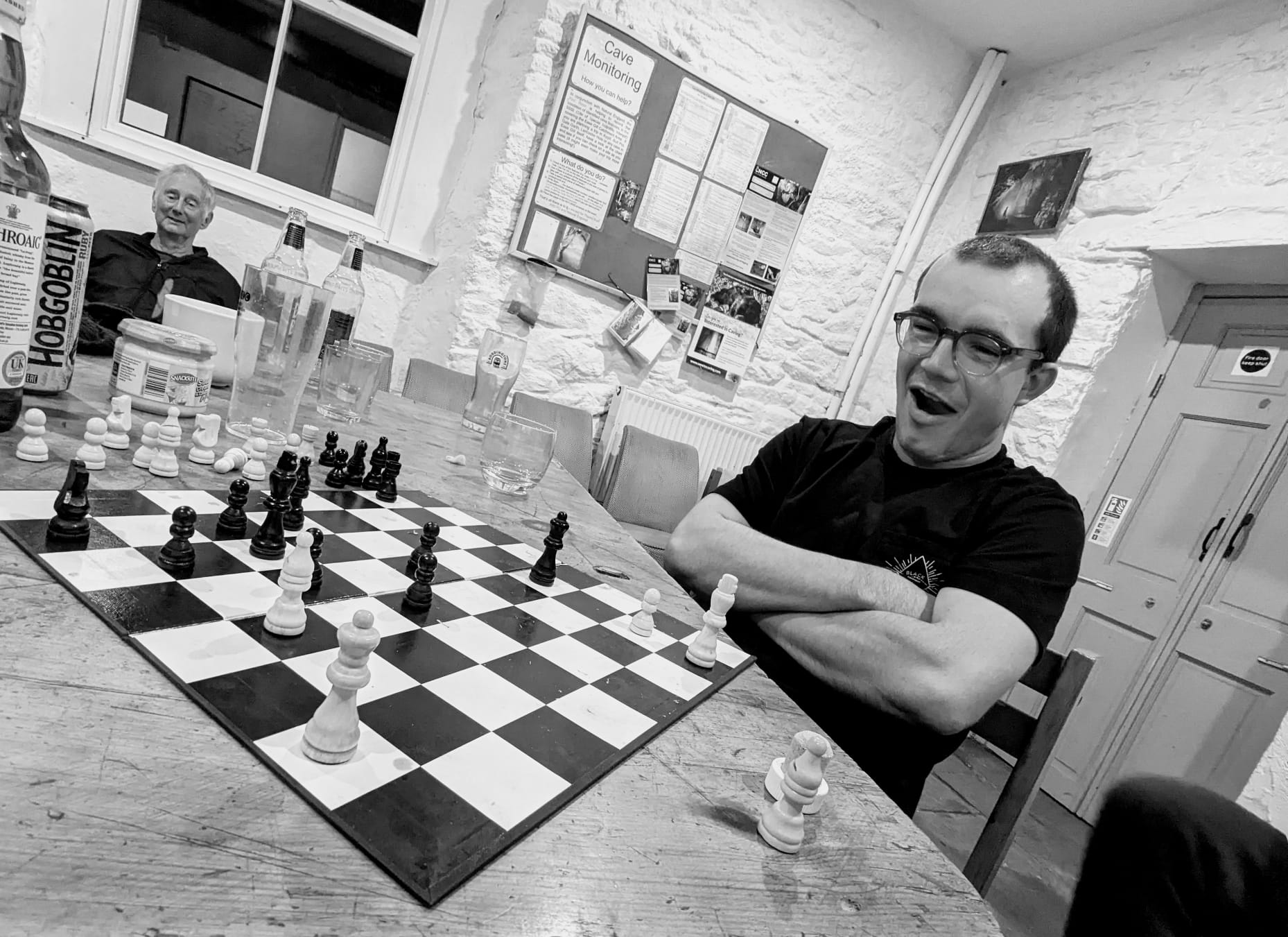 Joe losing at chess, by JonP
We kitted up and left the farm at 11:00 a.m. armed with a vague description on how to find the entrance, we only managed to get lost once. Joe and I descended first remembering to climb a chimney to the left at the foot of the entrance climb… Luke, Rob and Victoria followed. (Team Fivesome!) The entrance series is small and scratty and reminded me a lot of Derbyshire. The first pitch came quite soon and we hastily rigged it with the longer rope intended for the second pitch, but rather than de-rig we decided we could work with what we had. At the base of the first pitch I climb through some rather nice ginging led to a tight rift which Hal would have hated! Luckily he was still tucked up in bed. This soon led to a steep descent leading to the second larger pitch. Here I only managed to find one P-bolt and after a confirmation from Joe of none further back, I rigged the pitch head via this bolt and a natural thread creating quite a convenient Y-hang albeit getting to the rope was slightly unnerving over the large drop below.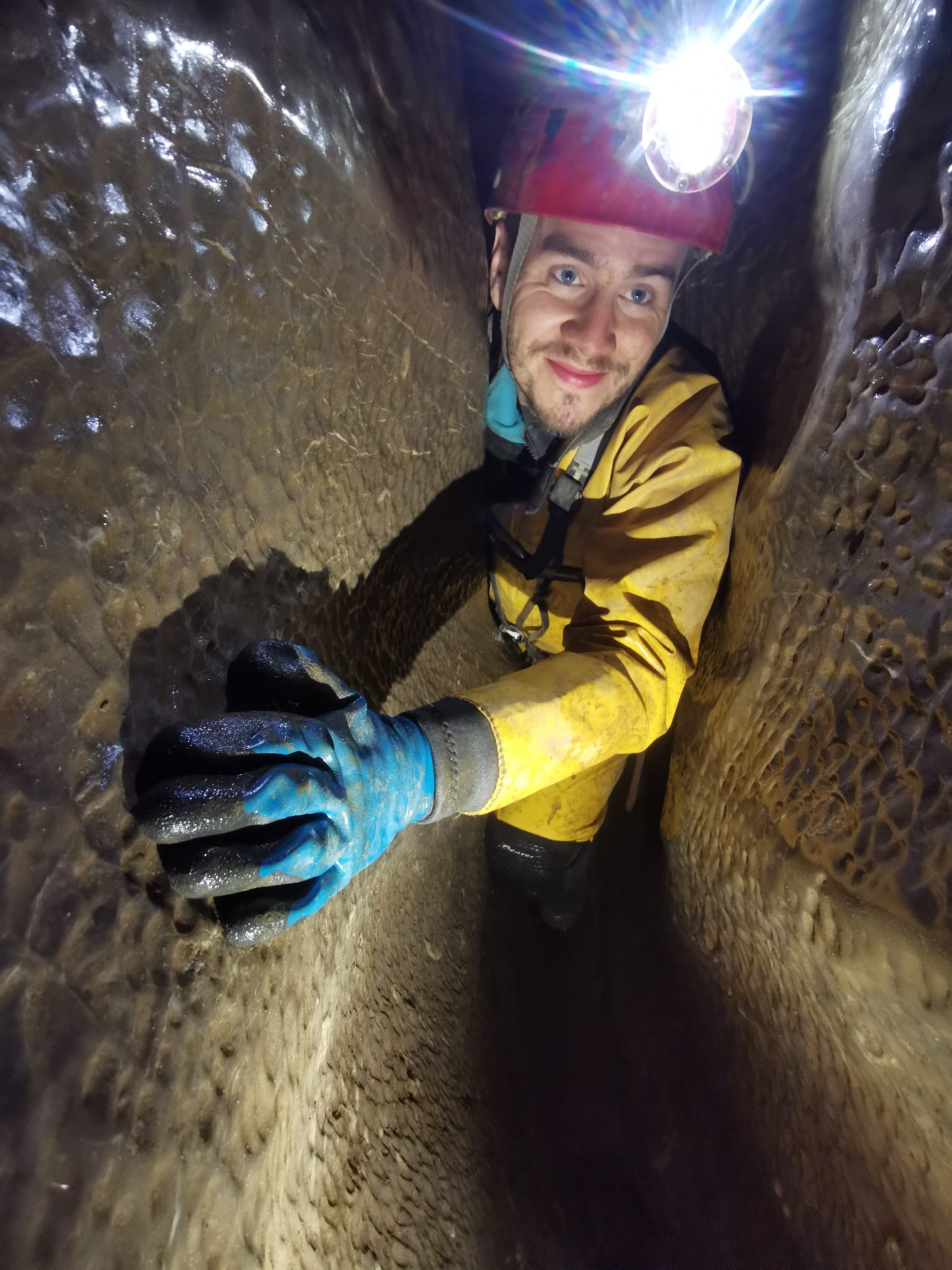 Luke enjoying the tight meanders, by RobE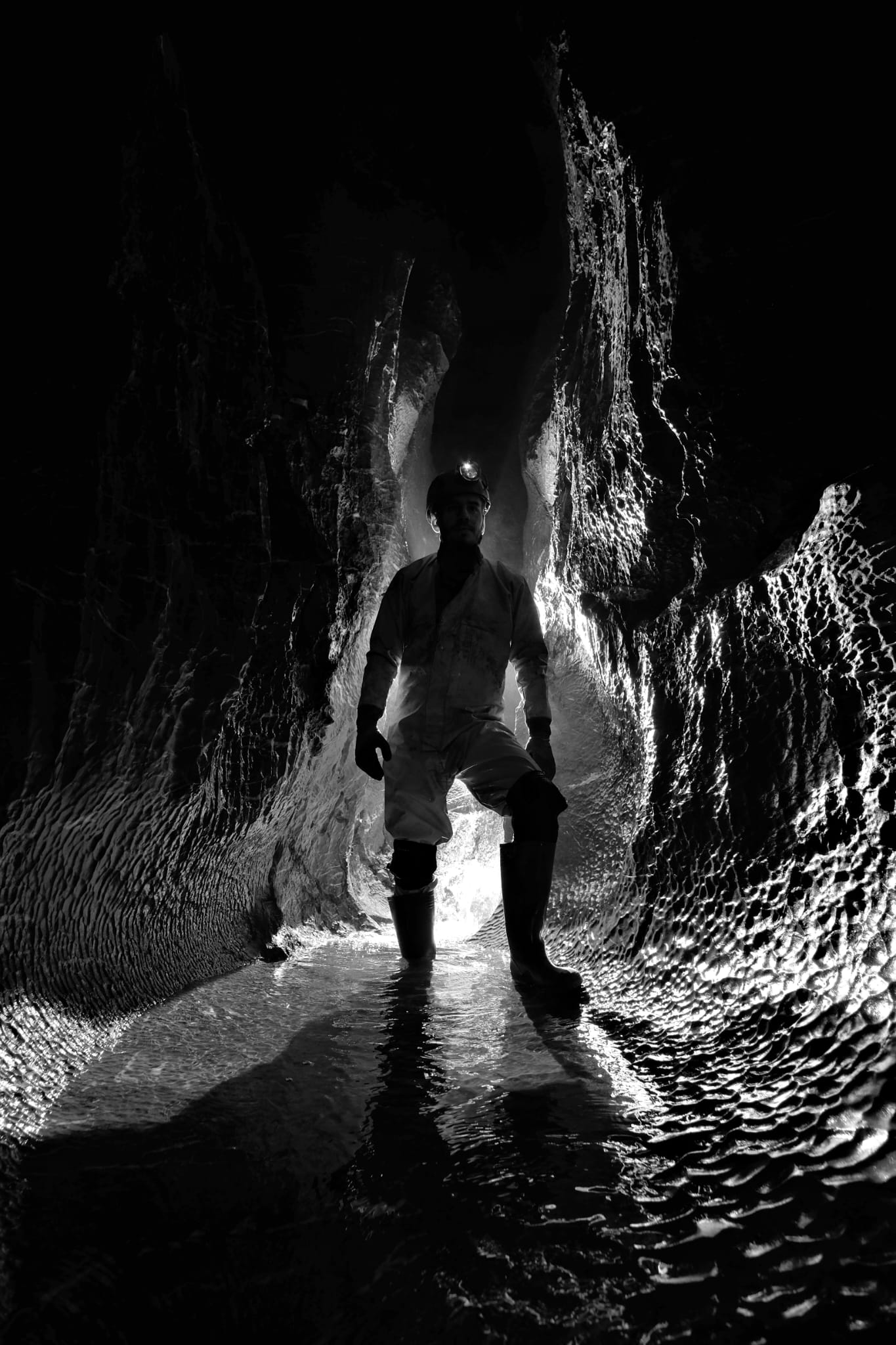 Luke in the awesome stream, by JonP
The cave was beginning to feel a lot more like the Dale's now. Clean washed with a big streamway running along the bottom adorned with lovely scalloping all over the walls! I quickly dropped the pitch and waited for the rest of the party. It was here where I should have left my camera but instead managed to take it on a full tour of the cave without leaving its bag. Once everyone was down we headed a little upstream until the vadose passage began to peter out in crawls. We then headed downstream following the description and found ourselves overlooking a large cascade further downstream via an extremely exposed step into a passage which in reverse was terrifying for me at least. After negotiating the oxbows the cave transforms massively and follows a few muddy crawls passing under boulder chokes and up a climb eventually reaching a large chamber called New Year Cavern. On the opposite side, a continuation of the crawl soon leads to a large stomping passage which is dead straight and massive compared to the rest of the cave. This continues some way until you reach a large boulder choke at the end with an aven in the roof and a dig following the left wall through the choke. A small series heads off under the choke in the stream but not wanting to cause a call out we headed back at this point and I managed to snap a few photos at the base of the second pitch.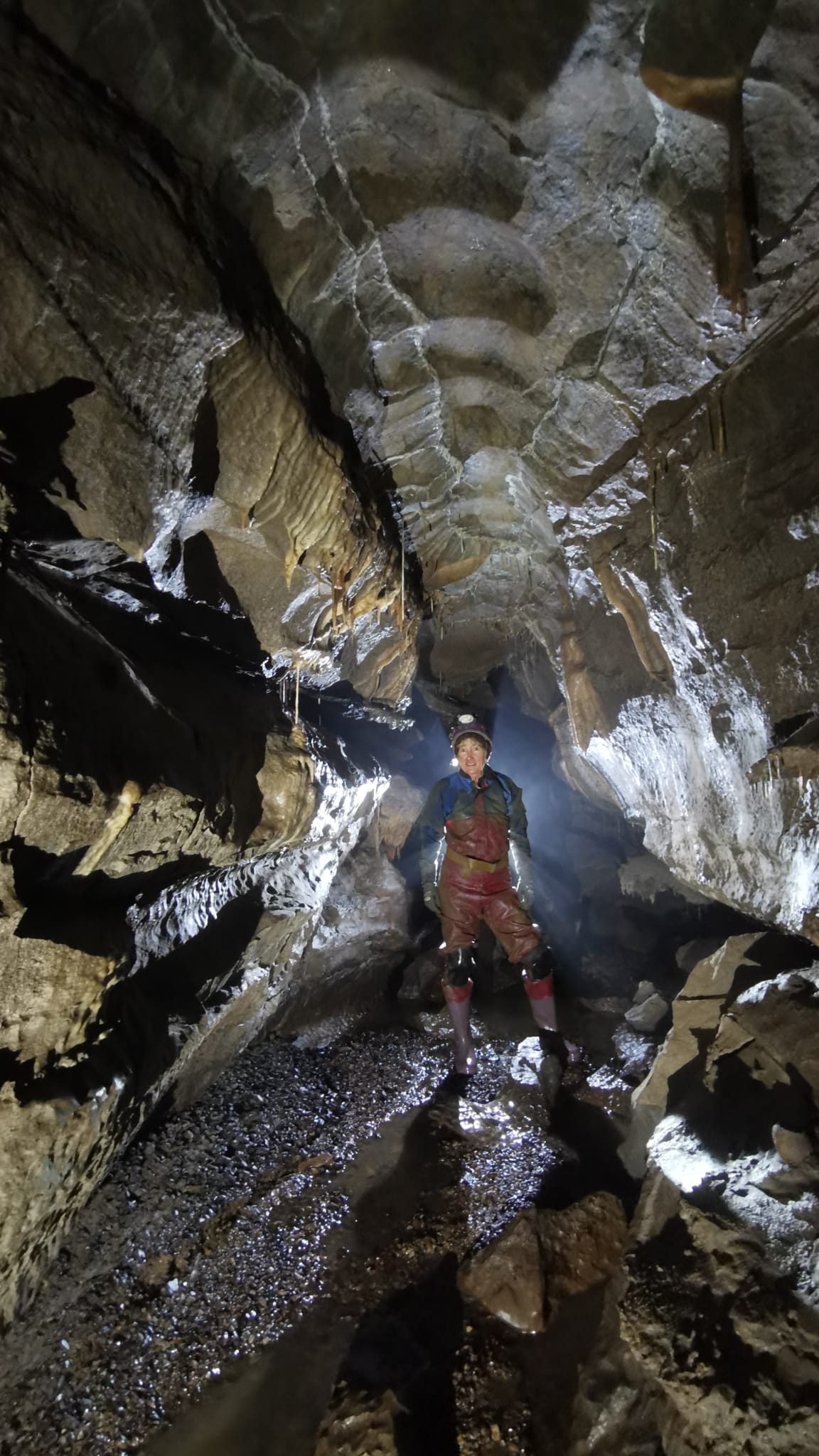 Victoria in the fabulous New Year Passage, by RobE
We reached surface after 3 hours underground and was greeted back at the farm with some lovely sandwiches already made. After scoffing our faces and cleaning up we left for the drive back down south. A great easy Sunday trip and would thoroughly recommend.
Details

Written by

Jim Thompson

Hits: 184
Team: Jon P, Jim T
A couple of weeks ago we'd had a nice early scrat in Waterfall Hole as an extra-bonus Saturday trip. Jon had some ideas about possibilities in light of the reality of SMMC so we were keen to get a new look in the right direction. We'd left that day with a 'new pitch' but no kit, so I'd come tooled up tonight with plenty of rope, rigging, drill, capping kit and high hopes. We were just going to drop the pitch and walk into a new bit of the streamway…
No time for prebeers but we may as well have had them as it'd been a long week and I'd turned the faffometer up to 11. Eventually I managed to dress myself and Jon headed to the hole – with the parting words – 'just wear your SRT kit now, you did last time'… I wasn't so sure as I'd had to dig my way into the entrance crawl on that occasion, but optimistically did so anyway.
Into the crawl, I was jammed after a couple of mm. Croll in the ground, harness on the roof. Forward, reverse, sideways, movement just wasn't on the agenda. After what felt like an hour, I managed to free myself, dekit and cursed the cave for having such a crappy entrance. At least let me get warmed up first. Once that trauma was out of the way I observed the last familiar looking thing I would for the evening bar the first pitch – a buried shopping bag – and got myself down the rope ready for a nice clean excursion round the familiar parts of the cave I'd enjoyed on the last jaunt.
But nothing is. Everything here looks different, yet the same, and nothing like it did last time. It's a confusing place. We're taking the previous exit route in reverse so I'm glad Jon has an idea of where we are. The first squeeze, that was a pig before, I pass with ease. We pass through the utter filth of Chandra's series so I'm relatively certain we're in the same cave at least. So soon, we're at the squeeze before the pitch – one I'd been unable to get through before, but it looks fine, and I argue with him that it can't possibly be the same place. He's already through it though and assures me he's at the pitch head.
So I pass the kit through, get my legs in and slide through with ease. I'm still not sure we're in the same place. Jon has the pitch rigged like a pro in no time and is at the bottom poking about. There are no victorious calls, nor any mention of a huge wide open stream passage. I head down and it takes me longer to load my Stop than the descent lasts. Jon's assessment is that we're actually in the roof of EPS aven.
So much for optimism but it's good to have had a look and put it to bed. It's getting really cold we derig and head out but vow to return for some more poking as there's loads more to look at.
It's a gorgeous warm evening on the surface. Caked in muck, but there's no waterfall to wash off in but at least the beer is cold as I'd included an ice pack in the kit prep. Onwards!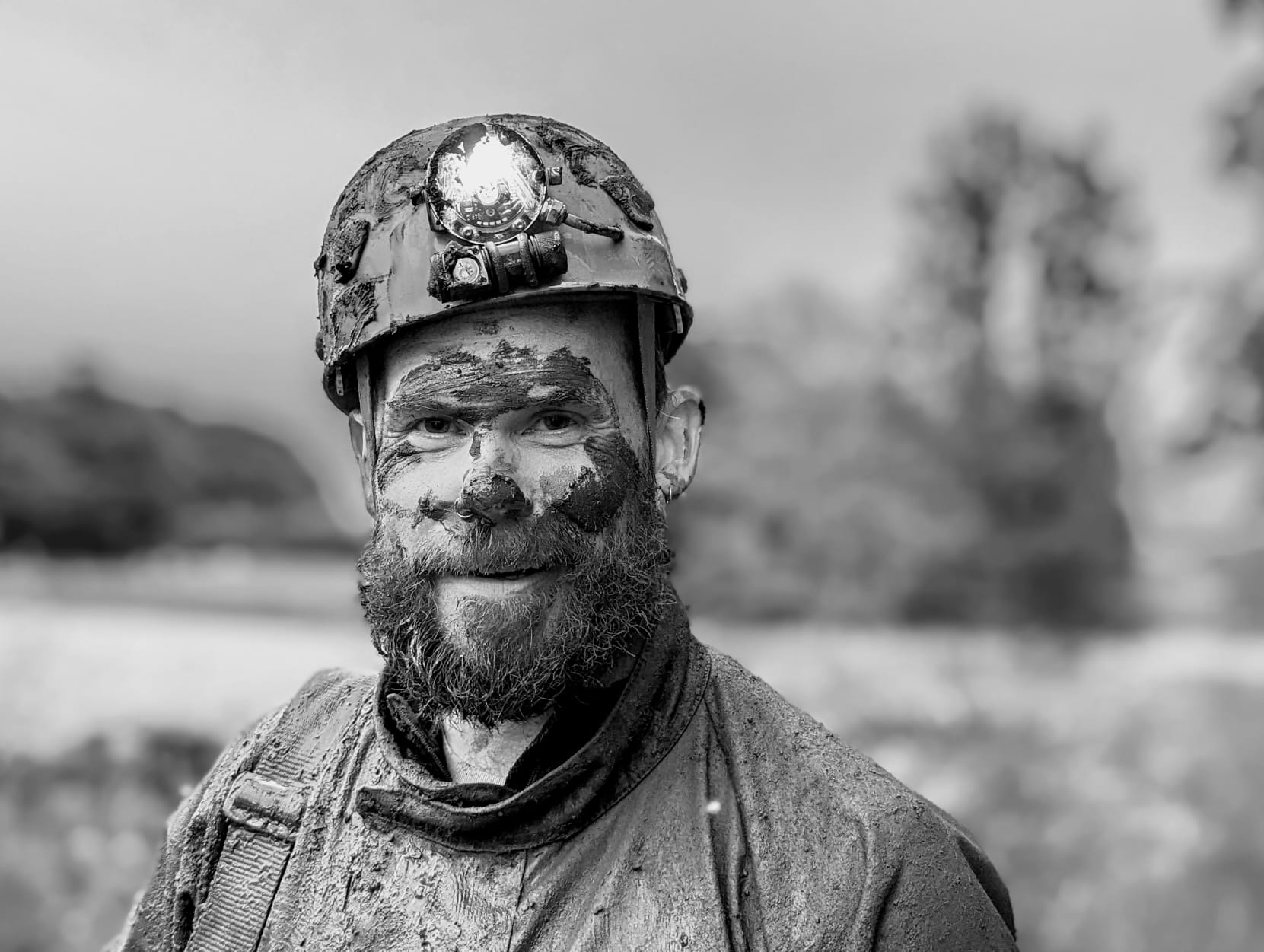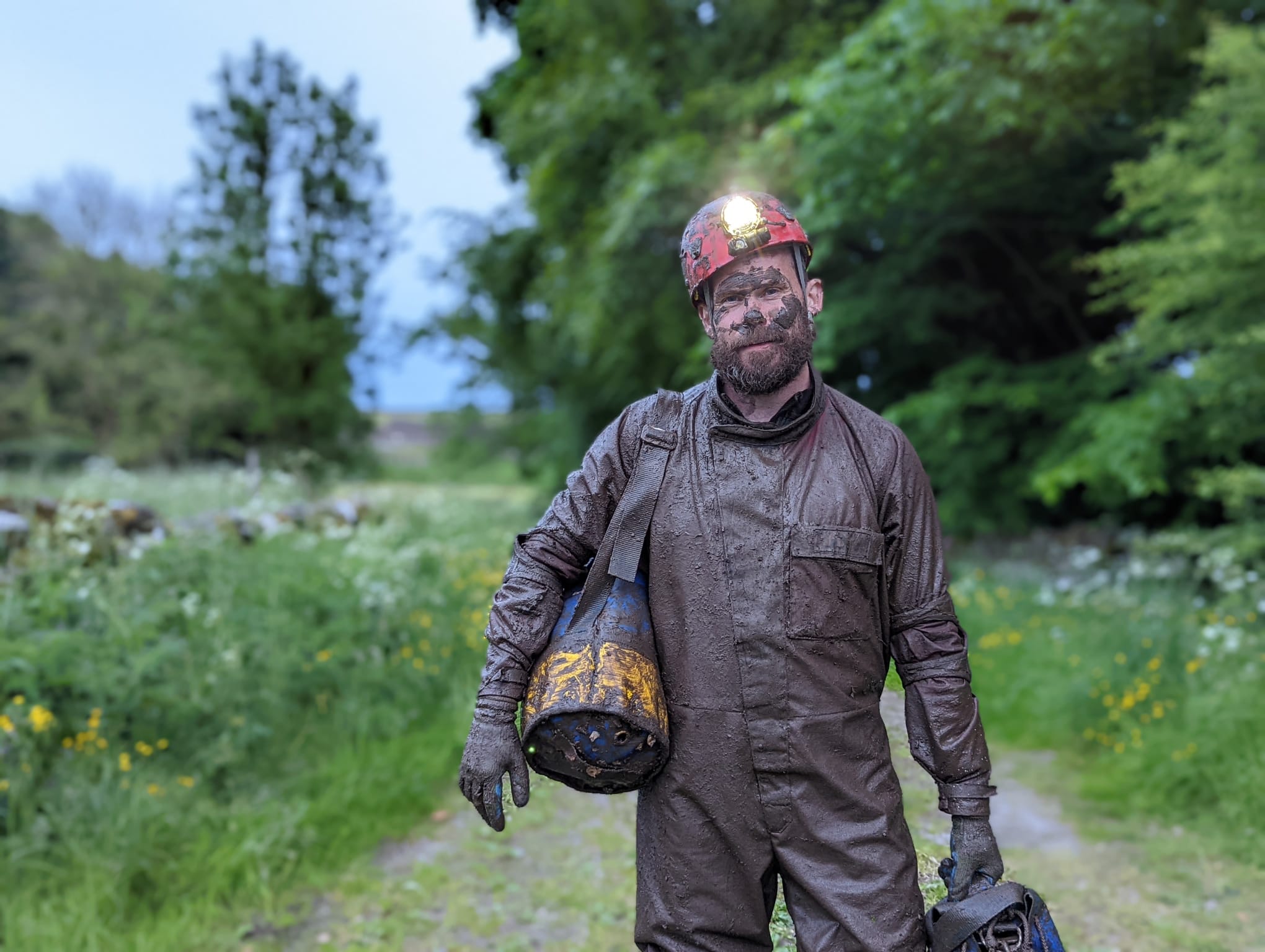 Details

Written by

Jim Thompson

Hits: 112
Team: Jon P, Sam P, Ben S, Jim T
I'd been keeping my wetsuit fresh for this one. As Captain Rob was away and we'd been talking about it for a while, the target was a through-trip – down Cliffstile, up the sough into Glebe and via Doom for a Cussey exit.
Meeting up on a glorious evening, I arrived in plenty of time to observe the trough-newts in Eyam until it was confirmed I was in fact in the wrong place. Error rectified, and keen to crack on, I soon regretted getting into my wetsuit so early as I itched and sweated in the sun.
After a very pleasant walk through the village, past the odd bemused smirk, we were lifting the heavy lid on Cliffstile. What a shaft! Plumb vertical, 80m straight down and nicely ginged.
Ben headed down first whilst ever supportive, Jon asked me if I still knew how to pass a rebelay….
It was amazing to look down the shaft once Sam had headed down and see his and Ben's lights way down at the bottom, clear and bright in spite of the distance. I got on the rope, unlocked my Stop and enjoyed the ginging as it rolled past and soon reached the first rebelay, where the craftsmanship transitioned to mining and the shaft became solid limestone. Soon enough I was clipping my super short cowstail into the second anchors. Stop off, reinstalled and then…. Everything I tried just made me pivot on the cowstail. I might as well have clipped my D straight onto the hanger. It seemed I hadn't forgotten how to pass a rebelay, but nevertheless we were in for a bit of faff. Jammers on, climbing the rope above, the short cowstail was definitely too short for this one. Jon appeared above me and after a minute of kicking and pushing me in the back, I was released and got down to rejoin Sam and Ben through the small hole access to the sough.
The cold water of the sough was welcome after that, and we started upstream, stooping at first and with some resistance from the water, such was the level of flow even in summer. Stooping deepened to wading, semi floating in a seemingly endless perfect arch of perfectly cut thin gritstone blocks atop the underlying limestone. Seriously impressive engineering.
Eventually we reached a sharp turn in the sough, to be greeted by an old ladder heading a fair distance above. A bold step off it halfway  up it onto a ledge took us into Glebe, and had a look about the various levels and rooms in there. All quite urbex-y being relatively modern, with rails and metalwork, hose, cables and concrete steps.
Knowing nothing of the place, I followed along and at some point we headed into middle-level Doom. This was more like it. Lots of natural and Jon pointed out a number of leads waiting to be pushed or continued. Signs of t'owd man were everywhere, including a complete clay pipe looking like it'd been left there yesterday. All over the walls were small pockets of clay with fingerprints in them and some impressive dry stone walling protecting the walkway from a deep hole on the edge.
Keen to press on we climbed up a wall, handily equipped with rebar staples, and entered the – to me notorious - Loperamide Lust, a key feature of Cussey Pot for so long and yet this was to be my maiden grovel. Unlike the various videos and stories I'd heard, it was not the soaking wet slop-fest I expected. The mud had dried out to an almost plasticene consistency and I found myself wishing it was a bit wetter. Nevertheless, with hands out in front and toes doing most of the pushing I made decent progress and eventually found myself at a fairly significant change in angle. This up-slope was an absolute bastard. Already feeling it by this point, I struggled to make any upward progress. I felt hands at my feet – Ben to the rescue – and apologised in advance as I started to kick and push, and in no time I was turning onto my back looking up into the relative vastness of Inglorious Bastard… I knew where I was now and was ready for the familiar climb out of Cussey. As my last trip down and back out from here had felt easy, I looked forward to the technicalities of the Shattered Dreams squeeze and Coconut Airways, and set off up the rope…. Listening to the others chatting at the bottom, I was a bit too keen to hang on the rope at the top and join in the conversation….but resting doesn't equal moving so off I went again to get off the pitch and make my way over the hole to the next rope. By now nothing felt easy, so I reminded myself to take it steady… something I'd heard about most accidents happening after a long drive occur a mile away from home, now wouldn't be a good time to do something daft. The shattered dreams pitch felt awkward and horrible, but I was nearly there. A couple of months ago, the sight of the vertical squeeze up would have been met with anything but relief but here I was, I knew how to do it just right and just slid up and through it, and like every other time, it felt amazing. On to Coconut, my new route up it making it feel like a normal climb rather than the living end that my first journey up had been, albeit one where the pull on the stemple took a concerted effort to engage with.
All that remained was to make the entrance pitch feel and operate like I really had never done SRT before, and I hauled myself out into the balmy Eyam dusk. The walk through the village really did feel like a trek so I was very grateful to Sam as he'd already got changed, closed the Cliffstile lid and retrieved my spanner.
Back at the vans, it felt amazing to be chatting and laughing with such a fantastic bunch, and as I have done a lot recently, I felt elated at the trip we'd just had and moreso at the team I had to do it with. Particularly as at this point I discovered that I literally couldn't get my wetsuit off so one of them had to draw the short straw and peel me out of it.
Ben treated us all to cake and the beer went down as the dusk turned to darkness.