Here is a very incomplete list of some of the trips the Eldon have been up to recently.
Members, login to write a new trip report....
Details

Written by

Jon Pemberton

Hits: 1290
Keith Mason, Lee Langdon, Colum Walsh, Gary Bertola, Sarah Traveller & I
I tagged on a last minture trip for a jaunt down JH with the above mentioned characters. Was fairly pleasant for a change as I just had to top up with no ropes or rigging equipment and just cave. After a brief navigation error on the Cartgate I met Keith and Lee in the Miner's Workshop and headed down whilst Lee rigged Leviathan - This place still impresses me now! At the bottom of Leviathan we decided to split in to smaller groups and to exit the cave slightly quicker I joined Keith and Lee as thy ploughed on towards the Speedwell streamway. Here I have to make the point that Keith and Lee were both wearing Neo-fleeces which I thought was ever so slightly a bit muchos - but hey, they are YSS afterall!
An enjoyable soaking through the bung and a rancid crawl through Colostomy and we we soon talking rubbish and making our way through Five Arches. The temp outside was pretty cold and I was extremely glad to be putting warm kit on back in the TSG. One lad had left his dry gear up at Rowter with a thanks to their mates instructions.
Underground just under 2 hours and the other party were a smidge longer...
Thanks Keith and the YSS for me tagging on to their trip.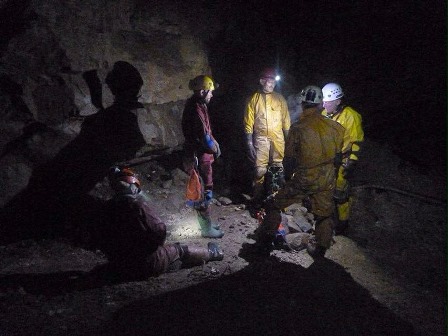 Details

Written by

RobEavis

Hits: 3145
Rob Eavis, Luke Cafferty
After hearing nasty stories of the "cave for real men", we decided to go check out Mountbatten Pot and see if we were up to the challenge. A further excuse was to get it on the 3D survex file, as the close locality of the bottom to Nettle's Far Flats bedding plane makes it an exciting prospect.
With little information to go off we went armed with 60m of rope and plenty of rigging gear including drill and stainless bolts. Luke led the descent, making quick work of rigging off the insitu 8mm through-bolts (take 4 hangers to reach the bottom), and by some good wiggling and meandering of his way down through the tightest sections, it was quickly a "rope free" and I went to join him.
It's actually a surprisingly friendly little pot, with even a few quite spacious sections. The tightest bit is roughly ½ way down, and is certainly quite a committing move. If something jammed or snagged you could easily end up in difficulty. Luckily I simply slide through and before long we were both snuggly at the bottom inspecting the digging operations that had happened in the past. It's not an easy place to work, as the dig face (floor) is quite cramped. No open gaps in the rocks means no chance for a draught, so not too much to encourage you.
We started surveying out. I was grateful for having my Pantin foot jammer as it made ascending the tightest bits almost easy, although Luke managed extremely well without one.
Back on the surface after just over an hour, it felt almost like we'd been cheated. An easy and enjoyable trip for a change, leaving plenty of pub time to discuss the next "proper" trip…
----------------------
The survey concludes the current depth is 44m. This puts it 11m above the Far Flats, although with the bedding dipping to the East it could be more like 7-8m. Certainly a big undertaking, but with very high prospects...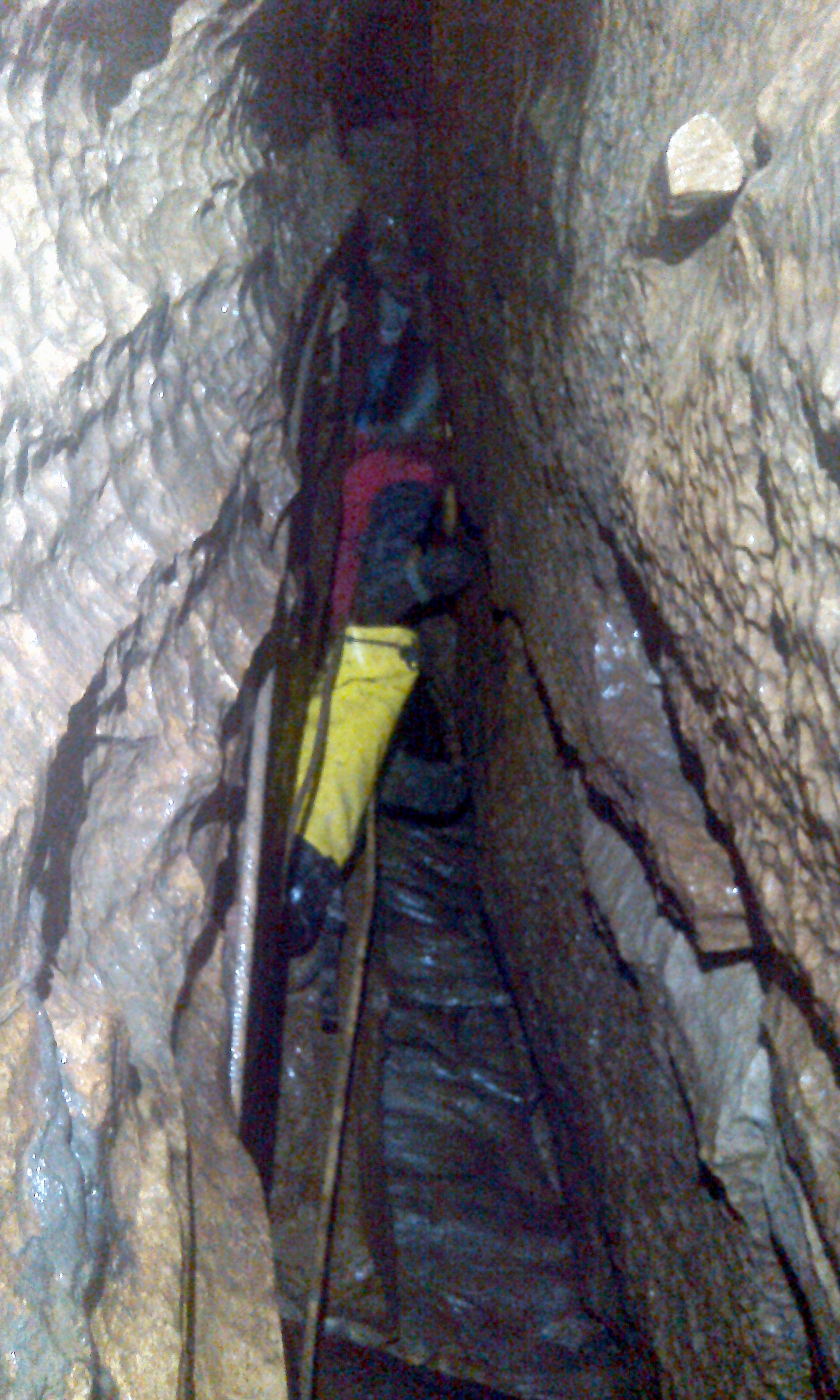 Details

Written by

Jon Pemberton

Hits: 1533
Andy Chapman, Red Rose CC. & I
My day began at 06:15 with a pleasant wake up from the alarm. The drive up to Ingleton from Sheffield was rather pleasant and I was even early meeting the others at Inglesport at 09:30. Once I had gulped down an extortionately priced large mug of tea we headed over to Cold Cotes and parked at the bottom of the vague footpath up Ingleborough. The Weather had taken a turn for the worse as was expected (the reason for choosing this pot in the first place). It's listed in the NFTFH guide book as, "it's also relatively dry and might be of interest when other systems are too wet to enter". The walk up say approx. 25mins but this doesn't take into consideration clag and general roaming on the lower fells of Ingleborough. Once said hole was located we were all ready to get underground, the survival shelter even made an appearance so that people on the surface were protected from the elements – a large party of eight we were
The entrance is a small 6m fluted pitch which can be free climbed, maybe the use of a short bit of tat to get oneself through the entrance boulders would be a good shout. At the bottom a small hole leads to a rift and a parallel rift which eventually climbs down to "The Ripper" squeeze. A chocked stone enables you to squeeze through at roof level, Chapman and another RR struggled with this squeeze but made it through eventually with sheer determination, that and not wanting to head above ground I expect! Through here leads to That's Better pitch (15m) followed by a climb down to FTSE choke opening up to FTSE choke pitch (5m) An awkward squeeze (The Gripper) through boulders and a short drop down leads to a scaff bar rebelay, prob best rigged from here and a tight back up line to clip into from above… Although this pitch again could possibly be free-climbed by a confident person, it didn't look that bad…
At the bottom water could be heard thundering away. I overheard a, "bugger it, I'm going for it!" Then a thundering of water on someone's PVC caving suit. By this point I was already feeling cold and defiantly not full gas! Champan shouted to me to follow the water down a tight meandering passage where Sandy instructed me where to put my feet, this is where Chapman turned around (one too many pies over Winter perhaps?) Once through and out of the water we were at the top of Roll pitch (12m). This lands you in a rift and to a short blasted crawl (The Rizla) followed by a thrutchy 2m climb down to a further climb or traverse over Millennium Pot (4m). At the bottom you follow the rift (whilst not dropping the final tackle sack!) to the final squeeze (The Ripper) which I struggled with the most out of the three. You drop down a tight rift to where a passage heads off  roughly 2m from the floor and forces your legs the wrong way. Through here a short climb down Hammerhead Pot leads to another blasted crawl which ends abruptly at Electron Pitch (16m) followed by Megatron Pitch (38m). Here is where we turned around as the water at the rebelay was hammering down right above the changeover point which could easily become tasty with a sudden rise in water.
The trip out was uneventful, mainly mugging off Champman for not getting through the easier Gripper squeeze and general nonsense of how cold it was going to be on surface, which it was! All in all a short trip which needs a return trip to bottom. Any takers?