Here is a very incomplete list of some of the trips the Eldon have been up to recently.
Members, login to write a new trip report....
Details

Written by

Jon Pemberton

Hits: 1749
Tommy Moore of SUSS emailed me asking if I'd be up for giving him a guided tour of Picnic Passage which marks the current end of The Dynamite Series of Carlswark Cavern. Having not been there since 2010 I stupidly agreed and headed down for a midweek evening trip.
We made our way down Flower Pot and Tommy didn't struggle with the Codeine Connection so once at Final Aven we took off our helmets and donned hoods and head-torch to make life a little easier. The crawl is flat out for most of it's 60-80m length with only the odd cross rift which you can turnaround and pass. One section just before where the passage is at its largest is three quarters full of water which makes the whole trip thoroughly enjoyable. Tommy and I both had a look at the very end which was a couple more body lengths longer than I remembered only to agree it would be a lot of effort to dig there and gathering diggers could be problematic. The end is heavily calcited up.
We headed out via Porth Crawl just to give the shoulders a work out. I now remember why we don't return to this passage that often... Although Tommy did seem keen to survey the place.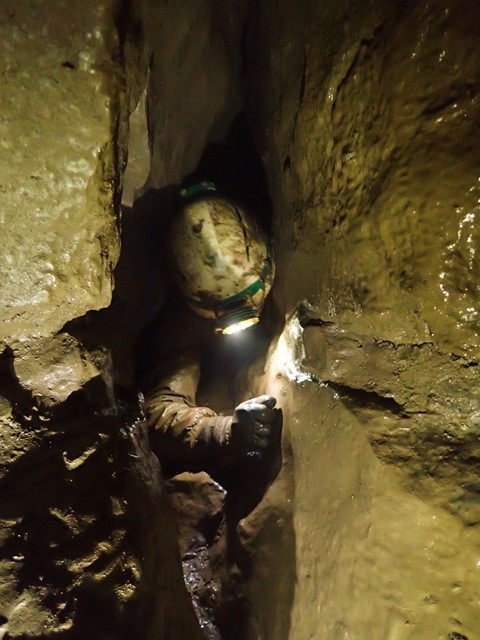 Tommy enjoying Porth Crawl
Details

Written by

Jon Pemberton

Hits: 2037
Miriam, Emily & Jon
After misplacing My Bagshawe gate keys a trip up to England's Green & Pleasant was out of the question for this recruiting trip so we headed in Bagshawe on a whim intending to have a butchers at the Top Streamway and then have a further look in the Lower Streamway. When reaching the junction in the Top Streamway I told Miriam and Emily about the canal leading to Paternity's Fault. We pushed on further to inspect the water levels in the canal and went for it. 
I'll let the pictures do the talking...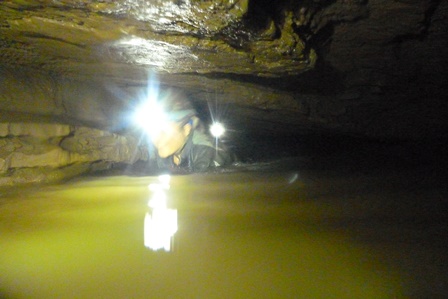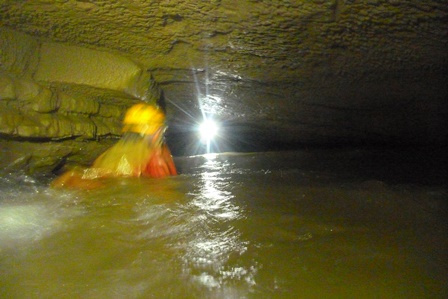 This being Emily's first caving trip I thought she did very well and took it all on the chin. We had a quick glance up the ropes and retreated to the bowling green abso freezing!
Details

Written by

Jon Pemberton

Hits: 1955
Trying my best to recruit new club members I took it upon myself to lead a novice trip down Carlswark accompanied by Mim. We laddered Eyam Dale Shaft & after a brief chat with Simon Gant and his Mate who were also embarking on an enjoyable trip down this cave we descended into darkness!
We headed to the junction where Big Dig goes off admiring the Cockle Passage en route. A quick detour to have a look at the first squeeze in the Dynamite series which had Young Alex (novice) questioning his size and whether he'd fit through? I did kindly mention, "that fat pushes to the side lad!" The squeeze also put off the other two cavers in the system, whether because of the water level in said squeeze or the squeeze itself im unsure. It's the squeezes beyond that are the ones to be afraid of...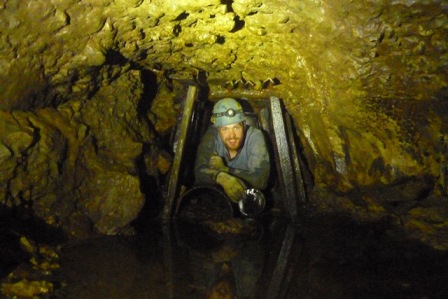 We then headed down through Aladin's Cavel to Rift Sump where the nice clean trip had turned squality! Did the small circular round trip with the grovel under the roof fall in water and headed back out through the Gin entrance. Safe to say Alex rather enjoyed it and wants to go again but he was pretty stumped on how physically demanding caving is on the body.