Team Twosome as it were with Luke bailing on us we decided to check out a lead which on paper sounded enticing. A possible continuation of a tube in the far end of Sidetrack Cave beyond the Flat Out Walk where we believe only a few people have proably been since discovery back in Sept 2002!
Rob and I wasted zero time (except for 20mins trying and succeeding in putting too small wellies on) dropping the quarry bench and quickly de-kitting to face the crawl that is The Escape Route. This seemed to pass fairly quickly to my surprise. Much quicker than when Luke and I had ventured down a few weeks ago maybe due to Luke's constant moaning... We reached the Litton Stroll and had a quick check around th area already knowing a possible connection with the passage beyond the Flat Out Walk. We noted a couple of places and progressed LEFT at the junction and ducked down LEFT again and crawled through the duck which was AWESOME! A passage on the right seems to take a good draught inwards and we continued forward to reach the Y - junction. From here we took the RIGHT branch which continues through some blockages at the base of small avens to eventually reach a small chamber with boulders everywhere from when the original explorers broke through.
Moose had described the next section well... A rift passage snakes off from here which requires a bendy back and would be perfect ig you were shaped like a Loch Ness Monster... (I dismissed this at first but it is actually a pretty bomber description) Once this passage has been negotiated it reaches the base of a 12m aven. The tube continues at floor level bit is heavily silted up. Rob climbed the aven and discover 6m of passage heading off at the top but no ways on. The draught seems to head up the aven. We returned back to the Y - junction and headed LEFT to where the passage silted up. Rob waited here whilst I headed back to the Litton Stroll - Escape Route junction to test for a vocal connection which was very clear band opposited the junction in a little hole dug out behind a large boulder in scree.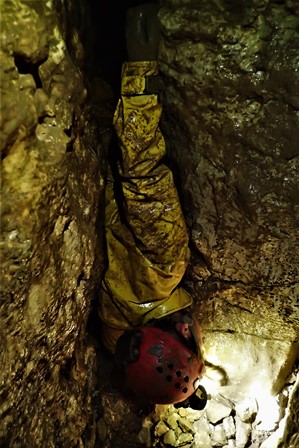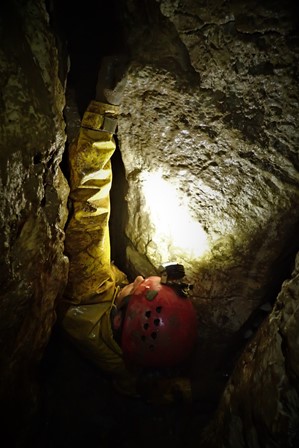 Once Rob had passed back through the duck we wasted little time in retreating to surface which was bloody freezing! We met our fellow Awesome team member at the Anchor for refreshments afterward.