Here is a very incomplete list of some of the trips the Eldon have been up to recently.
Members, login to write a new trip report....
Details

Written by

Jon Pemberton

Hits: 1207
Luke Cafferty and I had a quick blast in Bagshawe pre-meet to check out Pool chamber sump (and if it was down). We had a back up plan of heading up Paternity's but luckily for us we didn't have to get wet as the sump was down. We headed up Englands Green & Pleasant Land enjoying a stable calcited boulder choke for a change which contains zero shoring and soon found ourselves in Father Time (a sizeable chamber on the joint with a large boulder choke running in from one side). Luke headed off over the sketchy traverse for a quick mooch whilst I made my way to the bedding passage winding off (the dig).
The crawl goes for approx. 30m (5m wide & 0.5m high) to a fork; Left soon ends at a boulder and sediment choke which is completely different to the rest of the passage and feels larger than the true end. Right heads for a further 10m to an enticing looking dig face emitting an outward draught - meaning air space! The dig looks pretty easy and I'd be happy to give it a crack if anyone would care to join me? It'd mean dragging spoil a short way back and stacking on the right hand wall. If going at a decent lick it takes approx. 20min to reach the dig face from the coe.
After taking a couple of photos we headed back and made a quick trip to the end of The Aven Series showing Luke the important things like Namraed Aven, The Great Aven & Return Of The Cosmic Juice Extractor (original entry point to The Full Moon Series).
We made it back to surface within a couple of hours and retreated to The Anchor.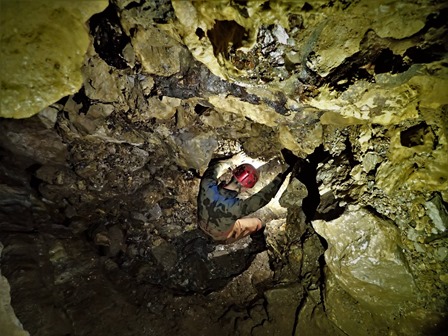 Luke climbing through the choke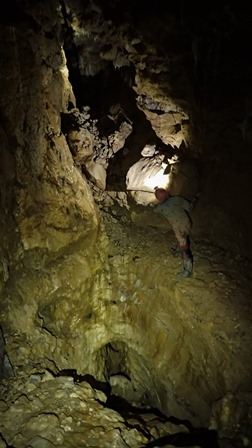 Luke on the 'bomber' traverse up in Father Time
Details

Written by

Jon Pemberton

Hits: 1374
With Rob on his Holidays Luke and I embarked on a trip in Bagshawe, this being Luke's first trip in the system. I had spoke with Bog at the monthly meet who was pretty sure the French Connection would be sumped at the bowl (lowest point in the connection) being the optimist I was keen to check it out...
We met at 7pm and made quick progress through to the gates (even a quick de-tour to check if Pool Chamber sump was down). Crawl, crawl, crawl and we stopped for a quick breather in Full Moon Chamber. Crawl, walk, crawl and we were at the start of the French Connection. I told Luke about the dig and the bad air and he seemed fairly impressed with the length of the connection. The bowl was dry and only the short duck before the steep slope up to Wave Of Apathy was half full of water but due to zero movement the mud in the duck was pretty solid which meant we didn't get too muddy. A quick climb through the choke and passing up of bags and we soon had our SRT kits on and were jugging up Madame Guillotine checking out the fixed gear (which could do with P-bolting)!
We were now in the main drag upstairs in Bagshawe, in the middle of winter. Im sure people dreamt of this in the mid 90's! Admiring the passage and slightly knackered we got through all the squeezes and found ourselves at the junction with Newhall Aven, right leads down Batham Gate whilst left leads you to the Hollywood Bowl. Before our trip I had told Luke that there's two types of people in this world... People who like (tolerate) Bagshawe and people that dislike the place. It was here in the final calcite squeezes before the Hollywood Bowl that Luke confessed his dislike for the place...
Perched in the top of the large beehive shaped chamber admiring the view having not been here for some years we kitted back up and dreamt of food and beer knowing we had to reverse everything we'd just done. We abseiled down the best looking rope (again - needs proper bolts) and quickly admired the chamber and the far side of Namraed Sump. I dragged my camera all the way through the cave just tucked in my oversuit with good intentions of taking photos along the way but was so knackered by the time we reached it's terminus that I could barely force myself to dry of my camera to take a picture...
Somehow I did...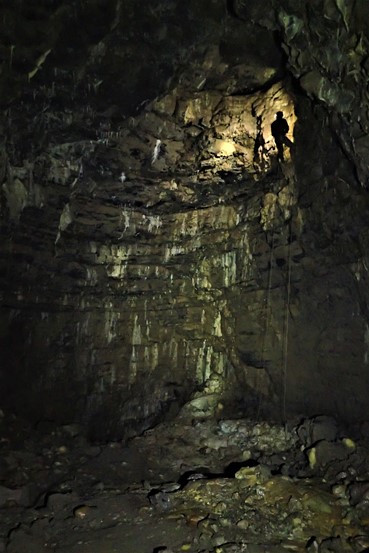 And im glad I did too and greatful that Luke waited on the rope for a few minutes for me to faff about. The whole upstairs could do with photographing as back when it was discovered it was an awfully long trip and camera gear has evolved so much in the last two decades that it makes the whole objective seems bearable. I hope this inspires someone keen...
We failed to get a pint - Ho Hum!
Details

Written by

Jon Pemberton

Hits: 1206
Tommy Moore of SUSS emailed me asking if I'd be up for giving him a guided tour of Picnic Passage which marks the current end of The Dynamite Series of Carlswark Cavern. Having not been there since 2010 I stupidly agreed and headed down for a midweek evening trip.
We made our way down Flower Pot and Tommy didn't struggle with the Codeine Connection so once at Final Aven we took off our helmets and donned hoods and head-torch to make life a little easier. The crawl is flat out for most of it's 60-80m length with only the odd cross rift which you can turnaround and pass. One section just before where the passage is at its largest is three quarters full of water which makes the whole trip thoroughly enjoyable. Tommy and I both had a look at the very end which was a couple more body lengths longer than I remembered only to agree it would be a lot of effort to dig there and gathering diggers could be problematic. The end is heavily calcited up.
We headed out via Porth Crawl just to give the shoulders a work out. I now remember why we don't return to this passage that often... Although Tommy did seem keen to survey the place.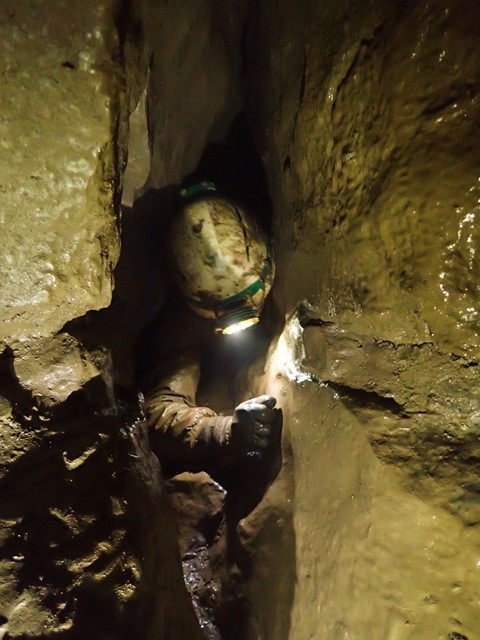 Tommy enjoying Porth Crawl