Club News
General rumblings from within the club...
If you're interested in what's going on in the club, where the pub meet is now, or any other random goings on, here's the place to keep up to date!
Members, login and you can add news articles at will....
For older news, head over to the News Archive.
Details

Written by

RobEavis
The club have a strong history of cave exploration in the Kelmend Province of northern Albania. This September a team of 7 are returning to continue exploring the deep, vertical caves. We'll keep people updated with progress via our public Facebook Page https://www.facebook.com/eldonpotholeclub/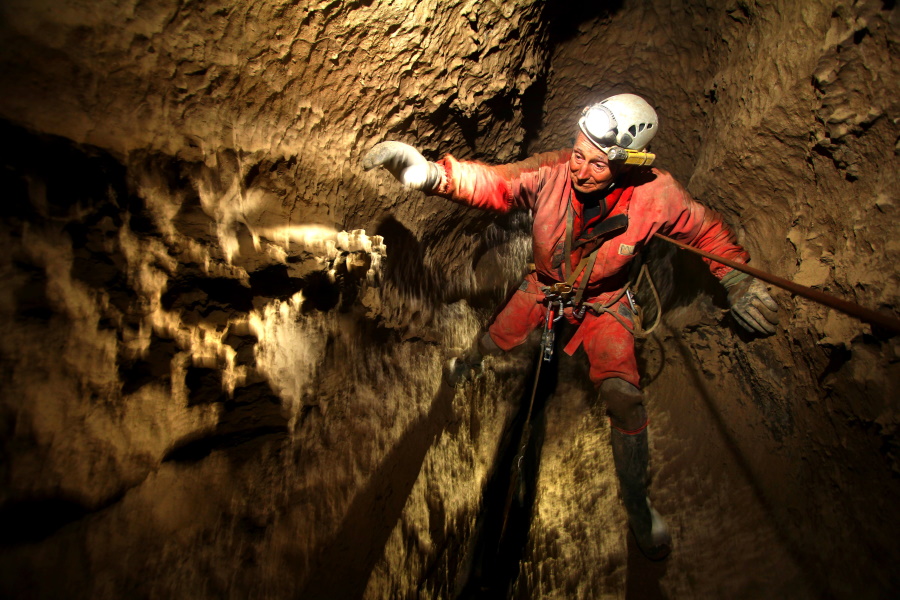 Bob Toogood in Shpelle Vaso
Details

Written by

RobEavis
The Eldon 60th Anniversary Celebrations are nearly upon us!
The Celebration Dinner and Stomp will be held at The Pavillion Arts Centre (formerly Paxton suite), Buxton on Saturday 13th May 2017.
The dinner will be a sit-down buffet and there will be live entertainment from live band "One Million Fingers". We hope also to put on a photographic display history of the club, as we have done in previous years.
Doors open at 7.30 and the bar is on until late.
You are encouraged to reserve your tickets early as numbers are limited to 220 and tickets are initially limited to 2 per member. Tickets are priced at £20 each, please email jase "at" metronet co uk to book.
Hope to see you in May!
Details

Written by

RobEavis
50 years of Horror!
It is 50 years ago this month that Giants and Oxlow were first connected via the Chamber of Horrors. The two were connected via an Eldon PC dig and at the time became the deepest system in the UK. 
To mark this important connection there will be a small celebration of Giants- Oxlow on Saturday 21st May. All are welcome for the whole day, or just the parts you fancy!
Caving
Giants, Oxlow and Maskill will all be rigged so come and enjoy a trip. You are welcome to arrange your own trips in the system that day (and use the rigged ropes) or meet at the TSG in Castleton at 9am to join with other cavers and get underground. The usual entrance fees will apply.
Talks
Meet at Castleton village hall (How Ln, Castleton, Hope Valley S33 8WJ) at 3:30pm. Clive Westlake will talk about the dig and early days of the connection, John Gunn about the hydrology of the system and Rob Eavis about current projects in the system and show a video of the Chamber of Horrors connection for those who have not seen it. 
There will be a small entrance fee and hopefully a small raffle with all profits to DCRO. 
Tea and coffee will be provided and if you are a keen baker (or even a novice one) please feel free to bring cakes/ sausage rolls etc to share!
The talks will finish by 7pm to allow cavers to disperse into Castleton for eating, drinking and socialising around the TSG or the pubs of Castleton.
Overnight
The TSG is booked for this event if you would like to stay overnight.
Sunday
Giants, Oxlow and Maskill will all be left rigged on the Sunday for use by any cavers who wish to.
Any questions please get in touch with Katie on This email address is being protected from spambots. You need JavaScript enabled to view it.  
Details

Written by

Jon Pemberton
To be held at Miners Arms in Eyam.
06-08-15.
Details

Written by

Sam Townsend
It was decided, after a good turn out at the last meet at the bulls head in Monyash, that the June meet should be at the Red Lion in Litton. Much to the delight of the Eavis clan.