Intake Dale Mine
Discussions following on from the Bradwell Catchment Symposium and after reading reports from the 80's of natural rift and chambers, EPC members have re-descended Intake Dale Mine and embarked on exploring it further.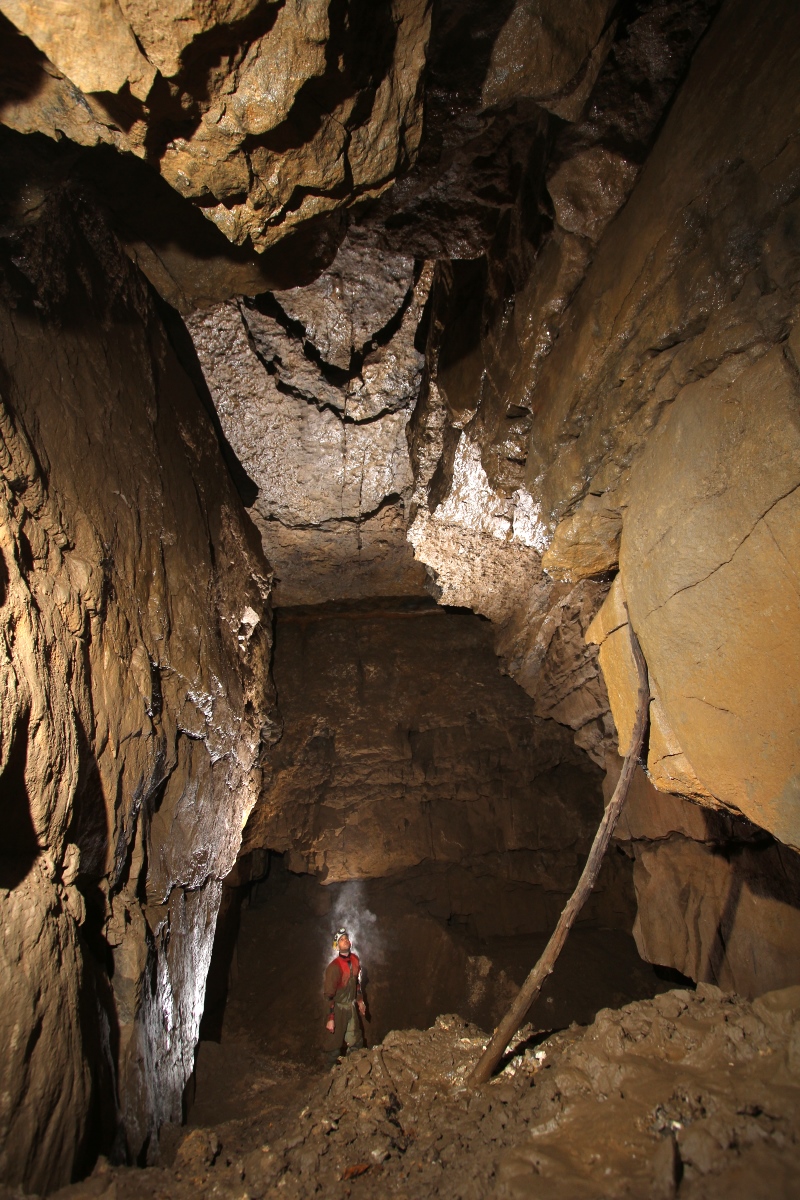 ---
Blogs:
Details

Written by

Jon Pemberton

Hits: 526
We sat in the pub waiting for Luke enjoying our favoured pre-beer of choice. I'd bought some Chilli-twizzler's for post cave celebration, an idea concocted from last week's trip. After a few minutes of waiting with beer slowly depleting I asked Rob if he was sure Luke was joining us tonight? He was positive he'd be on his way but I thought I'd give him a tinkle just in case. He blasély shrugged us off saying he'd told us he wasn't coming tonight as he felt a little weak (problem with novices I guess?) So after a heated cussing we shook it off and headed to IDM for another AWESOME TAP trip.
It took us no time at all to reach Rate Angle where tonight's escapade would kick off. None of that fool hardy traversing above humongous gaps miles aways from your nearest point of protection for tonight we were to take some rope and a drill. We pushed west beyond Rate Angle where Rob descended down into the rift. He quickly dubbed the next traverse as easy and said it wasn't worth the rope - Brilliant!
He rigged a short rope anyway 10m across a 30m pitch head cum rift, from here a climb onto a chocked bridge covered in miner's tailings led to a further traverse with a prominent ledge. Deep below us we could just make out the rope on the climb above Isolation. At the end Rob climbed some 3m above the ledge to a slight continuation where he traversed to find a solid wall - shoot!
Rob then continued the climb some 8m above to a further traverse which again met a solid wall - Bugger! It looks like the vein just ran out here and progression west beyond our terminal point just beyond Stop Flattening Me would have to be pushed from a further westerly point.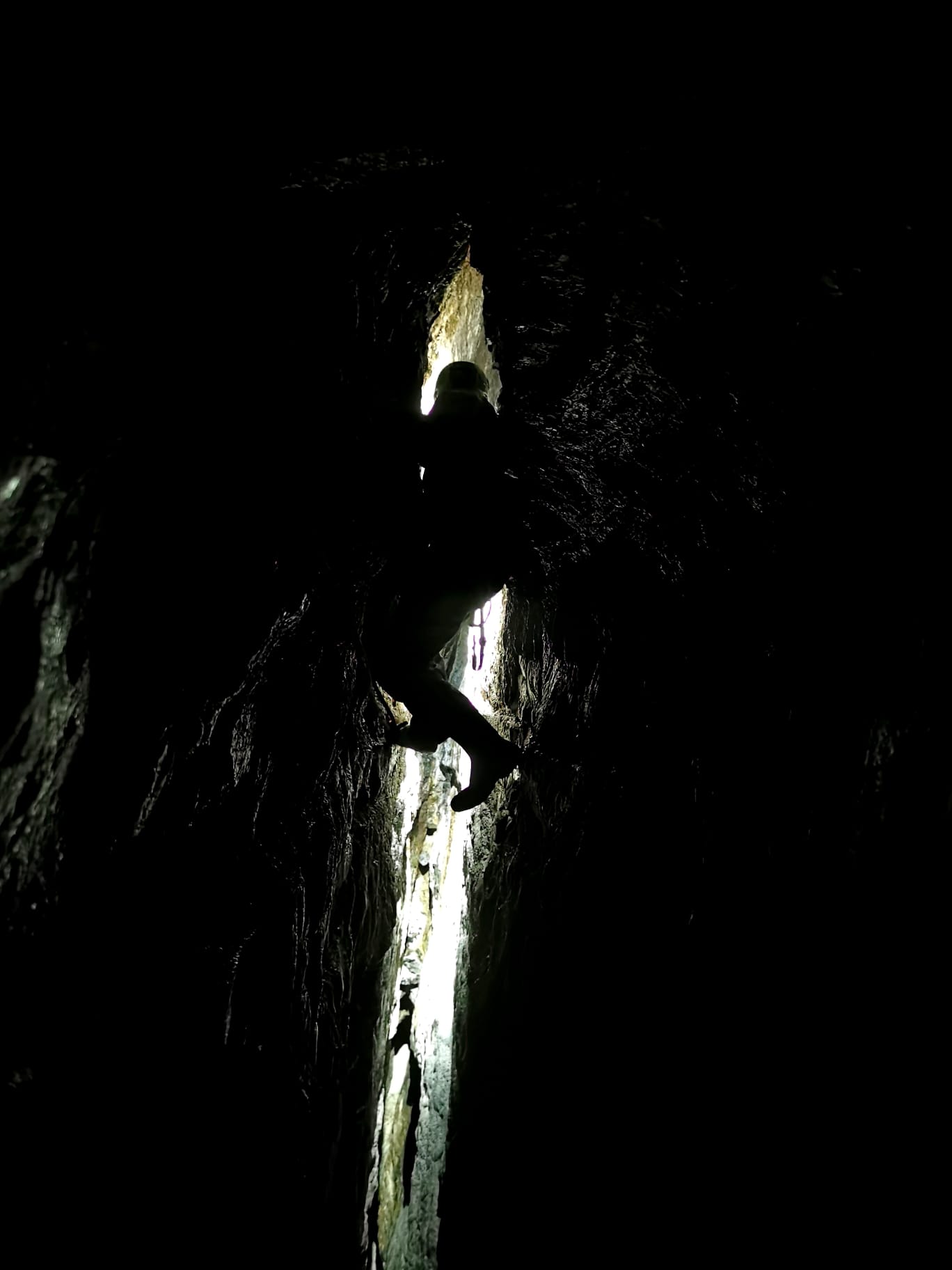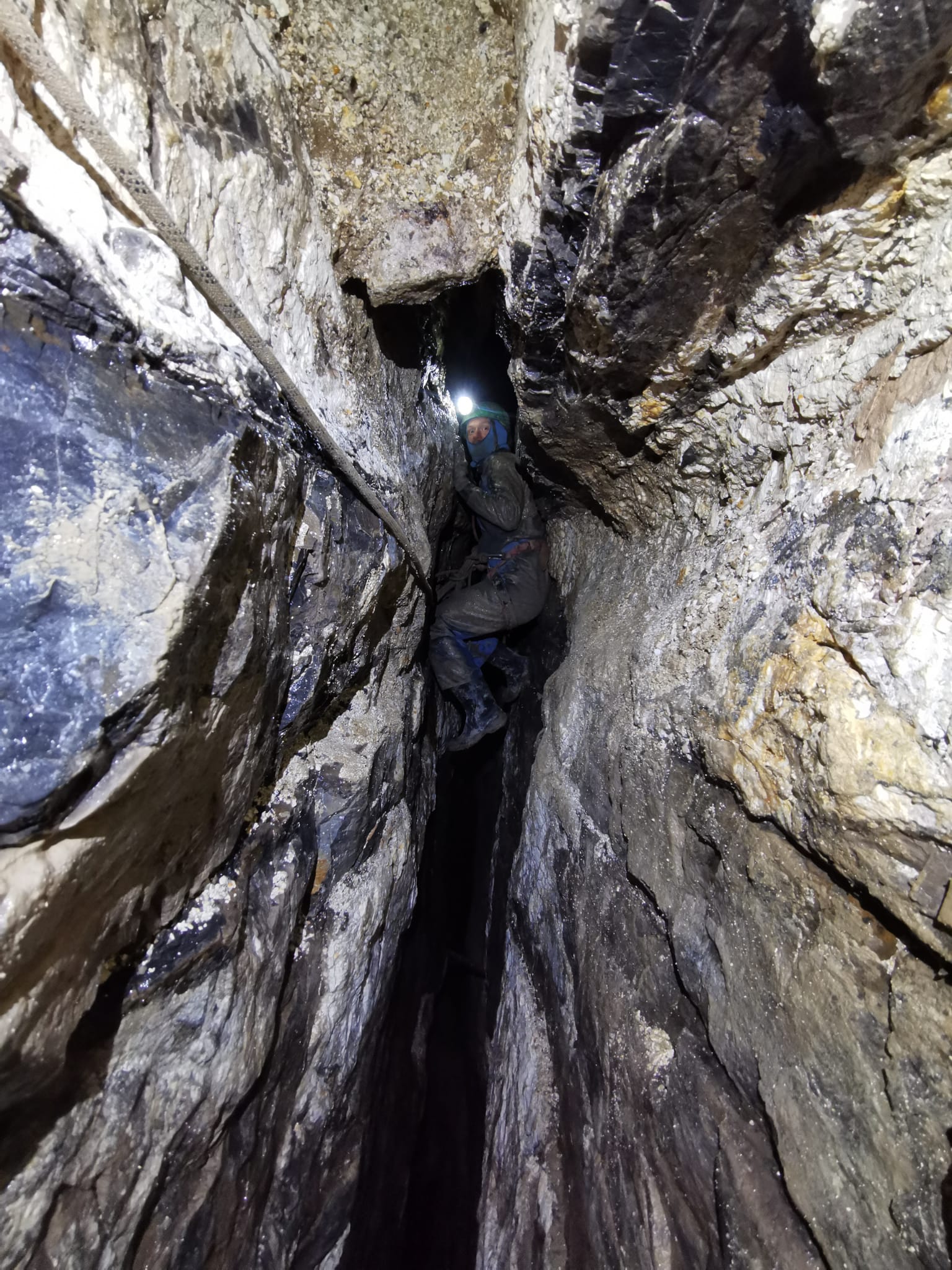 Nothing else to inspect here from our point of view (heading west) we decided to de-rig, agreeing that "We'd completed it bro" from where Rob made a valiant effort after derigging, bridging back down the Rate Angle pitch and back to TAP Traverse trying not to die. He noted that he only once had a little free-fall...
We made our way to the surface with ease with nobody to hold us up (yes Luke that's you!) and was met with a clear moonlit dale which casted our shadows perfectly and with plenty of time spare we made post cave pub for once and enjoyed another pint with the Snelslow lot who turned out had rather a lack of communication for their failing digging this eve.
Next trip will be the climb above the end to hopefully progress west beyond our furthest point. Otherwise it's finish survey and start the big derig.
Details

Written by

Joe Buck

Hits: 543
Joe Buck, Rob Eavis, Jon Pemberton
Having attended an Eldon trip to Yorkshire the previous weekend, I had obviously been a little too vocal about how much fun I had had. In an attempt to restore the balance of the caving universe, I now found myself in a gloomy lay-by with Rob and Jon promising me a truly miserable thrutching experience. We got changed quickly, carefully dodging an abandoned pair of pants on the floor in the lay-by (presumably from some other poor sucker who had been roped in to joining TA) and romped across the field to the engine shaft.
The intention for the evening was to continue exploration beyond Rate Angle and into the natural looking section of passage heading east. Having traversed over the top of the Rate Angle pitch, I followed Rob (at ones peril, I'm beginning to learn) as he began to squeeze up into a tight rift. After an extended period of thrutching and sweating onto the inside of my glasses, Jon announced that this was definitely the wrong way and proceeded to waltz round the staircase the other side… Starting to realise their promises were not made in jest, we soldiered on regardless to reach the previous far point just beyond the natural section. This high level section of the mine was first entered last trip and has been named Upinruf. I carried on exploring ahead whilst Jon and Rob surveyed the previous section. Faced with a relatively large rift and with the floor dropping away to what looked like a small hole into workings below, I elected to bridge across at a higher level. This off width section was very difficult to wedge yourself in and was coated in a slick mud that made any sort of reassuring traction somewhat hard to come by. Various techniques were deployed to try and cross this, some of which resembled a Dutch canal pole vault, or is it Danish…? "We'll stick with Dutch Traverse".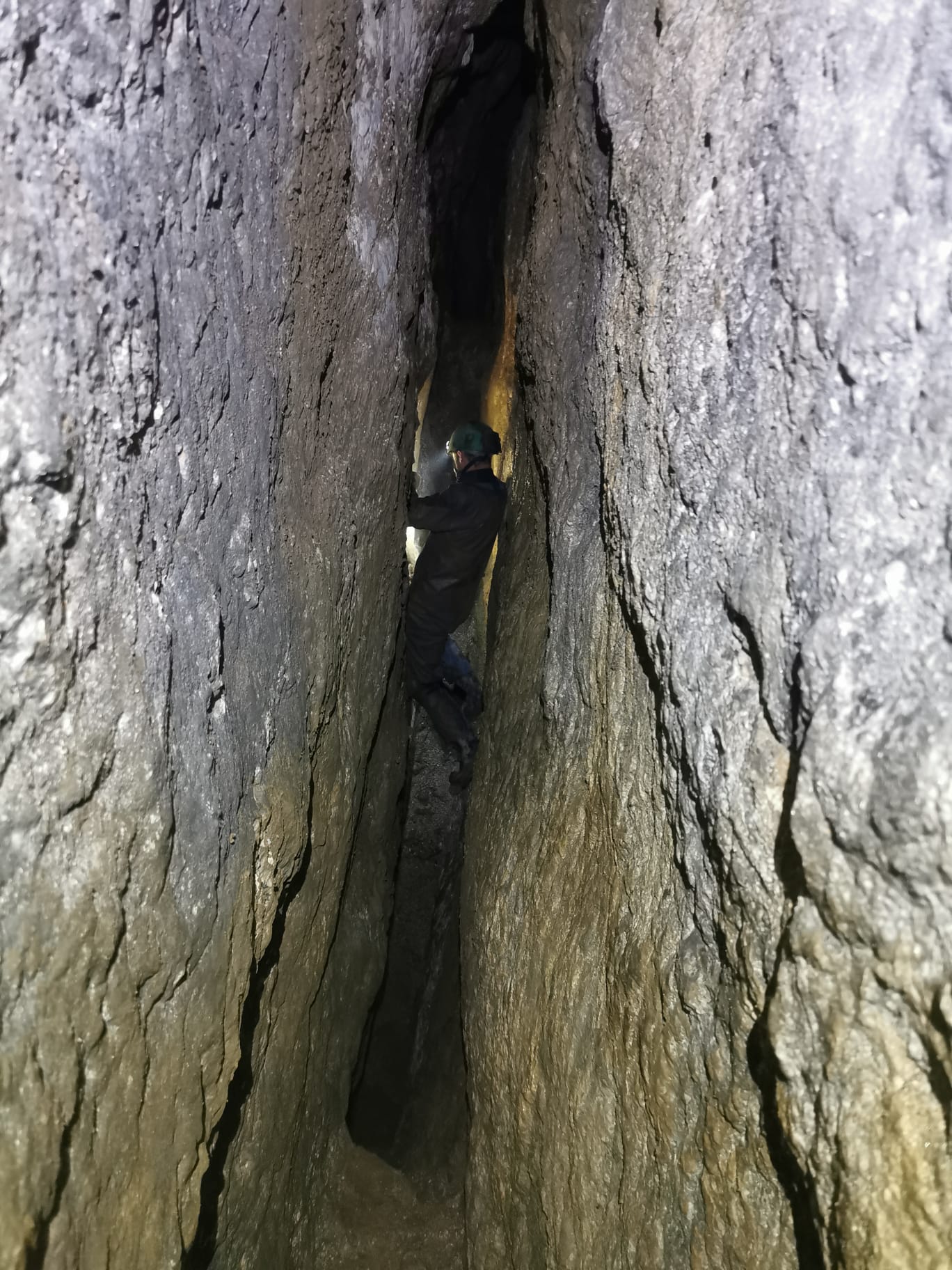 JonP attempting the Dutch Traverse
We pressed further on as the passage began to widen and a number of large shot-holes lined the walls, coming from the other direction. This, and a collection of bones on the floor, indicated a possible shaft somewhere near. It appeared a few metres further on, but was blocked with timber near the base and looked unlikely to relent. Looking for potential leads on, we climbed up to the bedding at the ceiling to what appeared to be a small gap. Sure enough, this dog legged in to a parallel rift 4 metres high and around 15m long, confusingly named 8 Angle. Whilst this was being surveyed, I was persuaded to have a look in the hole beneath Dutch Traverse and see if I could see anything enticing. Slipping down into the rift was effortless as it belled out towards the bottom. Once I'd confirmed there was nothing to be seen down there (as I write this, I'm beginning to suspect they knew that all along), I attempted to climb back up to the traverse and head back. Unfortunately the slimy coating on the walls meant it took all of around 10 minutes to climb around 3m - all the while I can hear the others chirping away whilst surveying 8 Angle.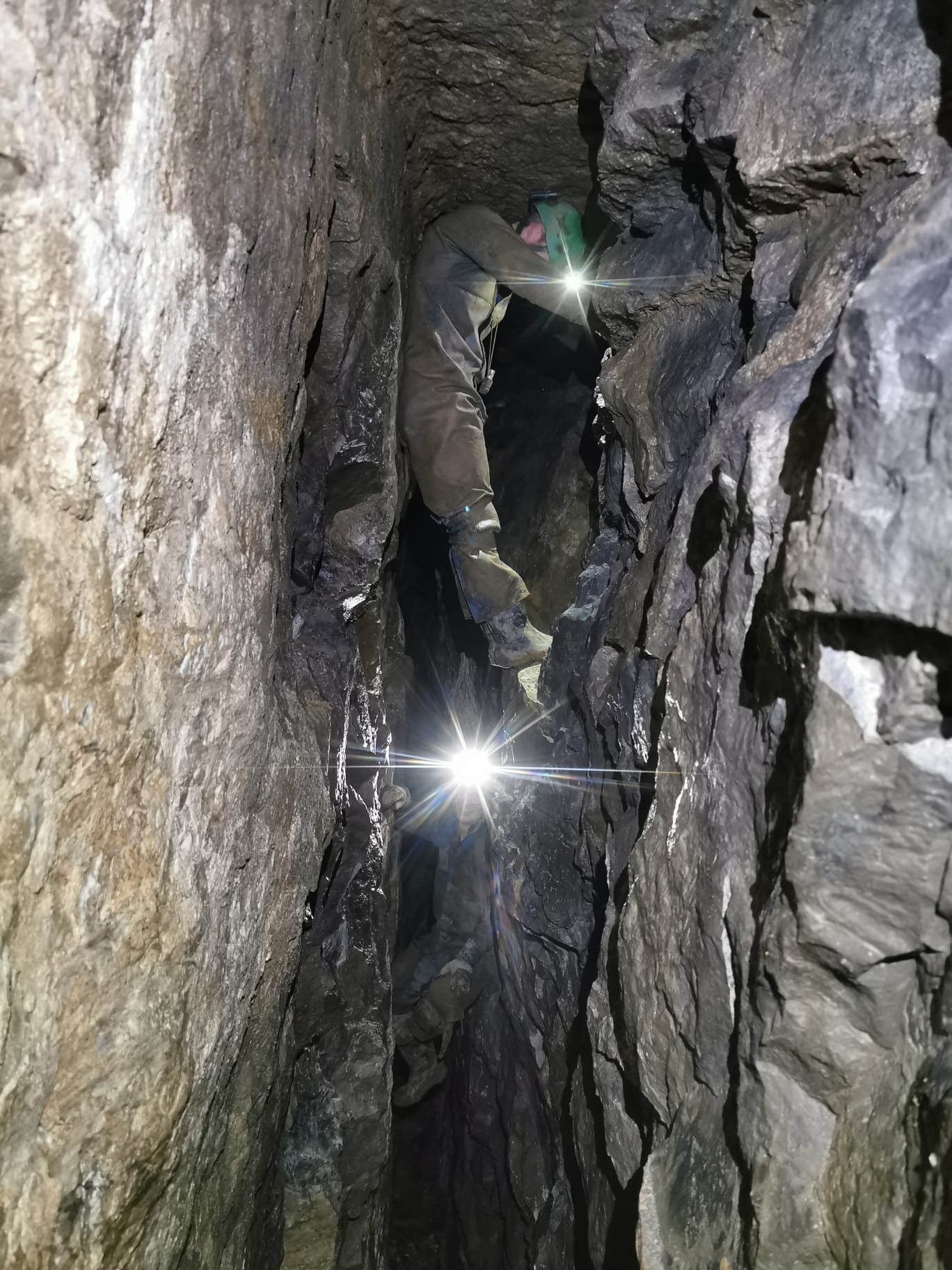 JonP climbing up into 8 Angle
We headed back towards Rate Angle, stopping to inspect an awkward rift heading back west which involved some gymnastic moves above a pretty unenticing drop. This closed down and became very tight and with no appreciable draft. Deciding that discretion is the better part of valour, we headed back, surveying as we went.
We made it back to the engine shaft in good time and with body and mind slightly worse for wear. Body broken, mind in the gutter, and spurred on only by the thought of one of Jon's beers in the back of his van. As I began to ascend the shaft, Jon attempted to bargain my foot jammer for one of the three beers - I called his bluff and carried on regardless. We trudged back to the lay-by, stripped off our wet and muddy gear and threw our pants on the floor in disgust, Hobgoblin in hand. "Normal people probably think this is a pretty strange way to spend a Thursday night" - hard to argue with that…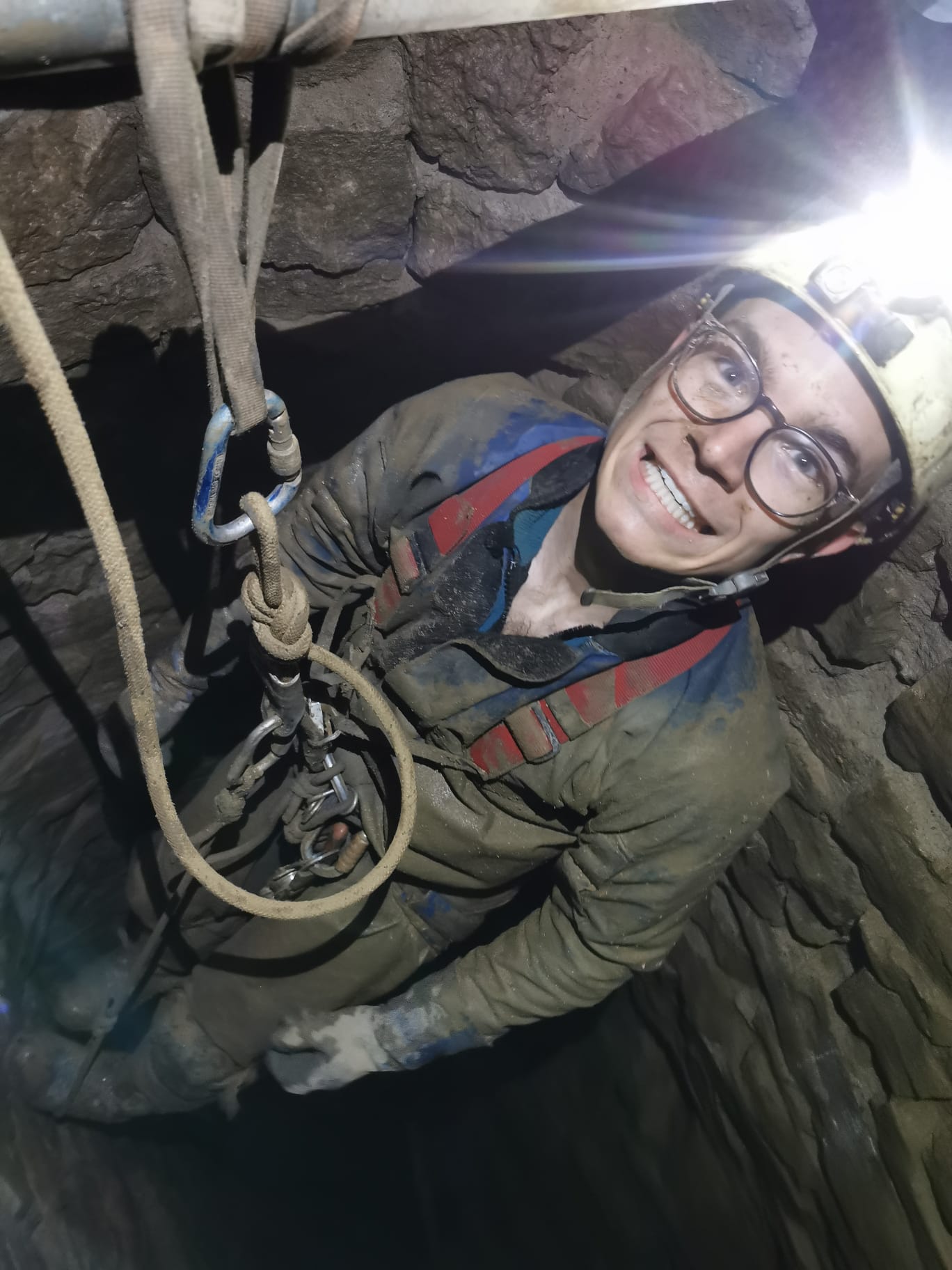 Joe after completing his TA application
Details

Written by

Jon Pemberton

Hits: 533
Here Rob and I were, once again, alone, supping on a couple of Wizard's in The Anchor talking about how nobody else takes this whole cave exploration stuff seriously. Tonight we were once again TAP (Team Awesome Proper), two of the founding members and from past experience TAP find shit and get shit done! This would be no exception.
We headed for IDM to check the ongoing leads in "Rate Angle" which we explored last week, it lays a little beyond and above the aforementioned TAP Traverse. We chose the light drill for a possible traverse beyond Rate Angle whilst also keeping in mind an eastwardly trending extension which could be easily climbed. When we finally reached Rate Angle we sat for a moment and discussed our options whilst we both sweated our knackers off from the efforts of getting up here with little distraction (IDM is kinda like an assault course – fun, until your knackered and trying to get out). We chose the easy option B and headed for the no gear lead. A short traverse over the pitch leads to a narrow section which opens up into some taller workings. Here we climbed what appeared to be a collapsed staircase constantly stepping up until reaching a floorless abyss where you would have to bridge across to the next section, but always heading west. We reached a floor then continued to traverse the roof to a further floor. The way forward didn't look great but a climb up here gained access to multiple ways on and felt very natural. Excited we climbed upwards and gained a section which felt like we were high up in the old entrance series. We headed east and upwards passing under stacked deads to reach a small natural passage heading south but only went for a couple body lengths. The way east continued as a tight squeeze at floor level. I pushed this up a slope to reach a huge open cavity heading east and up out of sight. This section is yet to be explored.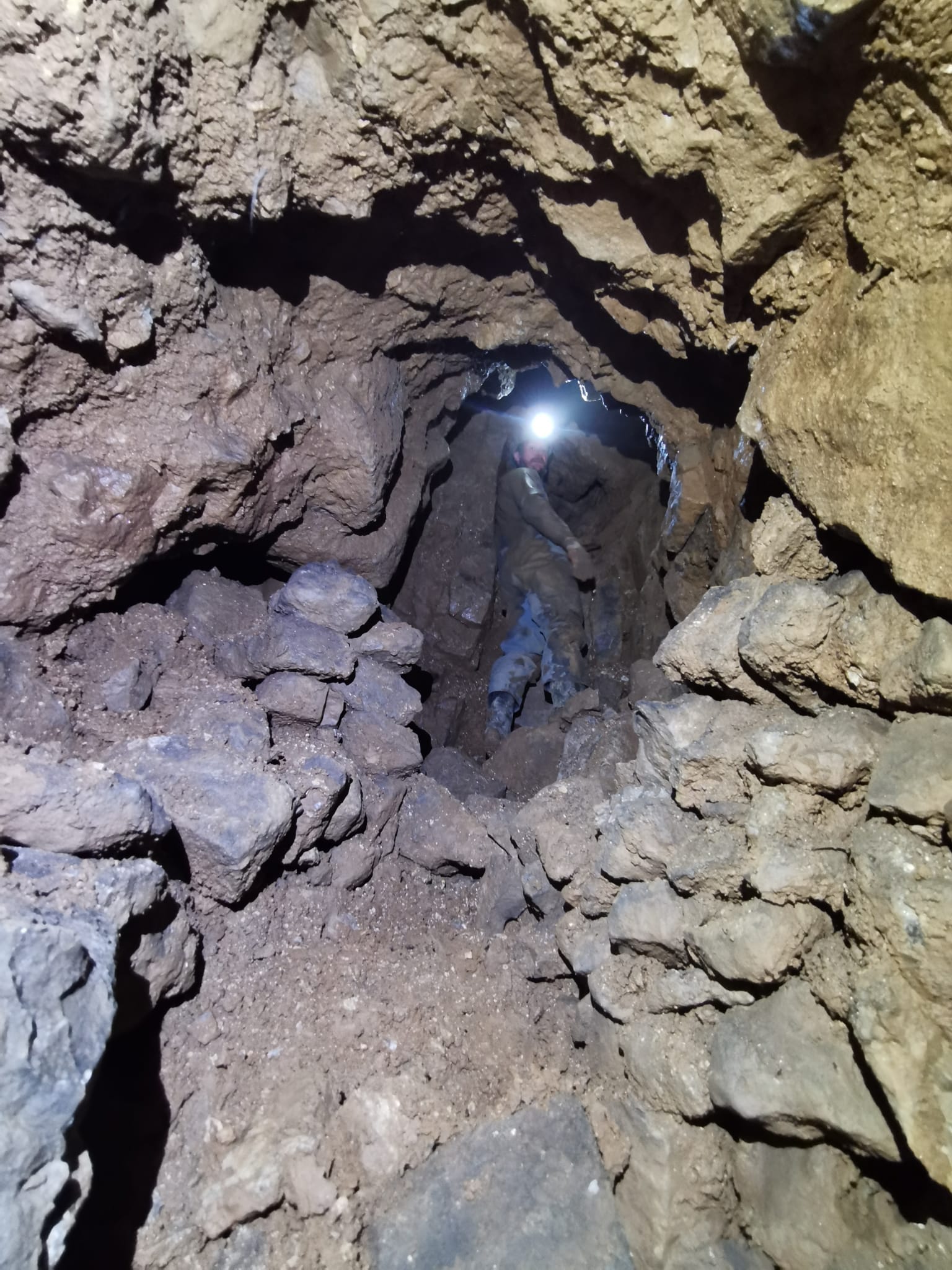 Natural Passage heading south
We decided against pushing and surveying this as we wanted to head west, up the valley with anticipation of stretching beyond our previous limit in the mine, just beyond "Stop Flattening Me". The route west was indeed wide open. We had two options - a short climb up or a short descent to a solid floored level. We chose the climb as staying high had worked so far. We started to traverse up bridging in the rift and soon found ourselves over a large drop which suddenly ended at a small slope up which appeared to be a choked shaft. Rob could see up and beyond but it definitely wasn't worth digging at this point. We both spotted a potential climb and traverse behind us (east) which would most likely bypass this point but again will have to wait for another day. 
From here all we had to do was slither down what we had previously bridged over – easy. I'm glad this did indeed link back up with the previously explored workings as it would've been a struggle to get back up. Our stupidity payed off and we were now stood in very smart looking, enlarged, natural rift. We believe T'owd man had probably used this section at some point in time for something as it was much wider than the rest of the place and it somehow got the name – "Gary Kitchen's Amazing Kitchen" or "The Kitchen" for short.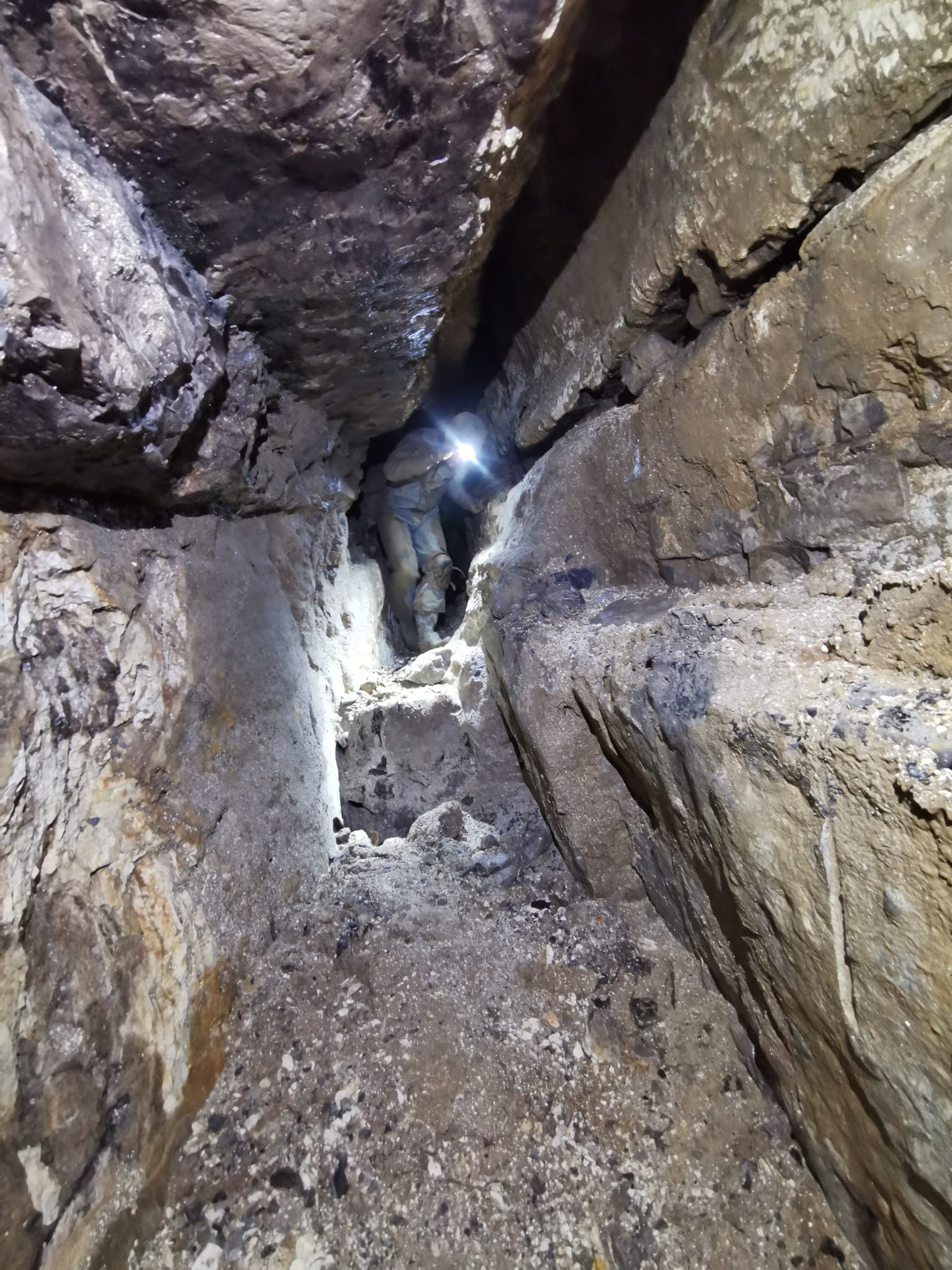 JonP entering The Kitchen
The Kitchen led to a further traverse at roof level, here the floor dropped away again but we were confident enough in our abilities and persisted forward to a section which seemed to mimic Rate Angle but bigger, obviously making it Nine Angle. The vein here turned at a 90 degree angle and headed off into a bedding only to step up beyond the blockage of miner's deads which we were now staring at head on. We continued to traverse the bedding but it was becoming increasingly difficult as it was getting much wider. I rolled a large boulder down the pitch which was blocking my way and it bounced down the rift for 5…. 6…. 7…. Seconds… to which we both responded – "WTF!" Rob took out his phone to record a video and I grabbed another rock to demonstrate the drop below us. Again… 1… 2… 3… 4… 5… 6… 7… we counted as it rolled down the pitch we were perched over with no safety. Again – "WTF!" It was about now I realised how sketchy the position we were in and if one of us were to slip we would definitely die. My whole body froze from vertigo and after some massive faff and a quick look at the end I managed to turn around and make my way back towards Rob and away from the huge abyss. I felt safe back at the far end and now 9pm we decided to start surveying back out.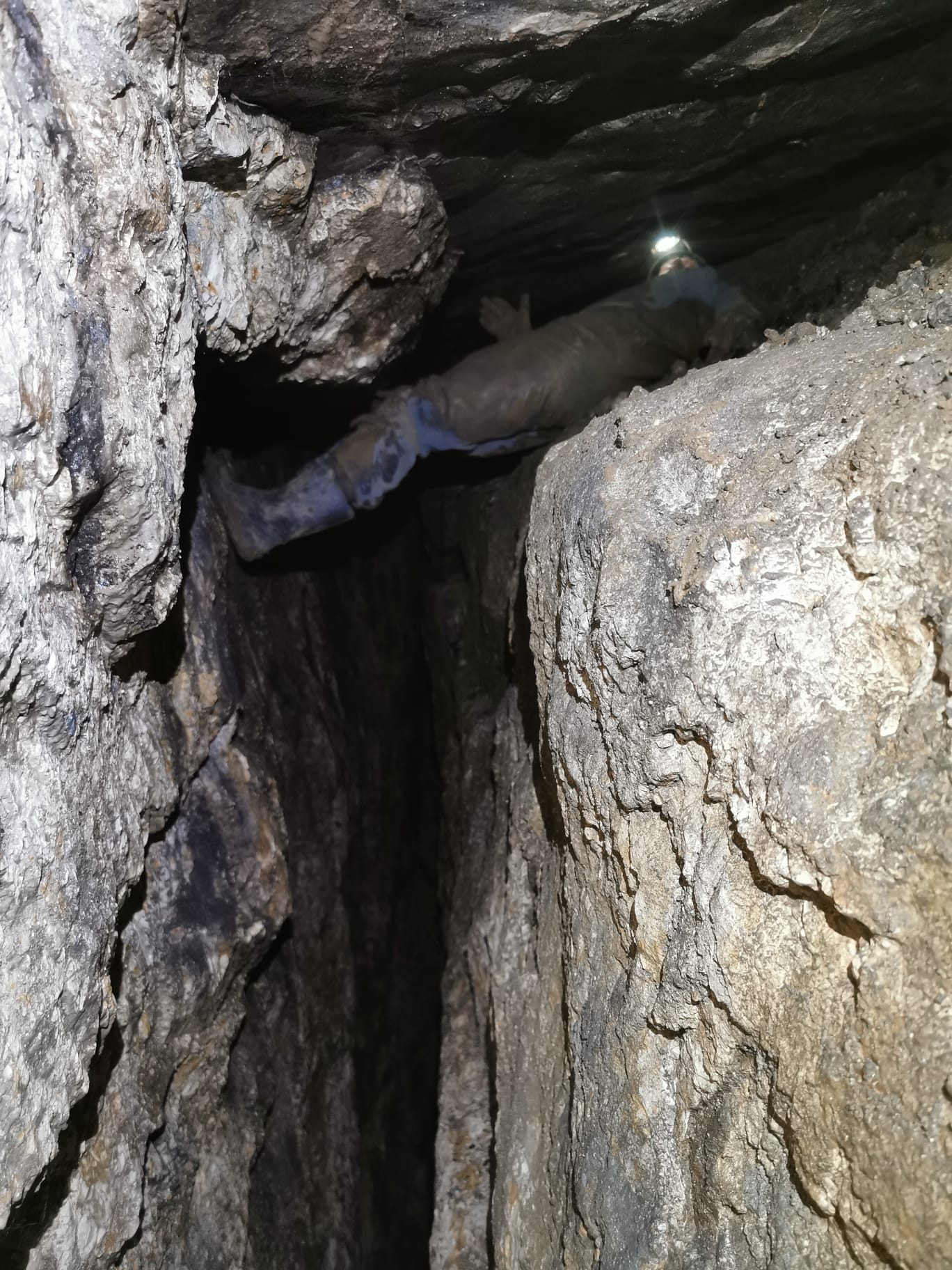 JonP chilling above the 55m drop at Nine Angle
We progressed quickly and soon made our way back to the top of Rate Angle. Last to traverse back over the pitch I jumped on the rope first as I was ready to go, I made my way about 2m below the knot when Rob shouted "BELOW!" I clenched my whole body and anticipated a rock fall, I relaxed and thought I was clear when all of a sudden WHACK!!! My vison went completely. I opened my eyes and looked down the pitch in a hazy grey fuzz. All I could hear was Rob asking if I was ok. My arms and legs felt like jelly and I started to communicate back to Rob. It felt like a few minutes had passed but in reality it was a few seconds. I had dislodged a head sized boulder from the traverse when I had passed over the pitch and it had only decided to fall when I was directly below it (or so Rob says…) It hit the left side of my helmet and rolled off to my right and down the pitch, we eventually found it on the floor of TAP traverse. I reassured Rob I was ok and told him what I had just experienced, I think mainly for my own benefit, giving me a few more moments to shake out my limbs before I started my descent to the floor.
I reached the floor and saw the offending boulder. I quickly got out of the way and shouted for Rob to come down. The whole situation wouldn't be so bad if it wasn't for the horrendous assault course we were just about to start (TAP Traverse). Rob followed me closely to make sure I was ok. This is the second time coming back along this section having bashed myself up in the place. It didn't take us long to gain the entrance shaft and what felt like a harder prussic than usual got us to surface relatively quickly. We got to the cars and started to de-kit. Rob told me to check my helmet for damage. There were just a couple of small grooves where the boulder had scraped the top of my helmet. We sat in the back of my van supping on a couple of beers and marvelled at how worse it could've been. Goes to show how easy we take these dodgy, loose mines for granted.
Classic TAP trip in the books again, would've been 10 out of 10 if it weren't for the rock. A solid 8, from what I remember.
Details

Written by

RobEavis

Hits: 663
RobE, JonP
Just TAP this evening, so we knew we'd find something awesome. Enjoyable prebeers in the sun at the Anchor then straight over to IDM. Been a while since we'd been in here so it was a nice change. Don't get me wrong, Cussey has been great, but you can have too much of a good thing!
So the quick summary of IDM is that it's over 750m long, 83m deep, and we've lost the way on, or more specifically where the draught comes from. We know cos of physics that it comes from a higher entrance, and from the west. However the furthest western reaches we've found so far, which are all quite deep, all close up with no draught. On the last few trips we found a few things in the roof above TAP Traverse, which is the area where the draught is seen last, so it made sense to climb them.
We had a bit of trouble opening the lid which needs a bit of TLC then enjoyed the clean and easy route to the Tap Room. TAP Traverse is a bit of a faff, swinging through the ledgeless rift on the rope, but not too bad in this direction at least. The plan was to bolt climb the aven above the pitch down at the end of traverse, as this is the furthest point west at this height. As hoped the rift just before the wide aven was narrow enough to quite easily freeclimb/bridge/squeeze up and I was able to ascend the full 15m without needing to place a bolt.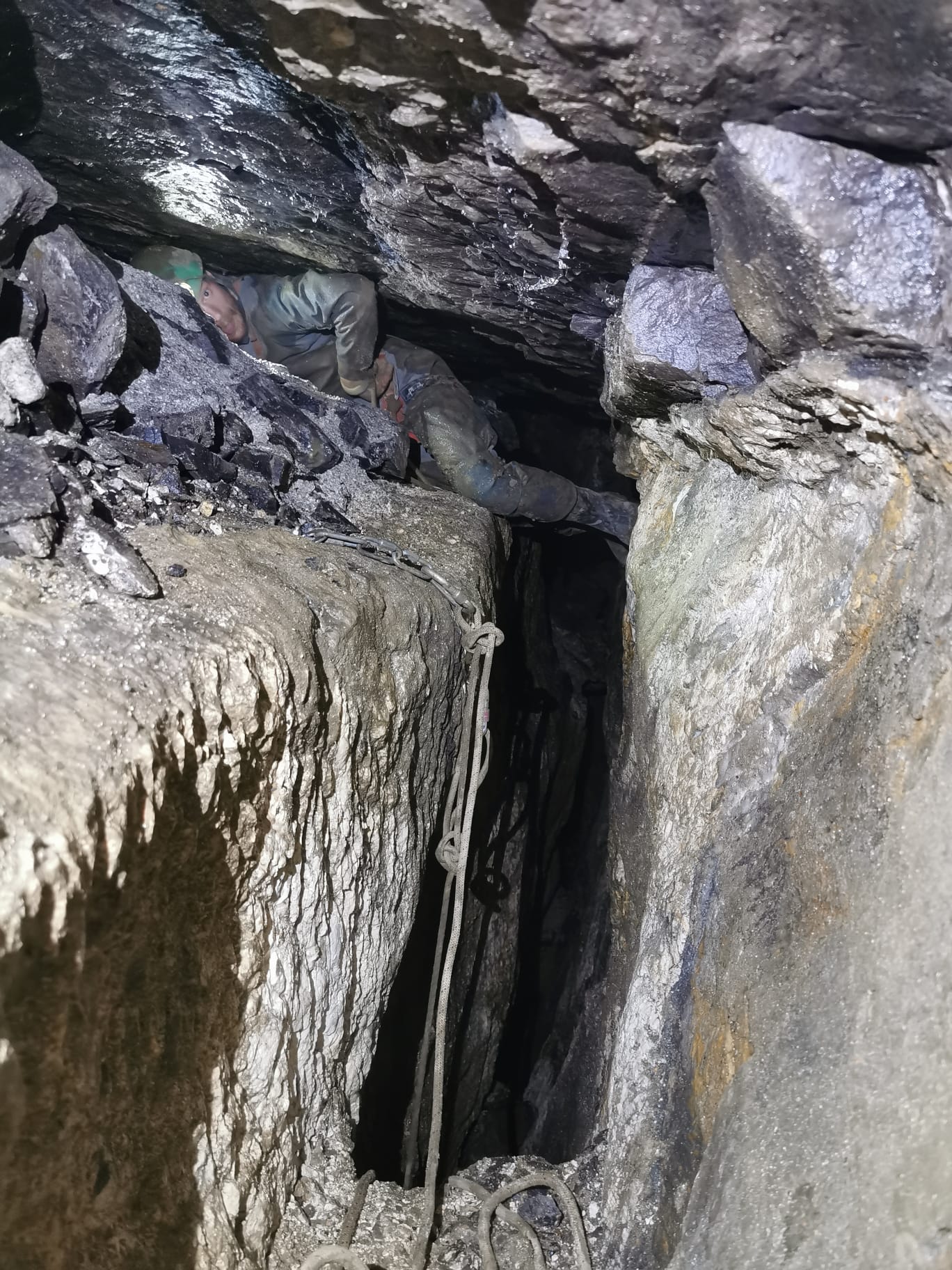 Jon at the top of the pitch
At the top is bonkers. The vertical rift takes a proper right angle to horizontal, now giving us a bedding heading off to the north as well as a small level heading off in both directions! I headed into the level heading west and pulled up the bag full of gear. After using a bit of imagination I placed two bolts and rigged for Jon to come join me. Across the pitch looking east looked good but we decided first to go west, as that's most important, plus it was draughting! Along the side of the bedding a small clay launder has been made by T'Owd man, presumably to collect the drips coming off the bedding to be used somewhere, somehow. After 10m or so the bedding has stopped being worked and you get a brilliant view of the mineralised rift bending over, with all the layers and lines inside intact. This unusual feature can also be seen in the eastern end of the mine and there it was accompanied by some natural passage and chambers… just saying.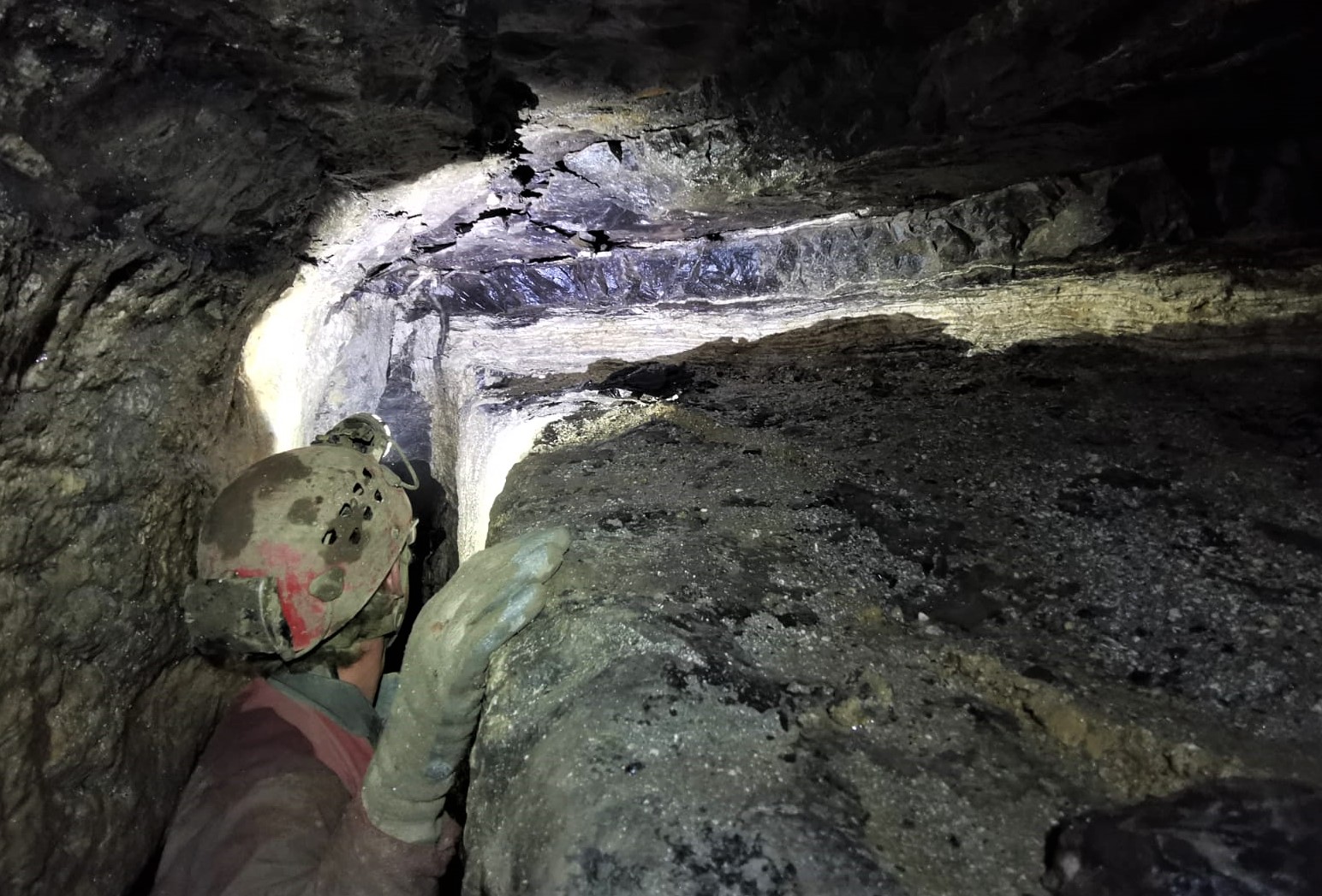 Bonkers bendy mineral vein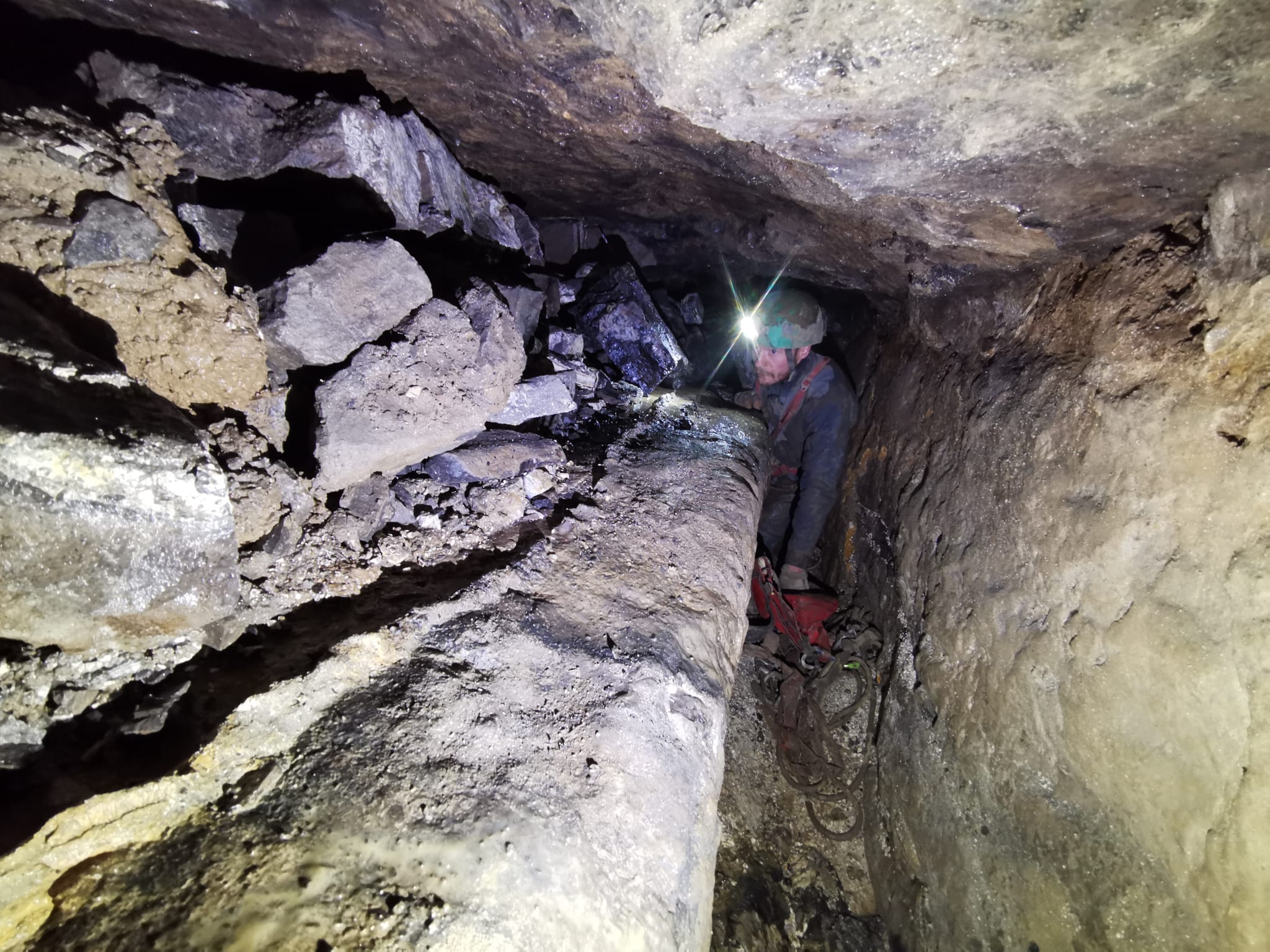 Clay "launder" diverting water
The level ahead dropped into some small worked out rift chambers, notable by the dry "cat litter" like gravel on the floor, maybe from some washing process occurring here previously? A couple squeezes on and we stopped at a big view out over the rift below and ahead. Here it was too wide to safely continue without a rope, but it gives us a nice lead to return to. DistoX shot gave a 30m drop down!
We survey back to the pitch then Jon goes for a little look along the bedding there. After only a couple metres the roof ascended again, unfortunately into a stacked blockage, but noticeably with a draught coming down. It looks like the horizontal section of the vein may only be a short offset. He had a poke for 10 minutes, whilst I surveyed to him, and the way on looks good still, although it'll need a long pokey stick.
Getting near to leaving time I have a quick look East, across the top of the pitch. And easy climb across gets into a wider section, where they have unusually piles a couple rock pillars up to the roof; maybe they know something we don't?! Beyond here the horizontal bedding is totally lost as the two vertical sections join; this place feels like a geology textbook right in front of you, if only they could get the school kids here! Beyond the rift is quite small and goes up a ramp before entering a much taller section with open ways up in both directions. The draught here was going up, so it's less exciting that the other direction, but maybe it may offer a bypass to Jon's dig and head back west again, or something else?!
I survey back to Jon then he starts heading out whilst I sort gear at the top and survey down to the TAP Traverse. Once down we have an uneventful trip back to the engine shaft. After spending many hours in small worked out rifts this place is big and goes to show how big an enterprise this place once was. By the time I'd prussiked out I was pretty knackered and going slow, but thankfully Jon was there to point it out to me. Post beers at the car as we'd just missed last orders, again.
A great little trip and paves the way for a few more adventures still to come down Intake Dale Mine.
Details

Written by

RobEavis

Hits: 427
JonP, LukeC, RobE
My plan was a simple and easy one. Head down Cussey, get a voice and maybe light connection between Draught Black and Black Draught, survey back and collect the tools whilst there, then go explore the West West more with fresh eyes. However a certain TA founding member had lesser ideas and spat out his dummy, asking for a change of scene. Fair enough I suppose after +12 months of hitting the same Cussey filth.
The new plan was to enjoy a sunny walk down to Intake Dale Mine and have a poke at some leads near the entrance. Pre-beers in the sun outside the Anchor were dangerous but we succeeded to leave, much to my surprise. It was in fact a nice change of scene walking down the Dale and we all reminisced at how good the entrance works and lid look.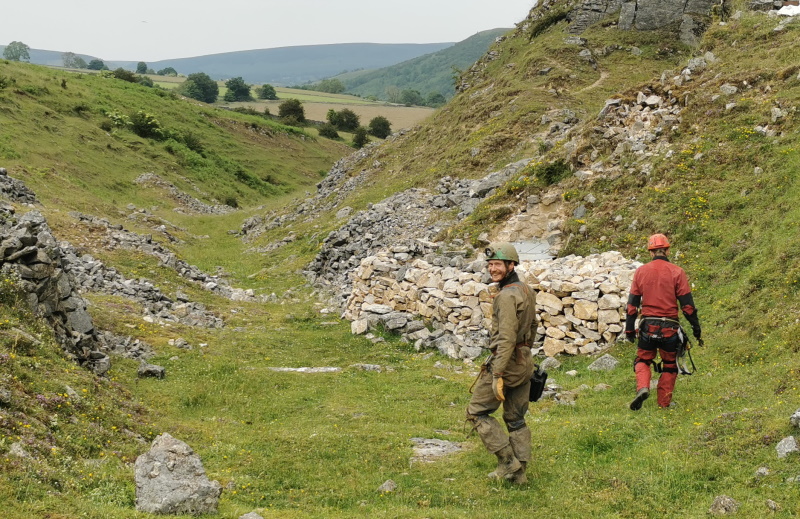 We went down to the rebelay about 25m down and up into the main rift heading off West. This is the way on to most of the newly rediscovered mine and cave, and the theory is that we may have missed something in the roof along the way. I spent a while freeclimbing about in the tall stope looking for draughting ways on whilst the other two took some photos below dodging the rocks I was dropping. After a while I got to the base of a tall climbing shaft which was a little too wide to bridge up. It felt like it was draughting up but it needs bolt climbing gear to safely scale, so I returned to the others.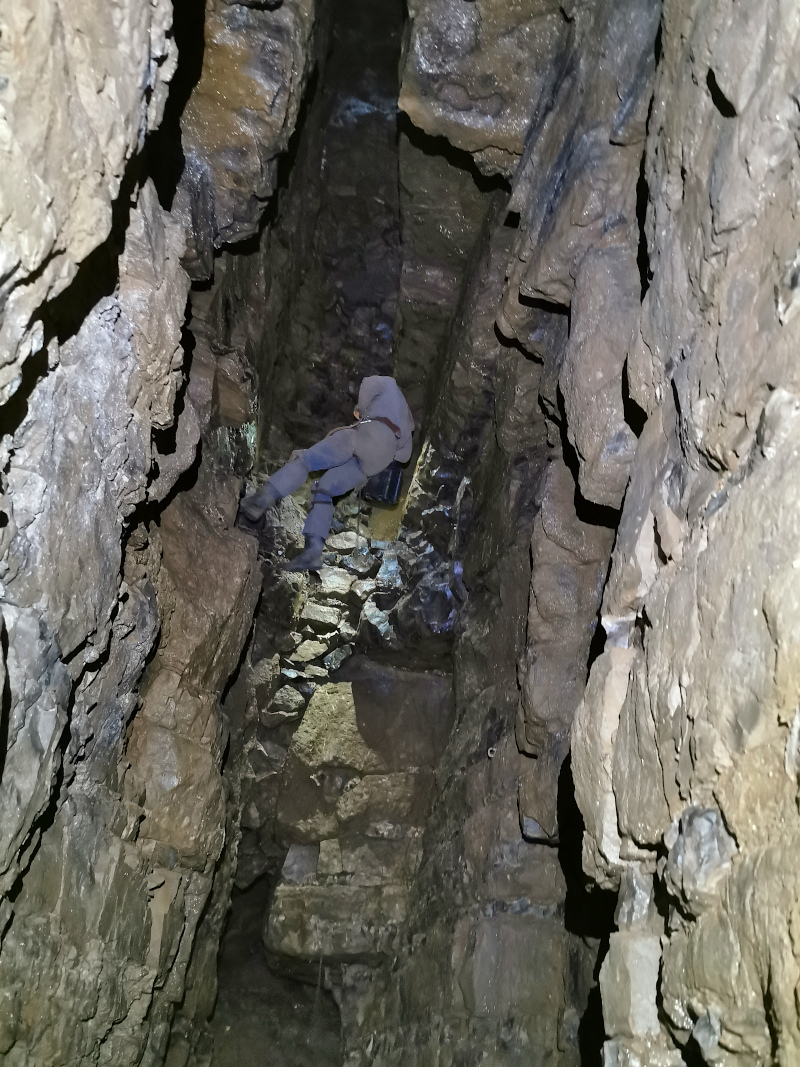 Jon descending the Engine Shaft, by RobE
We then went further West to the head of the next pitch, which drops 6m into the Tap Room. This is hidden under a floor of delicately stacked stacks, a floor which you naturally walk along to get to the pitch. Not ideal. We derigged the rope then dropped the whole lot, which was great fun and brought back fond memories of HOG mine for all three of us. It is now much safer and easier to move through this bit, so a very worthwhile task. The fun finished we legged it out and comfortably made the Anchor. Pre and post beers in a pub. What a treat!