Intake Dale Mine
Discussions following on from the Bradwell Catchment Symposium and after reading reports from the 80's of natural rift and chambers, EPC members have re-descended Intake Dale Mine and embarked on exploring it further.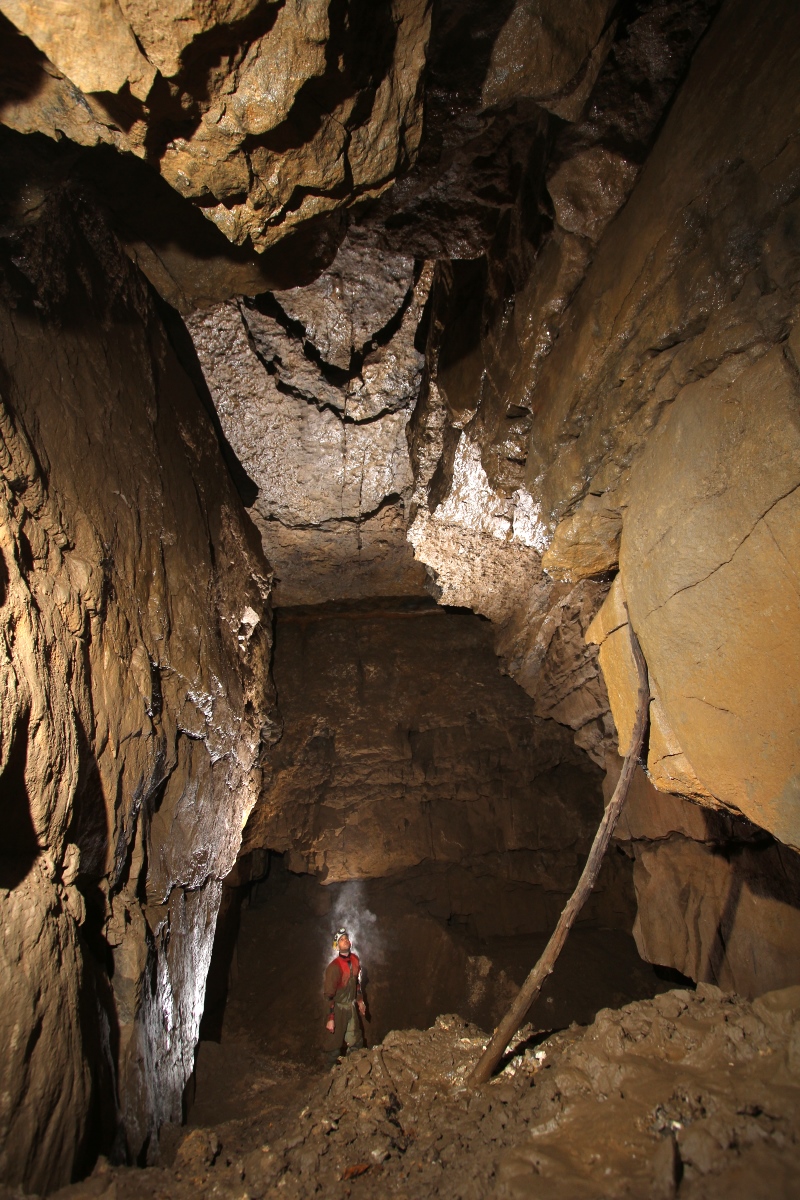 ---
Blogs:
Details

Written by

RobEavis

Hits: 185
JonP, LukeC, RobE
My plan was a simple and easy one. Head down Cussey, get a voice and maybe light connection between Draught Black and Black Draught, survey back and collect the tools whilst there, then go explore the West West more with fresh eyes. However a certain TA founding member had lesser ideas and spat out his dummy, asking for a change of scene. Fair enough I suppose after +12 months of hitting the same Cussey filth.
The new plan was to enjoy a sunny walk down to Intake Dale Mine and have a poke at some leads near the entrance. Pre-beers in the sun outside the Anchor were dangerous but we succeeded to leave, much to my surprise. It was in fact a nice change of scene walking down the Dale and we all reminisced at how good the entrance works and lid look.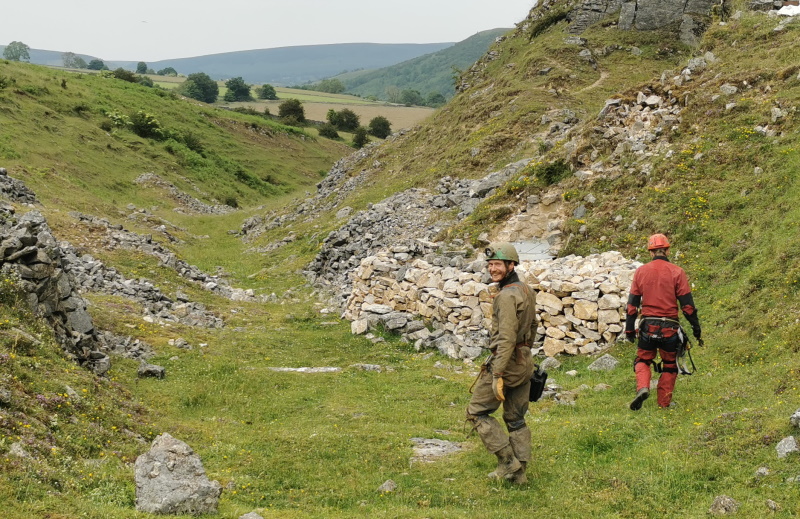 We went down to the rebelay about 25m down and up into the main rift heading off West. This is the way on to most of the newly rediscovered mine and cave, and the theory is that we may have missed something in the roof along the way. I spent a while freeclimbing about in the tall stope looking for draughting ways on whilst the other two took some photos below dodging the rocks I was dropping. After a while I got to the base of a tall climbing shaft which was a little too wide to bridge up. It felt like it was draughting up but it needs bolt climbing gear to safely scale, so I returned to the others.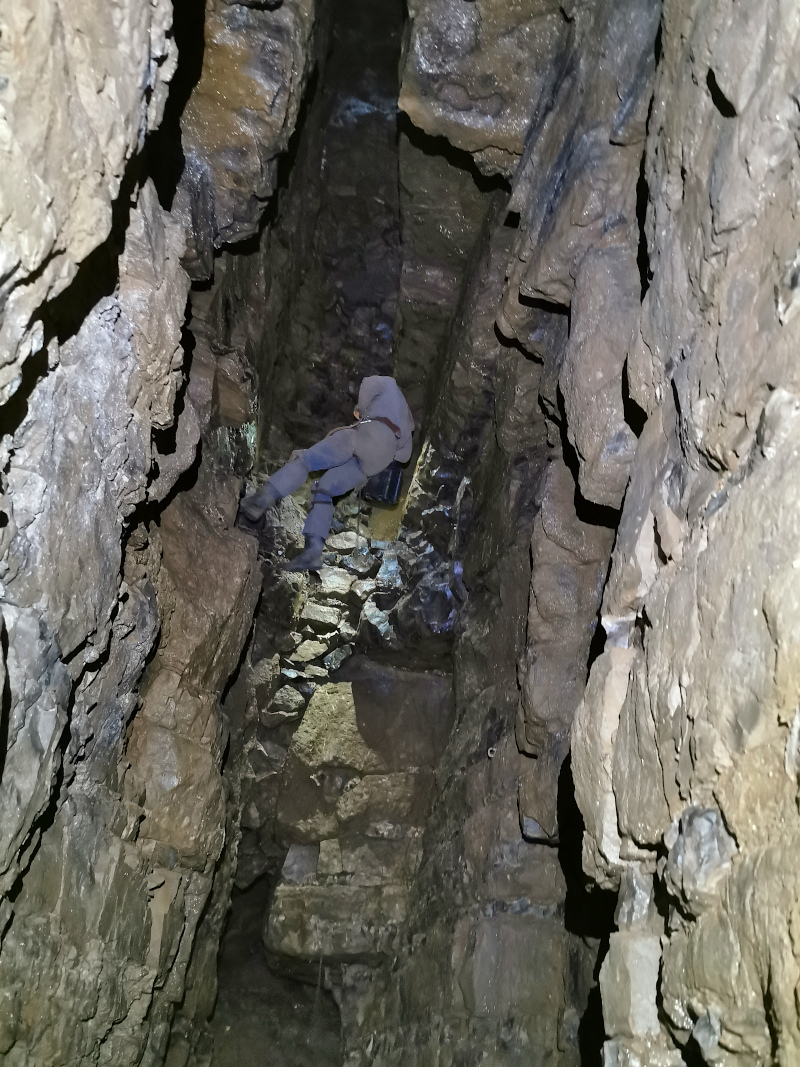 Jon descending the Engine Shaft, by RobE
We then went further West to the head of the next pitch, which drops 6m into the Tap Room. This is hidden under a floor of delicately stacked stacks, a floor which you naturally walk along to get to the pitch. Not ideal. We derigged the rope then dropped the whole lot, which was great fun and brought back fond memories of HOG mine for all three of us. It is now much safer and easier to move through this bit, so a very worthwhile task. The fun finished we legged it out and comfortably made the Anchor. Pre and post beers in a pub. What a treat!
Details

Written by

RobEavis

Hits: 264
Sunday 27th December – Rob & Jon
Sneaky trip at the end of the Christmas week. Meant to be a bunch of us but one thing lead to another and just TAP turned up, again.
We legged it to the end, picking up scrag-ends of rope on the way and trying not to get soaked through. Jon put some bolts in to drop the pitch found on the last trip. Turns out the two ropes we found, tied together in a semi-professional manner, just reached the bottom. Here to the west met a solid rock wall (the first we've encountered West, not a good sign) but in the floor to the east looked just like a reet dodgy choke with Jon's name on it. He dug it out and sure enough as much hanging death as you need above another pitch down. I came down to inspect and Jon decided I should go inspect, thanks. Unfortunately the 5m climb down lead to more collapse with no draught nor easy digging. On the plus side I climbed out without getting minced.
We surveyed out and then headed to Isolation passage where I did a survey whilst Jon tried to avoid hypothermia by pissing off. On the way he managed to get an owie on his shoulder by prussicking like an idiot, which meant when we got to the next lead (two juicy climbs off TAP Traverse) he was too sad to do anything useful. I inspected both leads but both lead to (easily diggable) chokes with black space beyond, one along quite a nice coffin level which I think may well be the main climber entrance to the mine. I surveyed back and met up with Jon at Tap Room, where we both then headed out.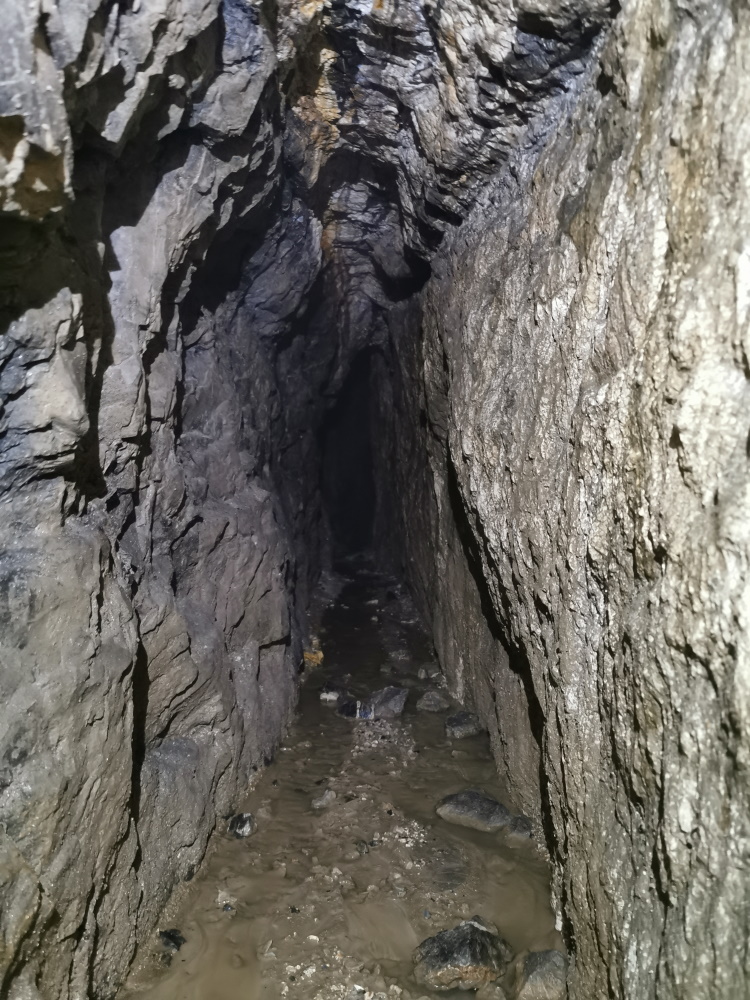 Coffin level leading to a climbing series?
Interesting to note was that just before the last climb up to the Engine Shaft you could really notice the inward cold draught (it was -1DegC on the surface). Nowhere else this trip did we feel a strong draught, suggesting the that main way on west and up dale is somewhere hiding in the roof.
All the surveys now added in, Intake is now at 800m long and 85m deep. And I's guess there's a lot more to go at…
Details

Written by

Jon Pemberton

Hits: 395
07/12/2020 - Jon Pemberton, Dave Brown & Jeff Wade.
Evening trip to re-rig some sections which we decided needed altering or rigging in the first place and Dave's first visit to the place. We rigged a couple of small (previously free-climbed) sections then made a concentrated effort on altering the start of TAP traverse. After lots of faff job was done, well done enough to my taste minus removing Rob's exploration rope as all the crabs had seized shut. 
We then rigged the slot before the Isolation boulder choke after noting another section which warranted more rope. Made a start on the new route over the top of Isolation chamber to avoid the necky choke. it was now 10pm so we decided to start making our way out. Exiting around 11pm into a freezing evening up on top of the hill. Lovely.
17/12/2020 - Jon Pemberton, Rob Eavis & Jeff Wade.
Time to start the survey of the new extensions, Jeff put his hand and offered to remove the rope on TAP traverse plus some extra modification whilst also adding a rope to traverse across to Isolation whilst Rob and I had the slightly more fun job of surveying the new extension and having a proper look.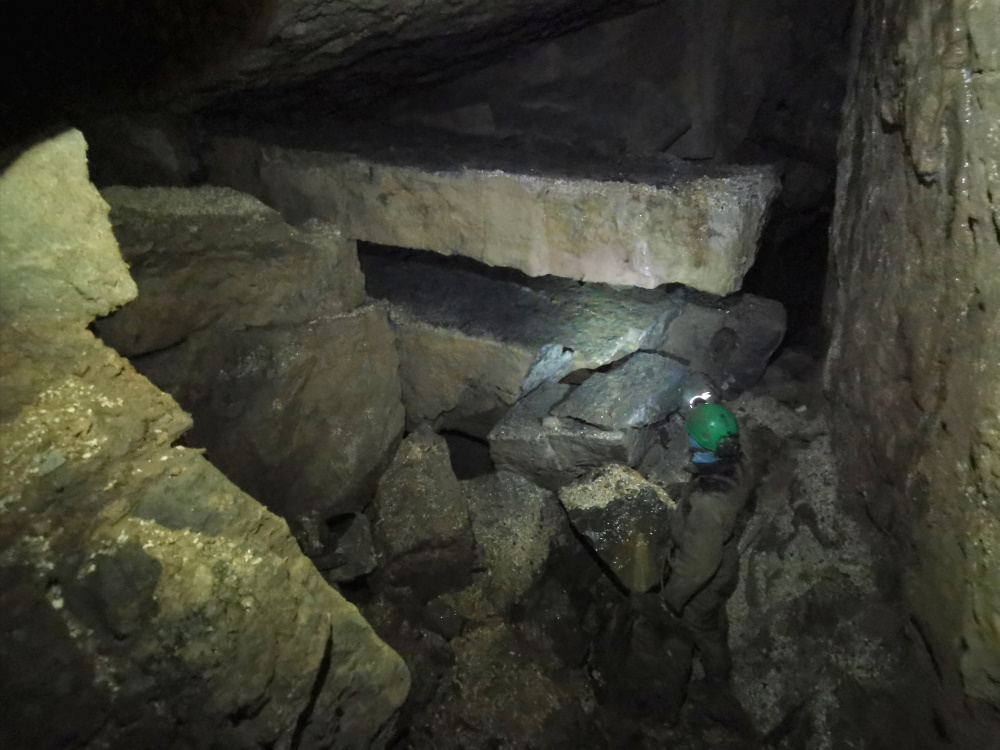 Jon admiring the 4.6m long death trap in Don't Flatten Me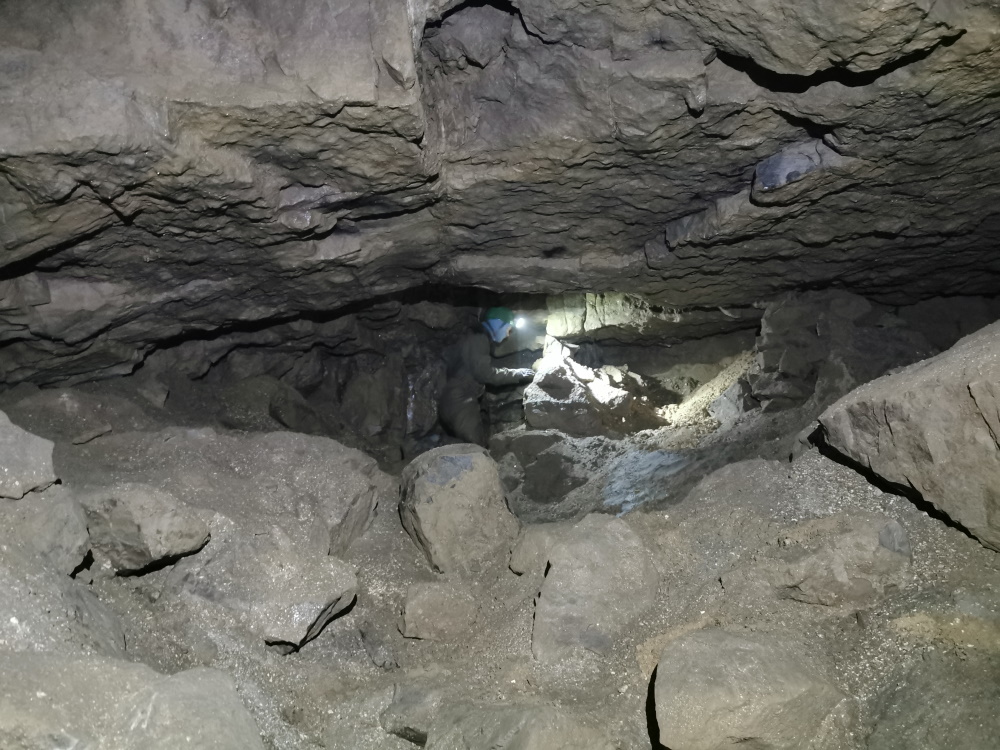 Jon in the as yet un-named natural passage
We started the survey at Jeff's rigging point and made our way over the top and down into Isolation. After deciding to survey this section whilst we survey the cartgate we bobbed across to the new extension and the Stop Flattening Me Chamber. Rob was pleased with the find. We surveyed the chamber and found a new aven off to one side which is remarkably Bagshawe-esq. We then surveyed the natural chamber below and found another tall cross rift which we'd somehow missed the last time we were here. Now we got to push beyond mine and Luke's previous point but this was short lived cause after 6m we found a 12m deep pitch which we couldn't climb. Rob traversed over the top to a stable level which he pushed for 20m to a collapse.
Not the outcome we wanted but we'll have to wait until next time to descend the pitch with hopefully a continuation below.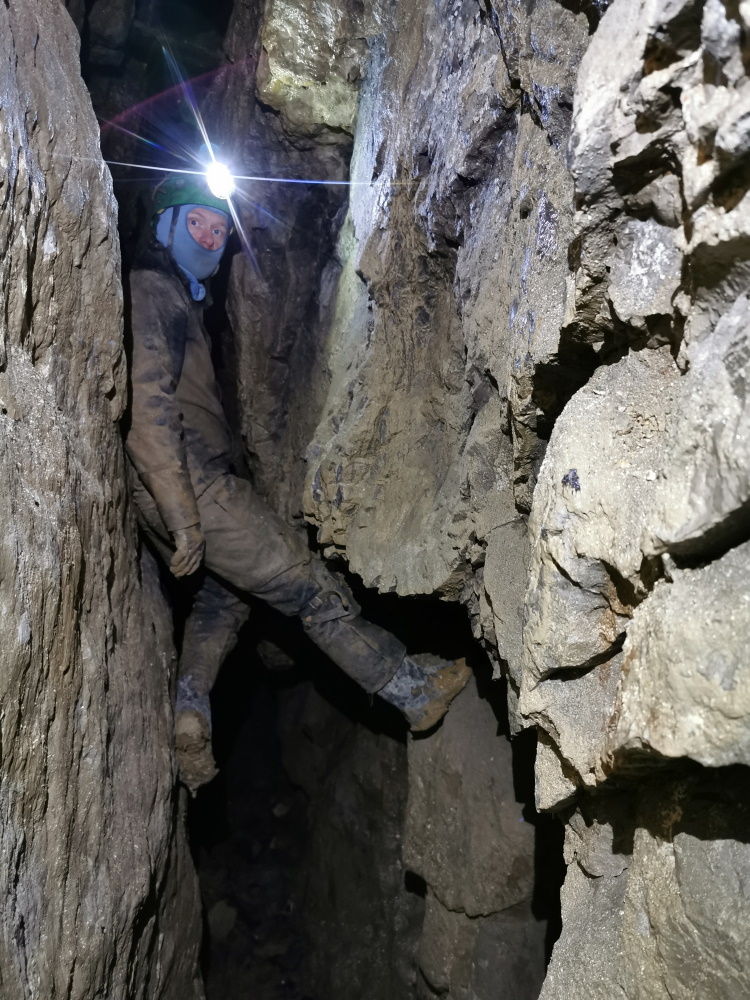 Jon cooly looking for ways on at the end
Details

Written by

RobEavis

Hits: 463
Since opening up the engine shaft back in June, getting a proper lid sorted and installed has been firmly on the "to do" list. The Eldon are therefore extremely grateful to have recently had one of the best traditional metal workers in the world join the clan. Hal Debes, with his apprentice young Dylan, work at Portobello Engineering and over the summer have put some of their skills to work on the task. Lockdowns and Cussey momentarily took attention away from Intake Dale, but in November the new lid was bolted into place and a good few whiskies enjoyed to celebrate the moment (or crappy lager if you're a Dylan).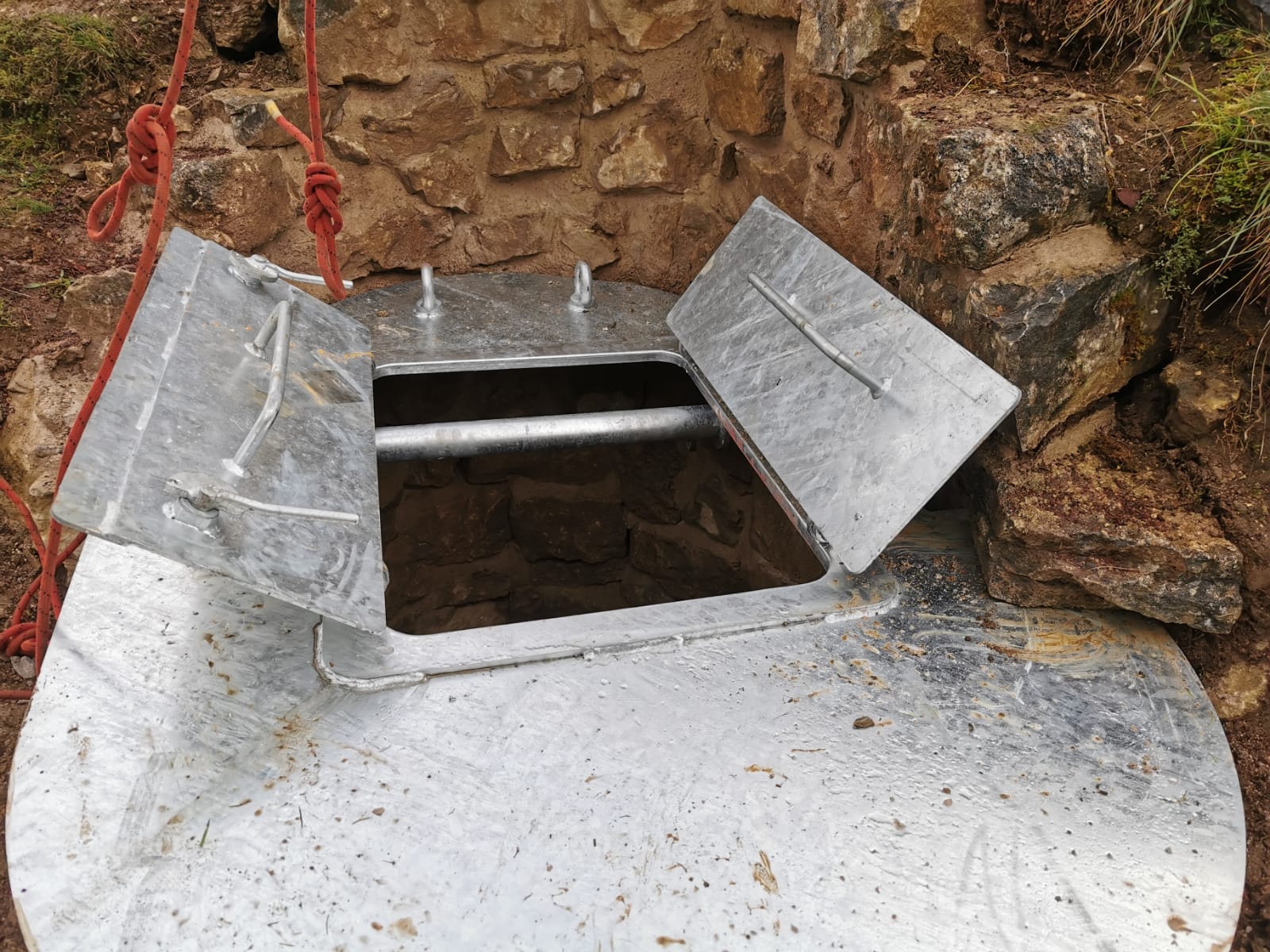 And oh boy, what a lid!
The site was later cleared of the scaffold tripod and all the crap that was hauled out of the shaft. All that now awaits is the finishing off of the walling around the lid front, which the DCA have again volunteered to do once the weather improved (supposedly due to the mortar curing temperature, but we all know the real reason). As with Cussey, a large Derbyshire key is required to open the lid, however curious visitors are asked to hold off until the lid walling is made good.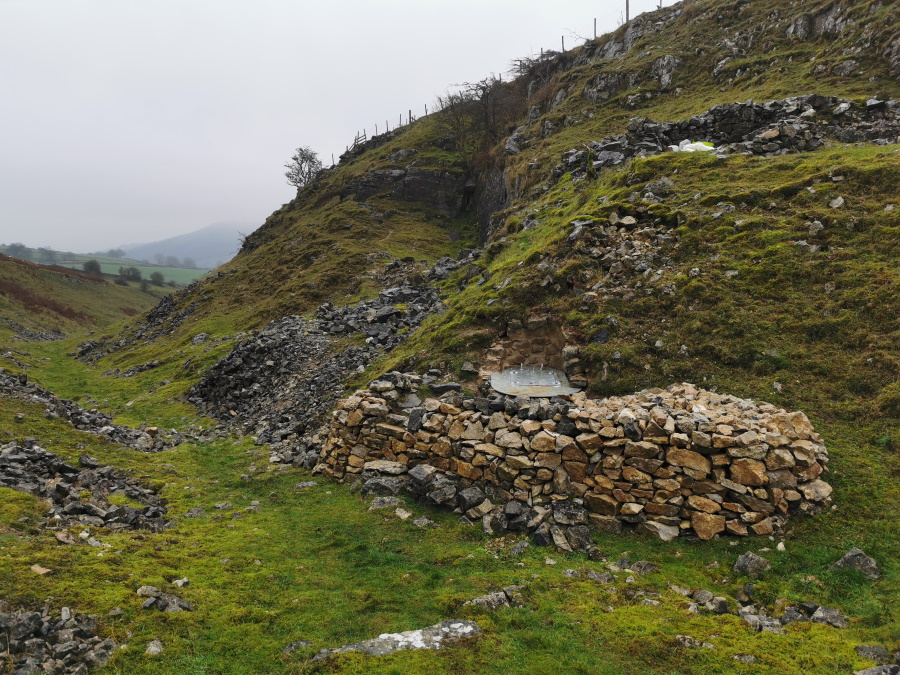 The new lid over the engine, with the old entrance in the cliff in the distance
Details

Written by

Jon Pemberton

Hits: 607
(Luke Cafferty & Jon Pemberton)
Just Luke and I tonight adhering to the law, we met for pre-beers at the usual layby and discussed the housing market, general chit-chat led to our target for this evening – heading back to Isolation which we discovered on 19th March 2020 just days before the first lockdown (see previous trip report). Our plan was to rig the entrance and connect it with the westward extensions rope, armed with drill, ropes and a ruck of bolts we made our way across to the entrance.
Both keen to get underground as it was freezing up top I took a quick leak only to break the zip on my over-suit (completely unzipped) – buggery, a catastrophic failure! Hal & Dylan's lid on the entrance is truly one of the best lids in Derbyshire only to be surrounded by a great mound of stacked boulders including steps – top work to all involved (we can't take much credit as we just dug a hole… typical TA.)
I rigged the entrance and abseiled down, the rope only needed re-tying into the existing anchors leading up to the westward extensions and didn't warrant any more bolts. I got to a safe place and hollered Luke down. I then guided Luke through the next few sections to the TAP Room (you kind'a forget how much dodgy stuff is in here, I can see why Dave didn't want to come back.) Once in the TAP Room we reshuffled the bag and dumped a rope, I told Luke how rubbish the next part was with Rob's shady rigging – he wasn't surprised. We headed along TAP Traverse pointing out to Luke the T'owd man's footprints, we abseiled down at the end and were only 2mins away from Isolation, a simple traverse led by an awkward thrutch to a dodgy thrutch over a tight hole (probably wants a rope) leads to a climb down into a funnel of boulders and dodgy stacked dead's to a slot in the floor – this leads to Isolation.
FINALLY!!! – after 6 months of dreaming, not being cave fit this trip had already felt like a slog! Once Luke was through the slot I quickly started rigging the pitch we had left behind all those months ago. I backed it up as the rock sounded dreadfully hollow and the back-up made for a good anchor in the traverse line too. The pitch was 8m deep and had a very natural feel to it. East the passage headed off into a large boulder choke underneath the Isolation chamber with a mud filled rift heading off North (no draught). A squeeze between boulders and a loose back wall led into an extension of the cartgate as seen before the Isolation traverse. This continued for 20m or so heading through solution pockets and largely covered in mud (obviously floods) to a forefield, a choked shaft heads up on the northerly side but no ways forward. I exited this section with great care as I didn't want the whole choke running in when I was here on my own.
Once back up the pitch we de-rigged and ran a traverse to the opposite side, here we dumped the drill and most of our SRT gear and progressed fast and light heading deep into the hillside. The first obstacle was a small squeeze at floor level through tailings. This led to a loose climb which belled out above me but what was stranger still was I seemed to be looking up through a perfectly round hole in a solid floor some 6m above, the workings above us must be quite extensive. Back at floor level a further squeeze at floor level led to a choked section but looking through boulders in front it looked and sounded pretty big and the black space between boulders was a dead giveaway. Luke joined me in the passage and once out of the way I pushed a climb up and over between more loose dead's, here I could drop over beyond the choke and was gob smacked by what was in front of me…
I was in a large flat roofed bedding chamber with a solid wall on my right, to the left the chamber was approx. 6m as far as I could tell but this was blocked by a humongous slab which had detached from the roof. What made this more impressive was that the slab was some 1m deep and probably the size of my driveway threatening to flatten anyone who comes near it – WAIT did I not mention it appears to be held up by hopes and dreams? Actually a little book sized nodule from what I could see. I waited in awe for Luke to arrive so that I could see his face and reaction thus we came up with the name - Stop Flattening Me!
From here on we vaguely looked at the leads which were popping up everywhere. There was most definitely at least one higher level above us if not more. Walking around the back of the slab a big black space could be seen down a gravel slope. Luke dug his way through whilst I admired the massive scallops covering the roof. He made the entrance big enough to slide through and shouted me through. We were now stood up in the continuation of the large natural stream-way seen in the eastern extensions of the cave but it was short lived and continued through to a larger chamber with a blocked continuation which'd need digging. The air movement down in this place was dead and we made our way back to the slope which was a lot trickier to exit from but not before having a quick look at the downstream continuation which seems to be lost under the large collapse from the chamber (again not inspected properly).
We discussed turning around at this point and thought to do a quick scout to make sure the main level (running parallel to the natural below) didn't suddenly crap out. A small slope led to a wider section where all of a sudden the draught appeared again and the air felt a bit more breathable. Looking above use were extensive workings and levels heading off in both directions. Carrying on west the main level rose again blocked by a some stacking and a backfill of tailings which will require a little dig to gain access to but completely open beyond. We also noticed a potential mined passage heading north some 5m above us although this could just be a solution cavity.
Here's where we turned around, baffled by the place and rather exhausted we knew there was some way to go before we reached the surface so started plodding on out. Luke was not a happy bunny by the end of TAP Traverse and once on surface we were bitterly cold within seconds due to the crystal clear night and a view to Mars. Someone had walked by the entrance whilst we were underground and opened the lid – any takers? Also it's a longer ascent than you think back up the engine shaft from the Westward Extensions!
Cold and defeated we didn't fancy a post beer and decided to bugger off home for warmth instead.
Another memorable one for the books.