Here is a very incomplete list of some of the trips the Eldon have been up to recently.
Members, login to write a new trip report....
Details

Written by

Jon Pemberton

Hits: 1338
Andy Grotbags Chapman, Miriam, Avelina, Sandy & I
We met in Inglesport at 10am for breakfast and soon departed full crew and parked on the lane at the base of Marble Steps. It still seemed a pleasant day up top and the walk over to the Shakehole was quite nice for a change overheating a tad en route. Andy rigged the first few pitches an we descended with ease skipped along the Upper and Lower main streamways to the junction of Duke Street. Andy went for a quick fettle whilst we regrouped and carried on towards the sump.
Mim and I dumped out SRT kits at the entrance to Skylight passage and after a 10min crawl emerged at a climb down into a nice bollock deep stream passage which soon led to the continuation of the large stream passage beyond the sump also known as Duke Street II which is even more impressive. From the base of the climb up to Jupiter Cavern Mim and I started to head back out whilst the others popped up into said cavern - reported to be "Yeahhh, it's alright" and hearing of Andytours - losing the way following a fixed rope!?
Surfaced into darkness and rain having been under 6hrs or so. Pleasant trip which could not be said for the weather above. Sideways rain, fog giving you a super chill!
Stopped at Bull Pot Farm.
Details

Written by

Jon Pemberton

Hits: 1186
Jams Wood and oneself
Boredom and laziness led us to a trip down Neptune mine on a nice cold winter evening. Parked at Wardlow and had a nice walk down Cressbrook Dale to the entrance which lies just up left from the first wall which crosses the dale. Neither of us has been before and with it only being 348m of mine passage in the guide book it didn't look like being a long trip.
Having stooped up the two right hand passages (going in) the only interesting'ish one being the second which leads to a natural fissure which looks like it's been dug in the past we missed out the short left hand branch and headed to the end. Not wanting to get wet feet Jams refused to venture any further than the first proper pool so I carried on to the end and on the way back climbed up the stopes to some natural passage investigated by Eavis and Harley the other year. This made the whole trip worth it in the end and can recommend it for anyone wanting a mincing trip with some excitement delicately balancing up and down the miners deads.
Retired to The Moon as the Red Lion was shut.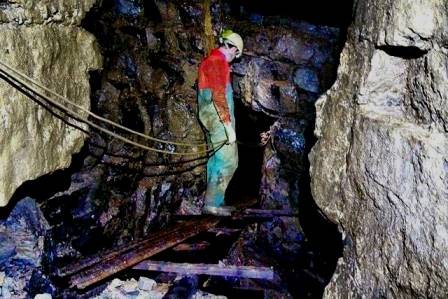 Details

Written by

Jon Pemberton

Hits: 1484
Too Bobgood, Grave Deadhill & I
Not one to turn down pre-rigged potholes, after some grub in Inglesport we had a long plod up the flanks of Ingleborough to the Winch meet. After blowing off... a few youth's on the way up, we eventually decided to head down Stream passage pot as I'd not bee down before. Being ill prepared we'd find our way to the main chamber and make things up as we went along.
We quickly kitted up on surface when Bob suddenly shouted up his lamp had failed, Using Dave's spare we were quickly down the entrance pitches and enjoying the classic "Yorkshire pitches" nice and clean for a change. at the bottom of the last pitch is when I realised I have actually been down here before but still unsure of who I was with? - Any takers? (Too much time with Bob). After some regular faffing we eventually found somewhere we recognised in the system (Main chamber) and stopped to clean our now rank kit! A few mins watching the winch then a climb up to mud chamber and beyond, we though about exiting via Bar pot but found that a club had just finished rigging Corkys - Fantastic as we were stood right at the bottom of the rope!
Corkys is quite a novelty entrance with not much point as it has been pretty much mined out in the higher level passages to not gain much cave, more of a collectors piece. A nice big 40m pitch followed by a fair few short tight pitches/pitch heads and one rather long flat out crawl "Nemesis". This proved not to be a favourable entrance for my two compadres with one not wanting a strenuous trip and the other two caving trips back from a 2yr break with a broken back! I rather enjoyed it.
A long walk back down to Clapham and we were in the Bridge by 9pm followed by copious amounts of ale.