Miriam Arrulo and I
So...
We decided on a road trip for an Easter break which we were trying to do on the cheap so looking for accomodation around places in England it didn't take me long to start pointing out various Caving huts, alas how we ended up stopping in Mendip for a couple of days on the way home from Cornwall - It was an obvious decision. I bagged some basic caving gear (2x wetsuits, 1x SRT kit, 2x crabs & a 10m rope) a rammed it in to the boot of the motor. 
Dawned the Fool of Aprils day we ventured on over to said Hole after a hearty breakfast leaving the warmth of the Wessex caving hut which was now fairly stuffed with guests and hating people I just wanted to get away.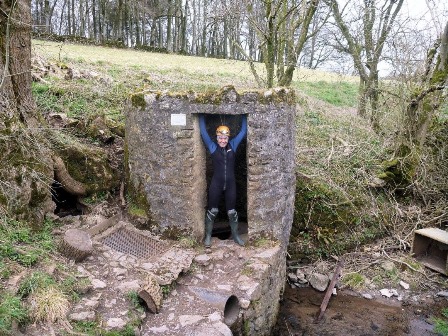 We were soon underground and working out long and wet and short and dry bypasses thinking we eventually managed the short dry route to the roomy Streamway. Lots and lots of fantastic little climbs and cascades which I was really taken away by, infact the whole Cavern massively impressed me! We took a few minutes to take a couple of snaps and made our way down to Swildons Twenty. No problems here we carried on further in roomy passage to Sump 1. This is when I turned in to a massive raving Hobo and couldn't catch my breathe trying to submerge my head and shoulders. Miriam laughed at me and called me a "Pansy" so I "Manned up" and put my wetsuit hood on ready to dive through. Laying in the waters of sump 1 I quickly shot straight back up and walked straight past Mim stressing the fact of how much I despised caving and how I was never going to participate in this past-time ever again and how that once I was to leave the cave how I was going to lob my wellies and helmet over the fence never to be retrieved!
After calming down and a quick piss break we exited the cave rather cold and miserable but still WOWWWED!! by the cavern. I soon realised I was pretty damn cold when we reached the bottom of the pitch and only having one SRT and a sling I didn't hesitate to climb the pitch with aid of the sling rather than stand about at the bottom. At the top I quickly bagged the gear and told Miriam how cold I was getting. I was shivering voilently and starting to not thunk wonky. I thought to myself that this could quite easily become an epic but knowing that we'd been through the worse and all that was left was streamway and the entrance series I cracked on with a certain speed and was glad to exit!
I Learnt a few things about myself on this trip and also confirmed my "Neshness"! (warm layers essential)