Here is a very incomplete list of some of the trips the Eldon have been up to recently.
Members, login to write a new trip report....
Details

Written by

Katie

Hits: 806
A fun filled trip into Newburgh Level, report can be found here:
Details

Written by

Jon Pemberton

Hits: 966
My Last proper trip was to be had, again down Rowter inspecting the boulder choke at the top of Sunrise persuaded from something Rob2 had said to Rob (Eavis) a couple of years back about it looking interesting. I knew there were gaps in the choke but my two previous visits to this secluded part of passage have always been turn around points thinking of the journey out. Rob seemed keen to get in one last trip with me before I departed so we met up at the farm for a late start at 8pm which worked for us both.
Having made the trip the previous week I knew exactly what ropes we would need to bottom the cave, so with minimal gear we hastily descended and made our way to the new extensions. To my surprise the Ginged Shaft was already rigged and adding to this delight the following pitches were aldo rigged meaning no gear required at all except for the entrance rope - YAYYY! This sped things up and it didn't take long for us to make our way through the Ice Cream Trail and make easy work of ascending the Chrystal Orchasm.
I was feeling fairly fit at this point in my life whilst Rob was feeling fairly fat so I had some time on my hands waiting about for Rob at the top of the pitches. I switched my lamp switched off and waited inside The Throne Room for him to catch up not forgetting to pick up the crowbar en route as I did... It was at this point whilst in complete darkness I noticed a distant rumbling sound of a subterranean watercourse! As Rob made his way up I switched my lamp back on and once he had caught his breathe we both listened to the distant rumble! The sound was very enticing indeed. A lot more enticing than the Choke up in Sunrise...
We ascended the last pitch to get on with the Job in hand and climbed the last few metres to the choke. Rob took a good look first. He climbed inside the choke to a very unstable void in the boulders which Rob2 had previously been to. He murmured something so I placed my head a little closer so I could understand. He basically said it was like death on a stick and confirmed it was void ridden but nothing worthy of pushing if you valued your life. He exited the void and made way for me to have a gander. I got waist deep into the void before agreeing and sliding my way back out wiping the sweat off my brow - eek!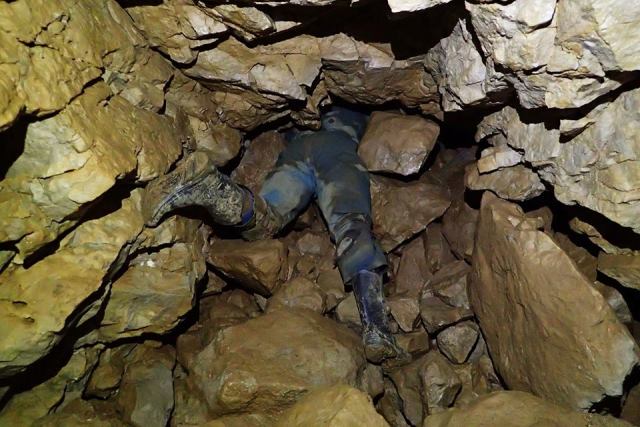 Half in the choke in Sunrise
OK... Plan B.
We ventured back down to The Throne Room. Still armed with a crowbar and shit tons of enthusiasm for the prospects of this end of Rowter we started attacking the floor at the upmost top end of the chamber. We dug down taking it in turns approx. 1m with three sold walls and gaps starting to form in the floor. A draught started to emit from the floor and as you dug down with your head to the floor the rumbling noise got louder and louder. This truly was an exciting moment. Rob made a fantastic job of shoring the shit by building a wall to one side for the digging spoil to sit behind.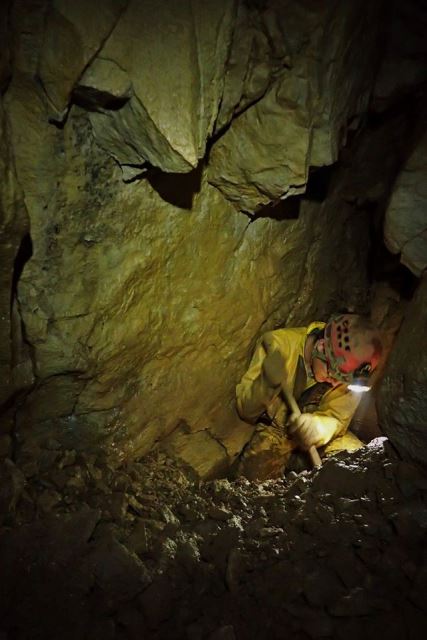 Dig, dig, dig - Rob
Pretty knackered and sore handed (I), we sat down and looked down at what we had dug out. Rob had secretly carried down a hip flask to celebrate our last trip together so we took a few swigs of some fine whisky to mark the occasion and though of some shoddy names to call the dig finally conjuring "A Game of Thrones" which suited marvellously! We started to descend having spent an hour or so at the dig wondering if Luke would ever make it here... Rob seemed to think not but I'm a glass half full kinda' chimp. I was feeling the wrath of Rowter on exiting the Ice Cream Trail with all its tight awkward pitches and squeezes and was quite glad to make it back to Decisions Decisions. All that was to do now was the final few pitches and the entrance shaft.
We regained surface at 1am the following morning treading quietly not to wake everything at the farm as we passed by. After a quick change in the freezing temperatures. We had a gay moment and said goodbye and I finally got home at 2am and was in bed by 2:30am ready to walk the dig in a few hours time - Oh joy!
A Awesome final trip in the Peak!
Details

Written by

Jon Pemberton

Hits: 958
So after a late start arriving at Rowter Farm around 3pm we (we being Sam T, Andy Chapman and Dave Ottwell) kitted up in freezing temperatures whilst sorting out what ropes we'd need bottom (by bottom I mean top out Rowter Hole). All my three accompanying companion cavers (ACC) had not stepped foot beyond The Ice Cream trail or beyond the ginged shaft so this was going to be a classic trip. Knowing in the back of our minds that it was the Eldon Xmas piss up straight afterwards we still caved on the side of caution wanting to get out in time for a pint...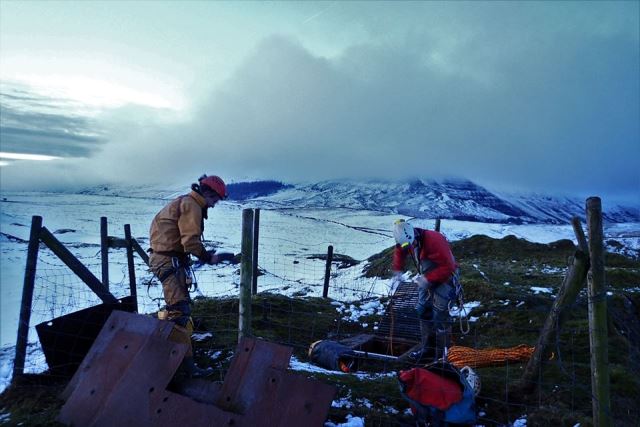 We dropped the entrance around 3:30pm and quickly made progress down the Ginged shaft ready to tackle the Badger extensions! Once through the Badger Choke stood atop of Two Left Wellies I was happy to turn around a get my ACC's expressions and this super find within one of our Derbyshire Caves. This truly is my favourite trip in Derbyshire! We quickly dropped the two pitches and whilst waiting in Decisions, Decisions had a quick drink ready to tackle the Ice Cream Trail. 
It had been a while since I had last been here and was sure that it wasn't as tight as people had made out. I managed to keep my harness on the whole way through chucking my metal work in front of me at times. The squeezes were negotiated by all not giving a second thought to if they'd but any harder on the way out. I was happy that all the climbs in the Ice Cream Trail have been left rigged with either hand-lines or a ladder which made out trip much easier, albeit the 35m rope which was dragged along for shits and giggles. We had now finally reached the breathtaking Crystal Orchasm!
Entry into this massive 100m+ rift/fault is quite fun and involves abseiling through a tight rift to then make a mid-rope change and start the long prussick up to Sunrise. This took some time with 4 people but was nice to reach the top and have a bite of SamT's twix and psyche oneself up for the long journey back out 2hrs and 30mins to get here, rigging. Abseiling down from Sunrise is a bit sketchy at times but nothing hectic. We used lots of caution when doing this to avoid killing one another.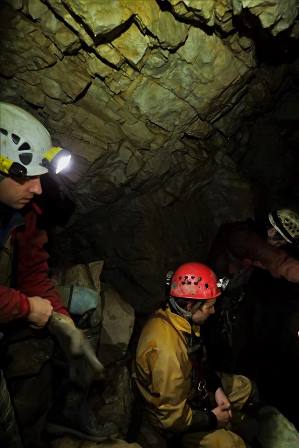 At the end, Sunrise
 And there goes the journey out. Chrsytal Orchasm, Ice Cream Trail (slower), Decisions Decisions, Two Left Wellies, Badger Choke, Ginged Shaft, Entrance shaft... I was just happy to tick them off as they came and went. Reaching surface at 8:30pm. This trip really does give you a good run for your money. It beats you up and gives you that self satisfaction knowing that you have earned that pint! 
Unlucky for us by the time we had got changed back at the cars we were all freezing! Our windscreens had to be de-iced and by the time we reached the pub it was 9:40pm and we'd definitely missed any chance of some decent grub... We snacked on crisps and peanuts instead and quenched our thirst with some much needed beer in The George. Moving on to the Peaks and then back to the TSG. 
Note to self: Don't get smashed on an empty stomach...