Team Awesome assembled at the usual car park and after searching deep for some much needed psyche we kitted up and made our way over to Boxing Day Swallet. Skirting the river we eventually stumbled upon what we believed was the old way in to Sneshigh Swallet. We knew from COPD that the water had been diverted from this swallet in the 80's in to Boxing Day swallet so continued to follow the water downstream where we eventually met a large rotten lid where Rob could hear a waterfall - BINGO!
The guidebook marks this pothole with a massive warning about it being flood prone and anything but un-settled weather would be threatening. Having rained for the past two hours we though we'd at least find the cave and check out the old sump.
We had a couple of short lengths or rope, a few krabs, a few bolts, a sling and a spanner. I kitted up on surface and foolishly forgot to attach my chest harness and croll not realising until reaching the first pitch - Doh! We all clambered down the entrance climb which was an easy but exposed groove in the corner of the shaft. From here a small section of passage and a climb down leads to the original sump which is now a crawl through water which leads to 30m of awkward tiny 'Crabwalk' type passage to the head of the first pitch (8m) which is conveniently followed by the second pitch (10m). All of the pitches require bolts for spits, we could tell nobody had descended recently as the deviation chord on the first pitch was nicely calcited over but still usable. From the second pitch we took the dry traverse option (3m down) and kept away from the water. This led to an impressive part of cave, much like a typical Yorkshire pothole, clean, wet and dark everywhere...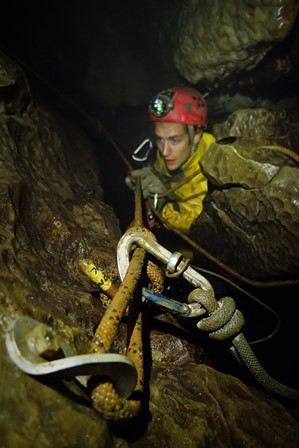 Rob at the top of the first pitch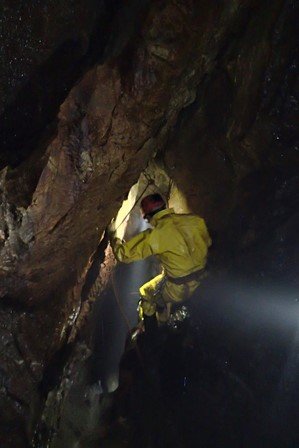 Rob about to rig the second pitch/traverse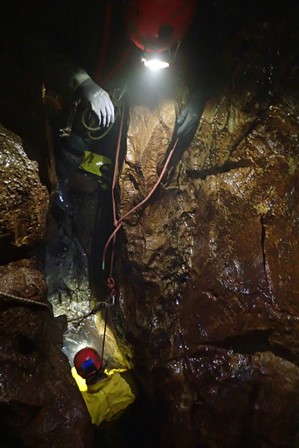 Rob descending the third pitch
We dropped a further pitch (9m) and a further climb (2m) back under the pitch to the start of the start of the Blasted Ochre Rift (4m) in length where a small Ochre coloured inlet comes in from above. The passage now descends steeply to a small pool which flows over the fourth pitch (8m) but having run out of rope, bolts and krabs we had to turn around at this point and leave completion till the next visit. That being said we could've possibly seen the bottom sump pool from the pitch head marking the end of the cave.
We headed out with no issues. Luke feeling glad to have escaped with his life once again on another fabulous trip strung together by Team Awesome. We caught up with a shandy at The Anchor afterward for the monthly meet.