Ok where to start...
We (Luke, Rob & I) met at The Quiet Women in Earl Sterndale at the later start time of 7:30pm with a planned trip of Bottle Pot organised by Luke. After jumping in Luke's pimped up van we cruised up to Stoop Farm to be denied access to said pothole. Rob and I both think it was probably Luke's rubbish organisation skills and the inability to use 'The five P's' he learnt whilst in the army. Anyhoo we decided to rethink our Friday evening over a swift one in The local village watering hole.
Being the only ones in the establishment. Rob did his usual party trick of showing of his serious attitude problem whilst ordering our drinks which resorted to the Landlord inadvertently calling him a C**T! (which is also what old folk back in the day called a scythe blade holder/protection sheaf...
After a couple of games of bar skittles with said Landlord and countless stories of Dearman and how he had barred himself from The Quiet Women we eventually decided upon Boulder Pot in Monyash as it was the closest sounding hole to our plan A. After arriving at the correct parking it now being 9:30pm we quickly kitted up in the rain and headed off down dale to find Boulder Pot. I had a rough idea where the hole was from before it was rediscovered but having not been there for 6 years and it being dark it took us 30mins before Rob eventually found the entrance which was exactly where I thought it was; in a patch of 6ft high nettles under a tree right at top o' Dale.
We descended at 10pm and quickly dropped some tight squeezes to a horizontal section which Luke took lead. The passage split here and we found ourselves at the top of the pitch which was an easy climb down to another pitch (again free-climbable) to where the water obviously backed up as it became rather muddy at this point. Rob headed off down a muddy crawl to a dig whilst I climbed through a rift to where a draught was coming from. I can only assume that this is the limit reached by Bentham and Co. in 1993 but from what I gather Orpheous have got deeper than this but we must have missed a turning.
Anyway coming out was a lot more fun as we were constantly being pulled back by a thing called gravity! We surfaced at 11.15pm, it wasn't until 12.20am when I eventually reached Dore. Not your average Friday night but a very memorable one for sure.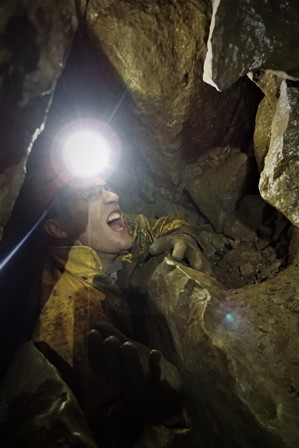 Rob negotiating one of the squeezes on the way out