Tommy Moore of SUSS emailed me asking if I'd be up for giving him a guided tour of Picnic Passage which marks the current end of The Dynamite Series of Carlswark Cavern. Having not been there since 2010 I stupidly agreed and headed down for a midweek evening trip.
We made our way down Flower Pot and Tommy didn't struggle with the Codeine Connection so once at Final Aven we took off our helmets and donned hoods and head-torch to make life a little easier. The crawl is flat out for most of it's 60-80m length with only the odd cross rift which you can turnaround and pass. One section just before where the passage is at its largest is three quarters full of water which makes the whole trip thoroughly enjoyable. Tommy and I both had a look at the very end which was a couple more body lengths longer than I remembered only to agree it would be a lot of effort to dig there and gathering diggers could be problematic. The end is heavily calcited up.
We headed out via Porth Crawl just to give the shoulders a work out. I now remember why we don't return to this passage that often... Although Tommy did seem keen to survey the place.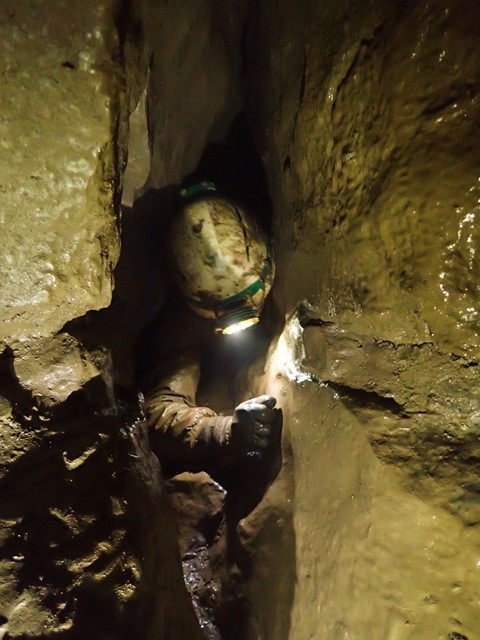 Tommy enjoying Porth Crawl