After Luke and I had our previous encounter up EG&PL (01/06) Team Awesome had another trip to start a dig in the bedding passage off Father Time, unfortunately on this trip Pool Chamber turned out to be sumped so we had a gander at The Real Thing and beyond the Muddy Duck where Rob was inserted into a freshly discovered crawl heading North where he (WE) discovered 10m of new passage!
We returned on this date minus young Luke and replaced by French Jeff (Wade). We made quick progress to the dig face a bit worried about the impending thunder storms above surface but I reassured them both that Pool Chamber doesn't act on food water. The dig appears to have only been fettled with and not properly dug probably with the Hollywood Bowl going at the same time. We all took 30min shifts at the dig face, pulling kibbles back and stacking further back in the passage. One Person digging whilst the other two had some serious bants! After we had gone full circle we made the decision to call it a day and left for The Anchor. We had progressed enough to reach what you could only just see before and with one more session we should be able to decide if its a short or long term project and what the passage looks to be doing/heading following the constriction we have reached.
We raced out to continue our awesome bants in the pub.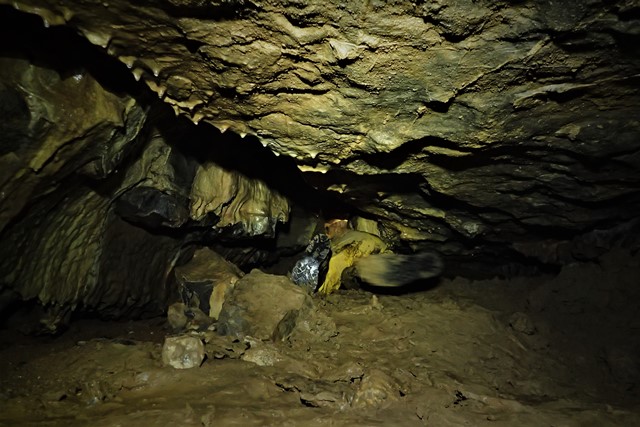 Rob Eavis putting in a shift at the dig face