Cussey Pot
During Lockdown 2020 a new hole was spotted to draught bigger and stronger than any cave in the Peak. We dug it open and this is what happened....
Details

Written by

RobEavis

Hits: 707
The trip we'd been working towards since last June has finally arrived. After over 40 trips, through bravery, ignorance and stupidity, driven on only by the appetite for glory and reliable pre-beers, last night we connected Cussey Pot to Doom…

Team 1 – Joe, Luke, Jeff, Rob, DaveH
Team 2 – JonP, DaveB
A night where two become one; one team digging in Cussey whilst the other planned to dig from the other side, heading in Cliffstile.
After prebeers Joe, Luke and myself headed straight to the sharp end whilst Jeff gave Dave H the conducted tour. Having not been on the last digging trip I was keen to assess the end as their reports were slightly conflicting but the worst gave only 2m before open passage.
Rather than mess about with trying to fit the drag tray passed me I suggested Joe get to work on enlarging the passage behind me using the hauling team slowly assembling whilst I push on ahead, back filling a small airbell to the right. The sediment, mostly damp clay, was almost impossible to work with. A crowbar just sank into it but made no progress whilst fingers could only just penetrate. Once a handful was finally clawed from the dig face it cemented your whole hand together such that is was almost impossible to then let go of your hard earned nugget of progress. After spreading it onto any wall or body part reachable it was then a challenge to actually get your fingers unstuck from each other before attempting another deep dive into the filth in front. This was hopeless work.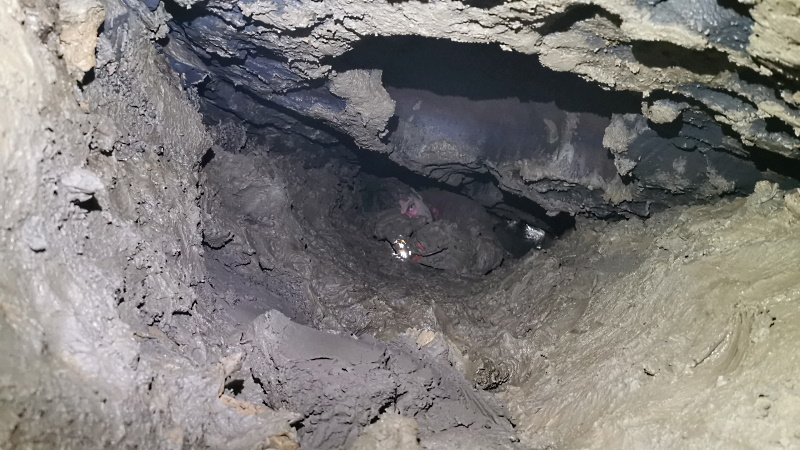 Dave struggling his way through Loper Lust
However after only one metre of digging straight ahead I could see the floor rising up ahead and what looked like streak marks in the mud from human activity. A little further a welcome crowbar became visible. Come on! I passed back the good news.
The other team were meanwhile making their way to the other side, up the sough, but could not yet be seen or heard. For some reason a race started within me and I started frantically pushing on, desperate to entirely undermine their hard efforts and make the final connection without their help. I start pushing the top few inches of mud into any crack I can find a squirm slowly forwards. With the gap looking barely big enough to squeeze through I push my helmet ahead and go for it. I'm in. We did it.
After a few minutes to take in the feeling of success, I turn around and use my newly reclaimed crowbar and larger working space to work the hole bigger and shortly after Joe slides through too. Yes. We shout to the others to follow and then head off towards Doom and down the big bendy ladder to the first sociable chamber. After only a few minutes we hear the familiar jovial discourse of a JonP approaching and simultaneously turn off our lights, waiting like naughty little children in the dark. They finally spot us and cheer, the team united, the success shared, and the optimistically packed whisky passed around. Good work lads, what an effort this has been.
With spirits high we enjoy a leisurely stroll around Doom, taking in some of the key sight and projects yet to be pushed in here. It is a strange but euphoric feeling being in this previously remote place after only the relatively short descent of Cussey. After some more whisky and general piss taking the sough team head off back to their distant exit and we head back up Cussey.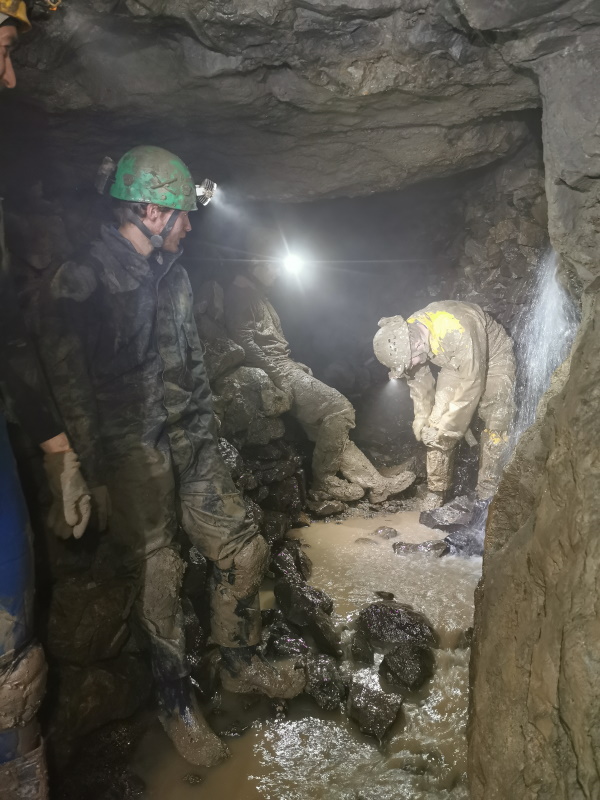 Attempting to clean off in Doom
Any euphoric and leisurely feelings that were gained from our stroll quickly disappeared once back flatout in the connection crawl. The clay here is so sticky that it sucks all the energy out of your muscles and we all defaulted back to primitive grunting to get us through to the spacious Inglorious Bastards chamber beyond. Here would desperately benefit from a shower. This was Dave's first caving trip in over a year and he was pretty knackered so we let the others go first and made our steady way out, my digging playlist keeping us company on the way. It took over an hour to battle up through the numerous awkward thrutches and tight pitches and reach the still cold air of the surface. Whilst this is indeed a much shorter route in, Cussey is certainly not the easy backdoor we were hoping for and will likely remain a connoisseurs trip. Work will continue to improve the connection crawl and to get the link surveyed through. Meanwhile we as a team will need to assess whether this entrance gives sufficient advantages to the numerous and varied enticing leads beyond to make digging in the Stoney catchment a continuing theme for is in the near future…
Please note that Cussey is very demanding, especially on the way out. A high proportion of post-lockdown cavers will not fit and most will certainly not enjoy a lot of it. Most importantly formal access is not yet agreed, so please stay away until this is sorted.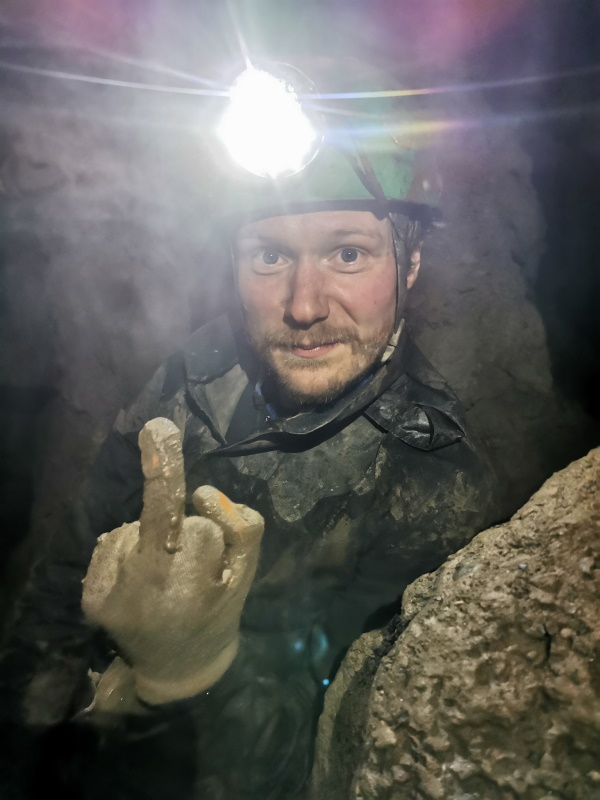 To all the haters who said it couldn't be done
Details

Written by

Jon Pemberton

Hits: 243
Jeff, Dave B, Joe & Jon P
We met at the usual time and made our ways to the bottom of Cussey in pairs to avoid boulder dislodging catastrophes! Once all de-kitted we made our way through Loper Lust to the dig which was now no longer dry and a pool of water had formed at the bottom of the ramp. I took to the dig face first being first down the hole and with Rob stating that breakthrough was imminent I was keen to crack on whilst trying to keep dry.
I made my way up into the first air bell which was roomy enough to laydown in. We ferreted about 10 kibbles which now required feet hooking to bring forward to the dig face, a turf rolling technique was applied which seemed to work well rolling the sheets of clay up rather than digging down with fingers which seemed a waste of time. I could now see through to a bigger air bell and cleared just enough mud so I could squeeze through. Now in air bell 2 I could see forward approx. 4m where the floor dropped away with lots of popsicle pendulums on the roof which thwarted progress. Luckily these were quite easy to remove but seeing that breakthrough was no longer as close as we though I made way for someone else to have a go.
Dave was up next and took a whopping 2 more kibbles which now had to be ferreted from the arse end of nowhere and limited dragging without lots of movement from everyone in the chain. Dave managed to push forward into a further air bell (3) but it wasn't until Joe took his turn at the dig face that we reached the 4th air bell albeit with Joe losing both gloves in the process and completely caking his glasses with mud.
We now had to resort to stacking at the sides as it was impossible to drag kibbles back to the chamber. Jeff had the final dig and could see a few more metres ahead to where the passage seemed to be changing direction. We left covered in slop and now need to decide a further plan of action for the dig.
Breakthrough must be only metres away...
Details

Written by

RobEavis

Hits: 78
A sneaky weekend evening trip to fit in with my diary. Jeff found willing help in the form of Joe, and I was glad to see he was well enough informed that he smashed down his own prebeer before we headed in.
I went straight to the dig with capping gear whilst Jeff gave Joe the personal tour. Unfortunately this extra time didn't help much as I spent most of it trying to get the drill chuck to work, it seems the last few months of Cussey have not been kind on the drill. Brute force eventually got it operating ok and I set to work dismantling the boulders that were buried in the floor whilst Jeff and Joe made swift work of shifting all the debris back. Once completed we swapped and each had a session digging, making great progress and getting pretty knackered and fed up of Luke's poor music taste (we really should have a playlist that doesn't have his additions for when he's not here).
They headed out but I wanted a quick look at the end, primarily to see if the capping gear would be needed for the next trip, which I wasn't going to be on. At the dig face I was able to squeeze over top and into a 2m long airbell. At the end the roof comes down but then looked like it jumped straight back up again. Ahead blackness. Should be a productive trip next week…
Details

Written by

Jon Pemberton

Hits: 291
No Lukey boy tonight so just Rob, Jeff and I on tonight's now allowed group of 6 trip and with a right to roam again.
Unfortunately we were still blessed with Luke's "presence" by his shit taste in music hence the obscure title name for this entry.
Jeff was a smidge late so Rob and I had pre-beers early, we also had a quick look at the Saltpan down from the car park which makes for a lovely washing place afterward and got rid of most of the gloop. We made good progress in Loper Lust with three people: 1 @ the dig face, 2 @ the top of the slope dragging up the kibbles and 3 @ the small chamber cobbing slop up into any crack going. We must've done about 50 kibbles in total and made good progress uncovering a few large rocks in the floor which need capping. Pretty certain we could also probably gain visual contact with the other side of the dig if we were to try it again. We all had a turn at each location and all enjoyed making fun of Luke's shite taste in music.
We gained surface about 11pm. Onwards to glory.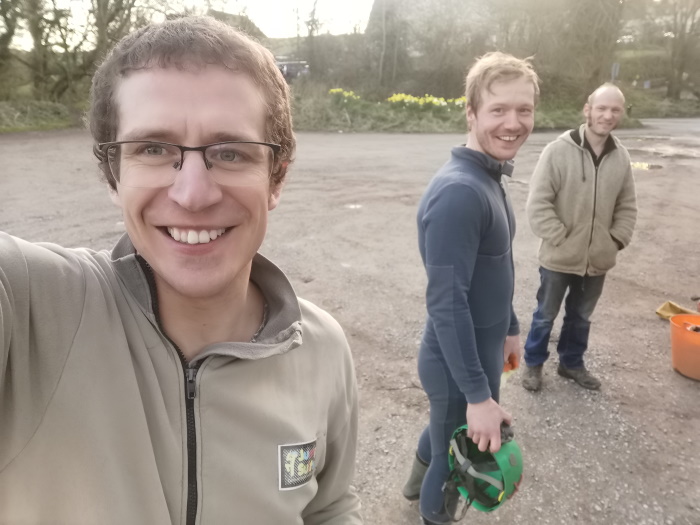 Team of three now allowed again
Jeff Wade in the Loper Lust Dig, by Rob
Details

Written by

Jon Pemberton

Hits: 309
Team A (Rob & Luke) - Team Doom.
Team B (Jeff & Jon) - Team Cussey.
Great trip this evening making 2 vocal connections from Cussey to Doom. After leaving appropriate time Jeff and I bimbled down Cussey and with our agreed meeting points and times made our way to location A @ 1920 hours (Loper Lust). Jeff got stuck right in and inserted himself head first at the end of the dig. We made radio contact and shortly after crystal clear voice contact with Team A who were located in the flat out windy dig above the bendy ladder (http://www.eldonpotholeclub.org.uk/homepage/current-uk-projects/doom-articles/341-best-lead-in-derbyshire). This was great and meant we could roughly orientate our survey to the presumed location, although no light connection made.
Next location was at the bottom of the mine workings in Cussey for 2000 hours this proved to be pretty tricky as neither of us had been there before. The pitch up had an awkward free-hanging traverse to get off the rope and afterwards we had to re-rig the pitch down as it had been de-rigged and unfortunately we didn't have a spanner. We gained radio contact but failed on the vocal connection after failing to get down the pitch. Although we did uncover a nice sized tubed at the base of the hauling shaft.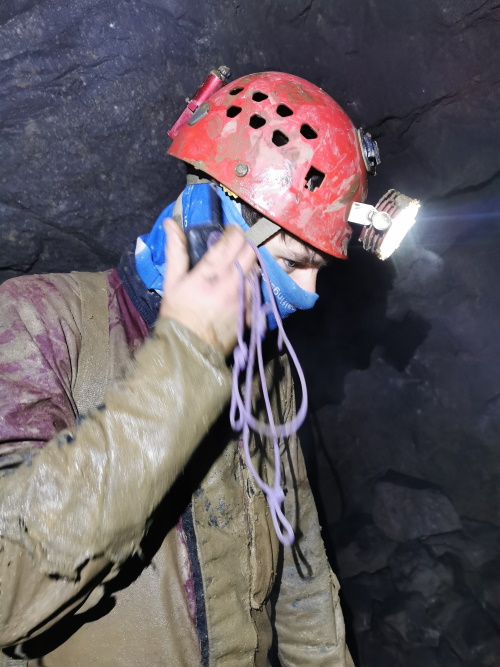 Luke radiolocating from Doom
On to point C for 2015 hours which was much more reasonable. This was at Rob and Jeff's quick poke in the base of IG chamber. Here again we made radio contact but no vocal connection after loads of serious banging - nothing.
Last but not least point D - Black Draught. Here Jeff offered to insert himself into the end of the crawl whilst I kept my SRT kit on. We made radio contact then eventually Voice contact but barely audible. Although it sounds we were more clear at their end in The Wet West than we they were at our end. That concluded our trip so we slowly made our way to surface - mission accomplished!
Sounds like Team Doom had a great trip checking out some old haunts and had a good look at the end of the Western end of Doom which the survey does not do much justice.
Next week we'll start to dig Loper Lust as it seems the easiest which sounds like something we'd do.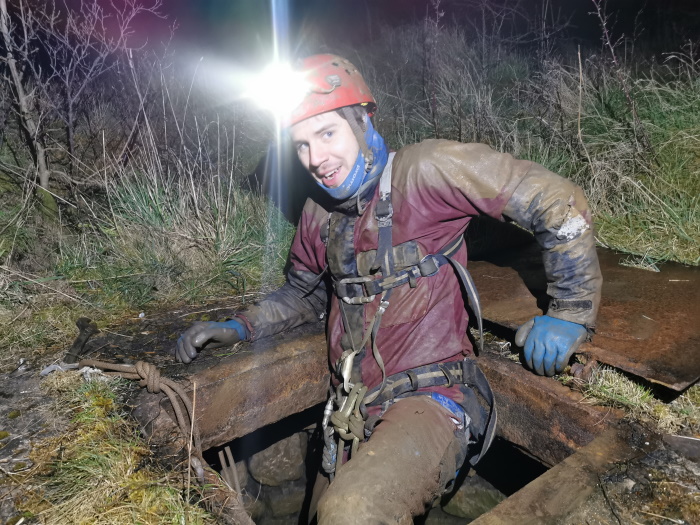 Luke exiting from Cliffstile