Cussey Pot
During Lockdown 2020 a new hole was spotted to draught bigger and stronger than any cave in the Peak. We dug it open and this is what happened....
Details

Written by

Jon Pemberton

Hits: 163
Just Team Awesome Proper tonight - Rob and I which happens rather frequently but we get shit done.
After a hasty pre pint in The Miners we quickly dashed off (Rob in pee-wee) and descended into the depths of Cussey. We made a pitstop at the bottom of Nomenca Rift and gathered 4 pieces of scaff and clips with good intentions of needing it pretty sharpish at the pointy end of the cave (the draughty bit at the bottom of Rocky Horror). The trip through from here was not an easy one with the large scaff tubes attached together luckily with just TAP in motion we handled it without problem going full gas all he way.
Once down at the bottom Rob started to remove a rather large boulder blocking the draughty hole. Unfortunately it wasn't as draughty tonight as last week but it was still the best thing we had going. Rob made excellent progress removing said boulder and a few more underneath it too. He stood back for a moment to inspect the situation, we now had a good view through boulders to a void with potentially a way forward. We were expecting to be going down and not so much in to the choke but any progress is good progress when finding cave. I jumped in the hole and removed some mud from the floor just enough that a small lad like Rob could squeeze underneath. Having judged the boulder choke situation we agreed that we couldn't really remove any more boulders without undermining the choke above which would destabilize pretty much everything up to the the top of the pitch in Rocky Horror and beyond - I don't think there's much that wouldn't move up there... The scaff was now redundant as it was pretty bomber bar the loose stuff.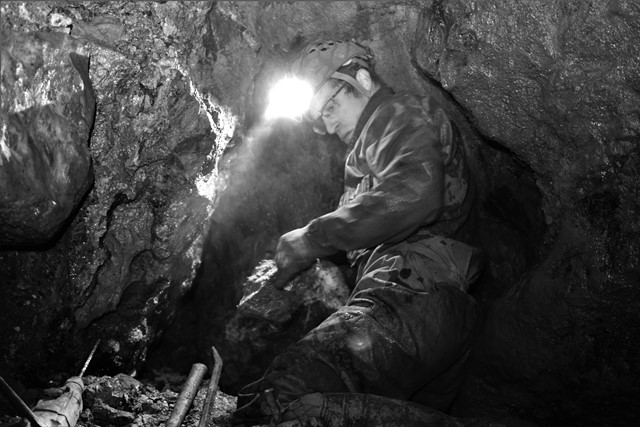 After agreeing that there was nowt left to do Rob jumped in and squeezed under the boulder superman style with both arms above his head (who taught this guy how to cave - SUSS, lots to be said about them). Once through he pushed further into the choke feet first admitting that he didn't think he'd manage to do that. He was now in a small chamber within the choke with a large (actually massive) boulder chocked in the roof with a smaller tv size boulder held up on hopes and dreams. Rob finally persuaded me to come through and after negotiating the squeeze I made my way to the chamber which Rob started giving funky names, It was a sloppy horrible messy place and once through the boulder squeeze that's the only thing I could think about, returning back through that squeeze to the safety of Rocky Horror - I called this new chamber The Gloom Room! Rob couldn't understand why.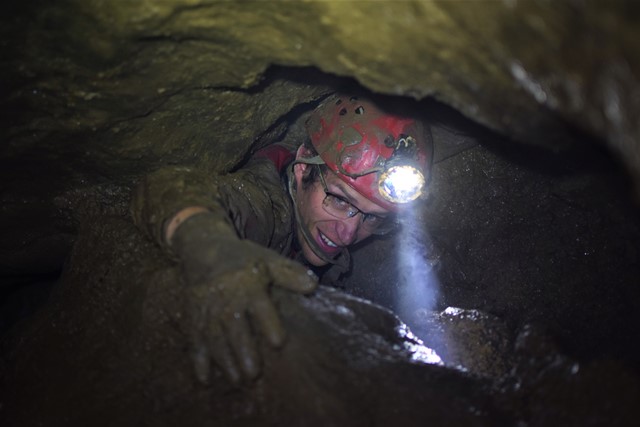 We frantically started digging a hole in the floor which looked to be easily passable. Shortly afterward it was visibly not gonna happen as the boulder we were digging along turned out to be massive! Rob had found a climb in the roof (over the horrible tv size boulder) he gained access to the climb with the use of my back as a step up as he is quite short. He shouted back how exciting this looked. He'd gained access to a phreatic tube which he pushed for approx. 15m to a muddy conclusion but it wasn't all boring as there were lots of exciting question marks along the way (even a shot-hole cum natural mark on a huge boulder which left us baffled searching for theories). We left on a high and both safely passed back through the squeeze without too much.
Next week is gonna be the big one right?
Details

Written by

Jon Pemberton

Hits: 56
We split the trip today with all members of Team 4some present - Rob, Jon, Luke & Jeff.
After pre-beers at The Miners Rob and Jeff went to survey the magic roundabout loop which leads back via The Rocky Horror pitch. They completed the loop and headed down to the bottom of Rocky Horror which after a little digging found a hole in the floor which was strongly draughting outwards and worth another look.
Lukey boy and I headed to the Black Rift convinced we were on to a quick breakthrough. Sadly we were hugely disheartened after a lot of effort removing some rather large slabs of rock from the floor without entombing ourselves we managed to catch a glance through a hole between boulders but it didn't look very promising so we buggered off. 
m pretty sure Luke packed in caving at least a couple of times during this trip. We were hoping Jeff would be writing a much better report with a fresh perspective to the place but unfortunately it looks like he'll be going back on the aspirant list pretty soon.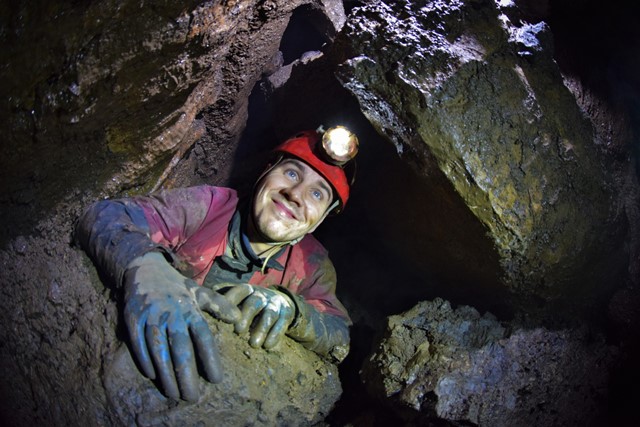 Details

Written by

Jon Pemberton

Hits: 187
Once again 3 of the caving world's finest explorers united together & continued exploration in Cussey Pot (aka: Team Awesome, aka Rob, Luke and Jon).
We went to the pub tonight, first time in a while - It was brilliant. Rob calibrated his DistoX in the beer tent then we pushed on over to kit up. After pushing to a few conclusions last week and being baffled with lack of draught we decided the next job was to get it surveyed so we could see what was properly going on in this complex place. It kinda reminds me a lot like Hungerhill Swallet void of water crossed with Waterfall Hole without the water...
With Rob on PDA, Luke on Disto and me spotting we cracked on and with only a minor initial blip straight off the bat down NCA pitch. Whilst Luke corrected his blip I pushed a little side passage with the help of Rob moving a large boulder from the entrance - it went nowhere. We continued forward and made a route through the choke and headed towards Rocky Horror first. It all went swimmingly and we admired the boulders from underneath as always, The chamber at the bottom was nil of draught but I made an exciting discovery waiting for the others to arrive. I noticed a dark bit of rock in the mud floor and on closer inspection it turned out to be a rotten timber! - Holy Crap! - i thought. T'owd man has been here. I shouted up to the others who dismissed it off and as soon as Luke was down I noticed two more artefacts, evidence no.2 - one single shot hole on a large rock hanging from the wall. This confirmed my suspicions. When Rob arrived I found evidence no.3 a small picked section as though T'owd man had started to make a stemple pocket. Rob found a further potential lead at the bottom of the chamber heading back towards the choke which'd require further inspection, we also noted that it'd be worth a prod in the collapse where the Miner's had appeared to have come from. Very strange how there's no other evidence of mining activity anywhere else in the cave.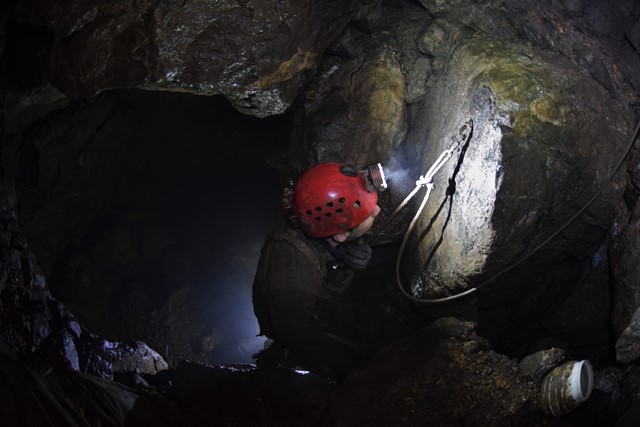 We then pushed on to survey Wallsernice which was fairly easy. We noted a slight draught in the rift in the floor which appears to be only a few short metres away from a nasty tight rift below us in the choke off from a section we've called "The Movie Room" as everything seems to move. After taking a few photos Luke and I had a quick look at The Black Rift and we both had a massive urge to dig here! - which we plan on doing next week. It's still a complex section and we've yet to locate the massive draught coming out from the pitch head of NCA Secton.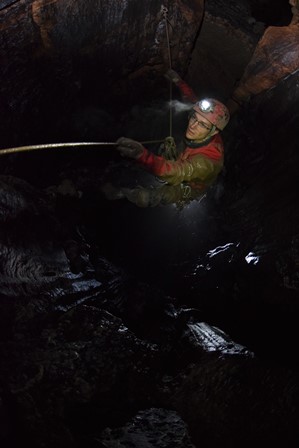 Details

Written by

Jon Pemberton

Hits: 417
A solid effort from TA this evening with all honorary members present: (Eavis.R, Cafferty.L & Pemberton.J)
We were keen to drop the newly discovered pitch from Wednesday so made a super rare but not un-heard of 2-in-a-week trip. Again we met at the cave and downed a quick pre-beer to sort us out and wasted little time in reaching The NCA Section with the C in tow. The place was unfortunately nearly void of draught this evening which was a bummer considering the outcome as it would've made exploring a lot easier but heck! – We had a massive pitch to drop.
Rob bolted the pitch and "ummed and arred" enough to think Jeffrey was present – to be fair we were balls deep in a large (for the Peak District) boulder choke and any sense of being "bomber" had gone out the window. Unluckily I dropped my glove which caused huge complications until retrieval half way down. Rob had to place a re-belay close to the bottom to steer clear of a major rub point, with the rope free Luke followed as did I. The pitch dropped down through large poised boulders with the westerly wall being the only thing solid in there. Approx. 12m down the pitch ledged out coincidently right where the re-belay was placed. Idiotically the re-belay was anchored into a smallish (on the scale of things) boulder chocked in between two other boulders which we'd just abseiled through. Rob must've seen the floor and thought, "bugger it, I'm nearly down…"
Once we were all on the floor some -16m down (not the -50m [at least] we were expecting) we quickly met a fateful conclusion of being well and truly crapped out. The place has widened out into a chamber like place but on further inspection it looked more like the solid walls were just really large boulders with the exception of the westwall. The floor ramped down on boulders to a horrible silt termination where the water appears to back up to this level. With no ways on this would be dig no.1, one being a number and not its number of priority.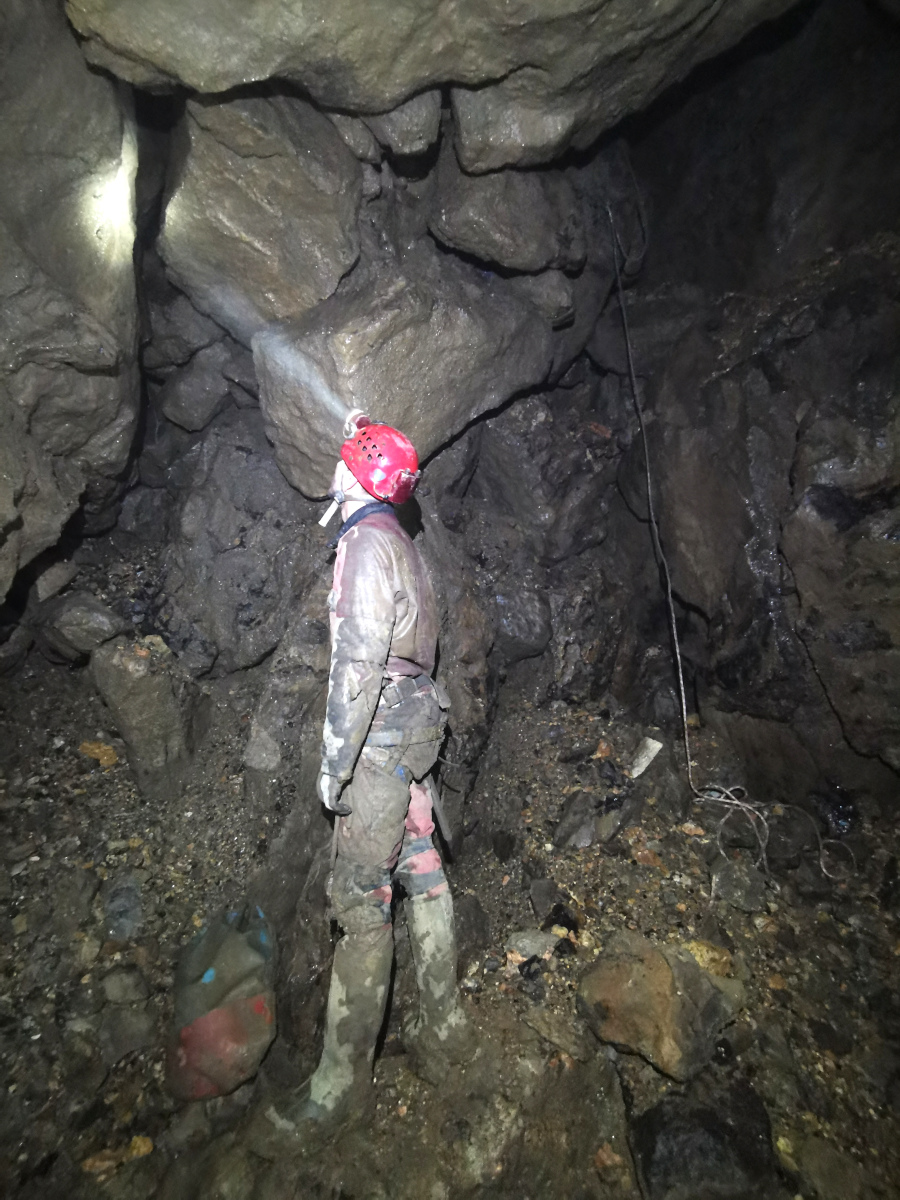 Luke at the bottom of Rocky Horror pitch
We left the pitch now named "Rocky Horror" rigged ready for us to survey it on the next trip. Once up we inspected a few more voids in the choke but none proved fruitful. Luke and I checked a small hole I found on the previous trip which looked super dodgy. After the removal of a few boulders we were left with a squeeze under a dodgy chock stone which gave us access to a pitch down with the floor out of view. It felt very much like summat out of the Carlswark Dynamite series but this was left for now and would require the removal of a boulder to push safely.
Further back towards the main chamber Rob inspected a southerly lead (I say southerly but all estimations were made from an app on Rob's phone which possibly required signal to work properly…). He followed the lead for some way, through tight rifts and between boulders, and once he'd reached the head of the Rocky Horror pitch he decided to turn around. It was getting late so we grabbed all of our gear and made way for the main chamber, now coined "Time Warp".
We sat and thought through our potential leads left to visit. There was a climb in the roof of Time Warp which would require some proper gear and a lot more bolts, secondly was the climb up The Black Aven. Rob and Luke had noted a passage heading off east on the previous trip and with a little push Rob kitted up ready to lead the traverse from higher up in the chamber with the 3 bolts he had left. After knocking down a load of loose rock and me nearly falling down the pitch (luckily Lukey boy saved my life) Rob made swift progress to safety beyond the abyss below and after checking to make sure it continued he anchored the rope his side and we fixed the line at each bolt. I followed and after a little moan so did Luke. A climb up and over a loose boulder led to what we now call "Walzernice" an eastward trending keyhole passage with various collapses along the way. This continued for 30 or so metres to a complete choke passing under an incredibly fractured chocked rock leaning precariously over one's head nicknamed "The Stemple of Doom".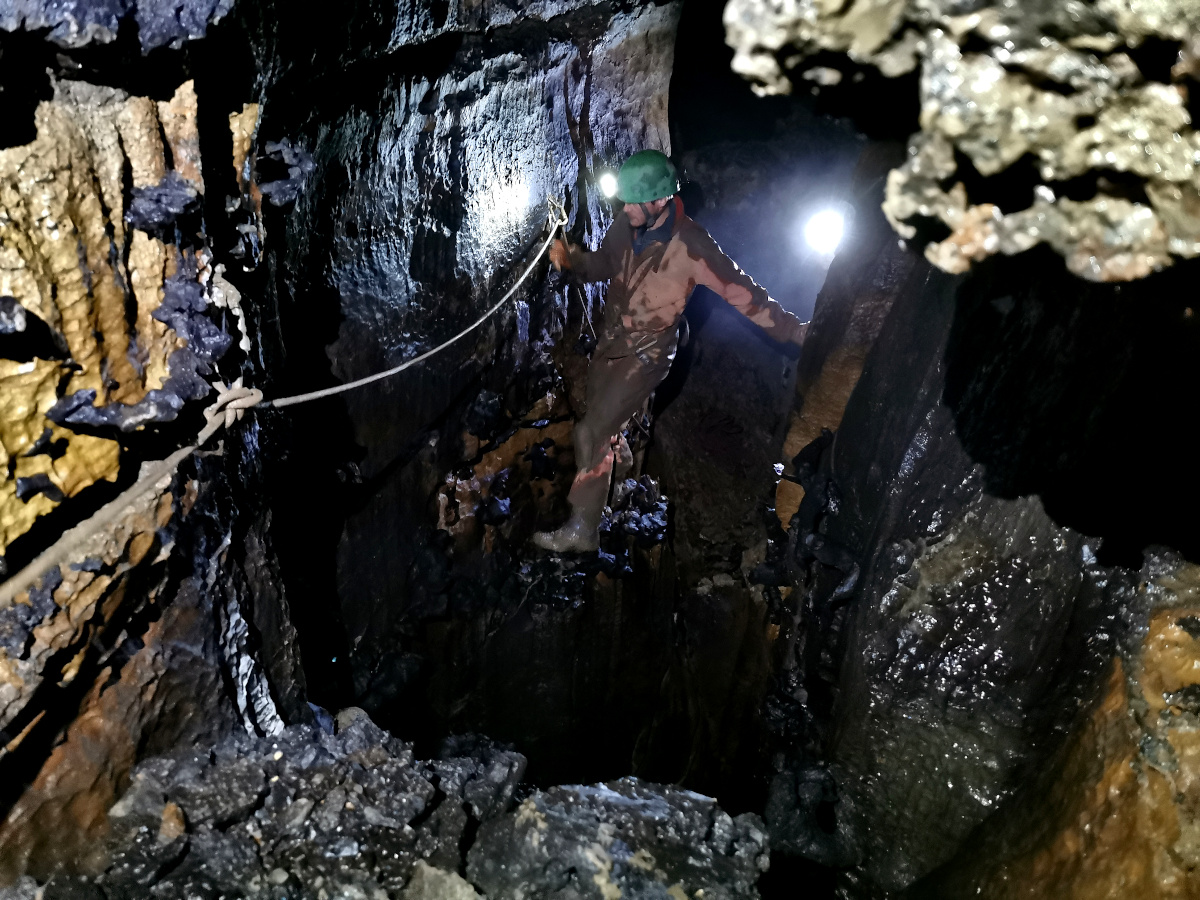 Jon traversing across the Black Rift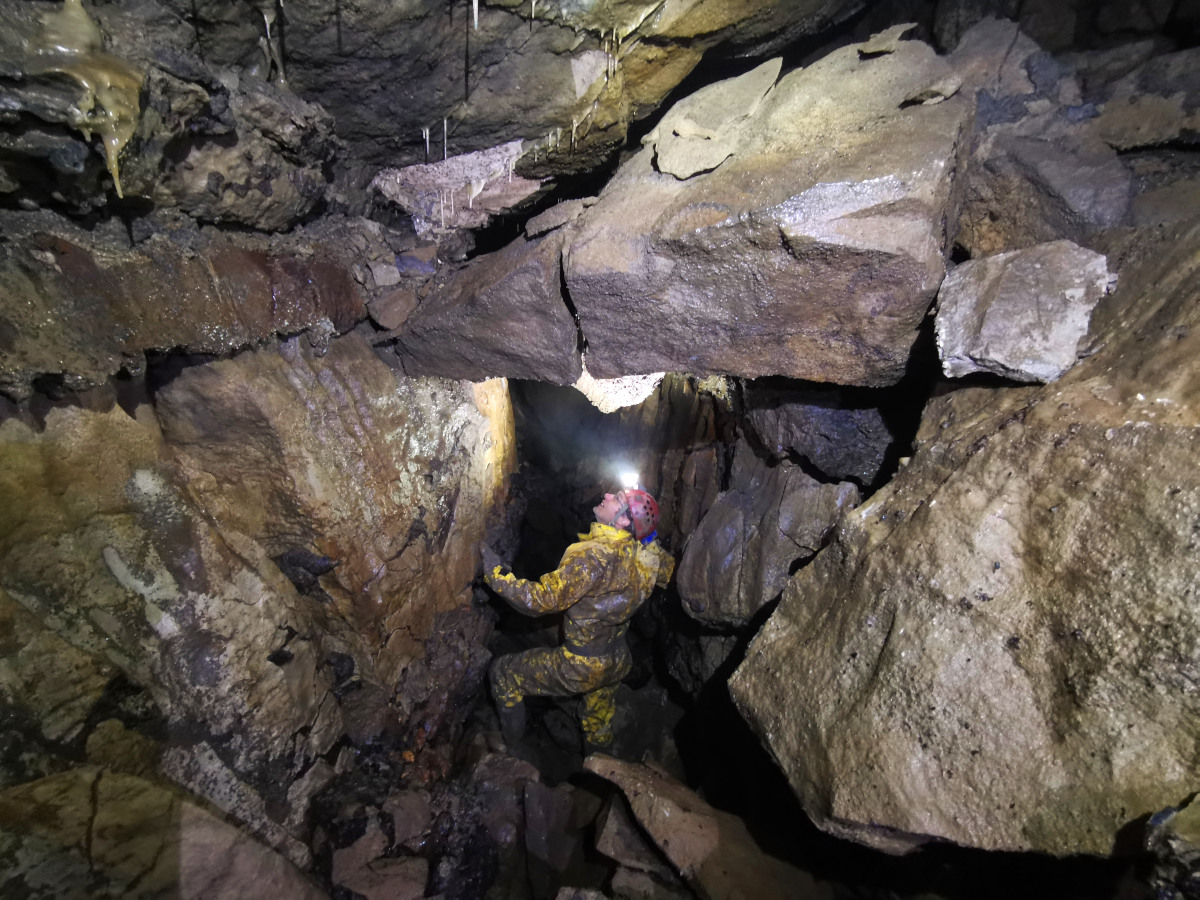 Rob below the Stemple of Doom
Rob checked out a small lead heading off from the end but to no avail. After a little "schninkling" we headed back down to Time Warp and checked out one final lead in the boulder choked floor. Luke had spotted this first when we found the main chamber but shrugged it off as it looked pretty ghastly. A climb down through boulders followed by a squeeze under some more boulders led to a tight vertical rift, "Tight'un", in what appeared to be solid rock below the choke. I took lead and climbed down as far as I could with my SRT kit on. I stopped at a tight section then let Rob pass me who explored below and after consulting his compass realised the bottom most section (roughly 6m below) was heading due south towards The Rocky Horror and ended at a tight rift which'd need capping but this seemed to be the only place which was draughting.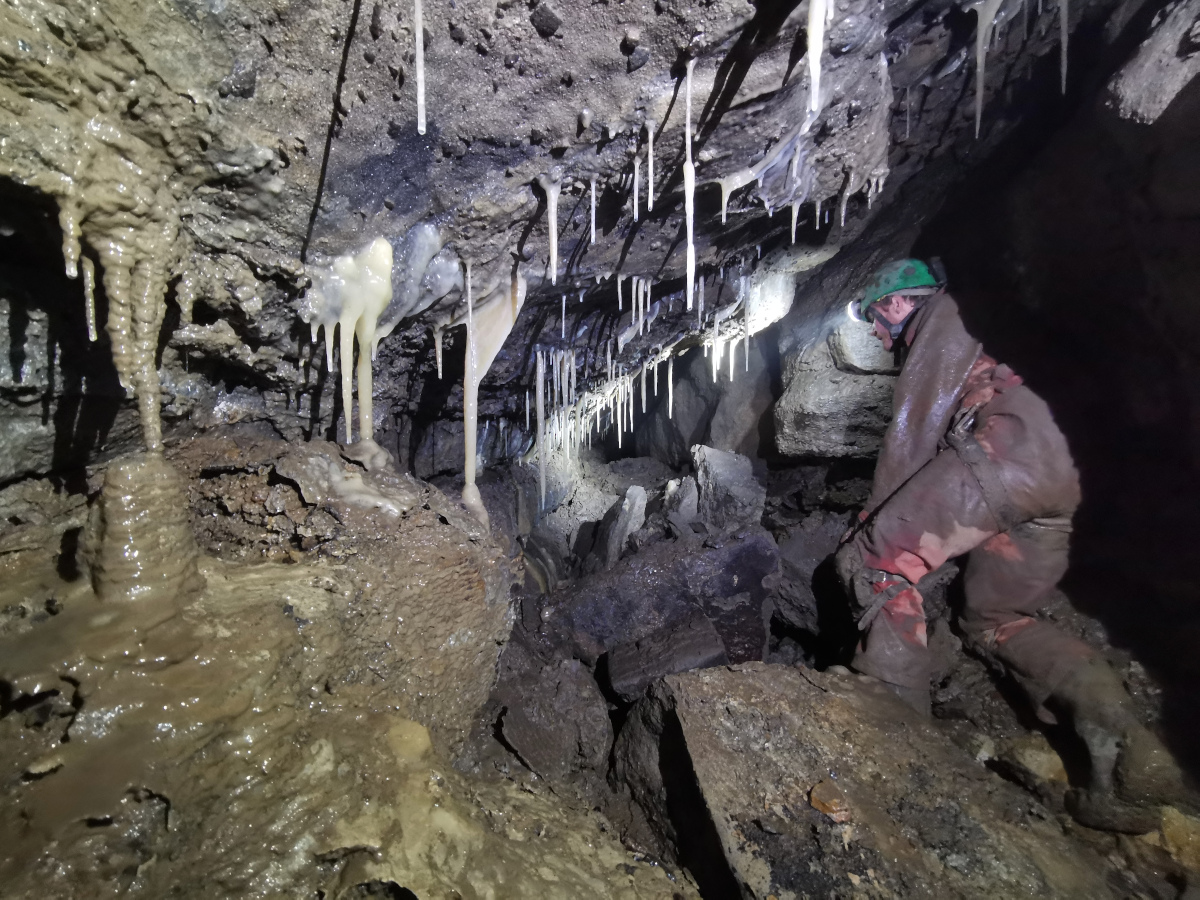 Jon exploring along Walzernice
We headed once again back to our perch above the choke in the main chamber and after exhausting all the obvious leads decided to leave. Surveying it is our next priority and fingers crossed the draught will be present.
Two late nights a week really buggered me and I crawled up most of the climbs pitches cursing my stupid Jon's Drum and ever bringing the bloody thing. What was strange was that when I exited the draught was pounding out of the entrance which the guys also noticed around the same time – go figure…
Details

Written by

Jon Pemberton

Hits: 661
Team Awesome (Luke Cafferty, Rob Eavis, Jon Pemberton) with a Hal.
After 3 long weeks tonight was finally the night to descend NCA pitch with the C. In the meantime Hal had been busy installing a mint lid on the cave entrance.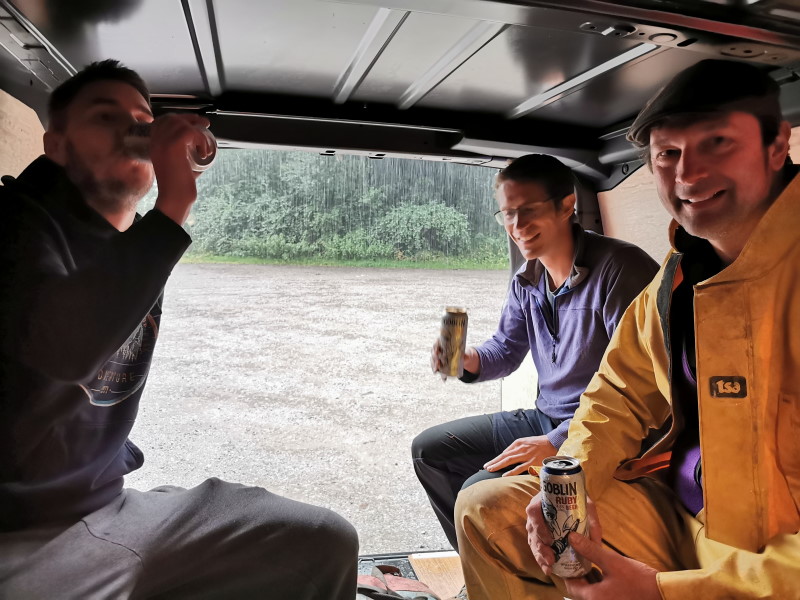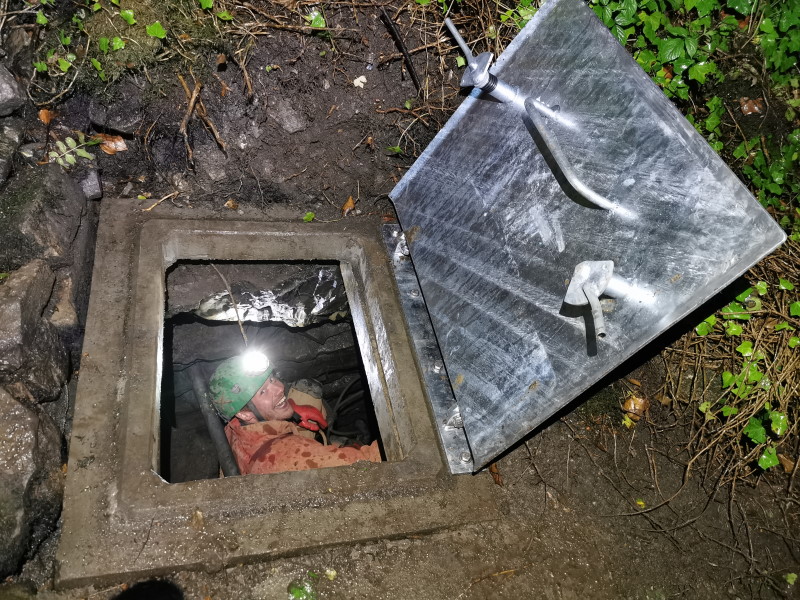 A bit later start we met at the cave and after a quick pre-beer armed with a couple of lengths of rope and bolts we hastily made our way to the NCA pitch. Plan was for Luke and I to rig the pitch and for Rob and Hal to enlarge the NCA squeeze. I down climbed the pitch and found a suitable place for a Y-hang and wasted little time rigging with the bolting lump hammer. I started to descend as Luke shouted up to Rob the situation. After a few metres I could see clearly over the top of a large poised boulder that the route forward (East) was clearly wide, wide open and BIG! I Shouted up to Luke who then relayed the message to Rob who quickly dropped everything and left Hal to enlarge the squeeze by himself…
Once on the floor I shouted up to Luke who quickly followed me down. I was now stood at the western end of a large boulder floored rift passage stretching out into blackness, things started to get really exciting really fast. Luke joined me then we agreed to wait for Rob and explore with all TA members present. We moved forward with Rob filming on his phone, the rift was some 1-1.5m wide and probably 8m high, after 15 or so metres we entered a large collapsed area with holes going off in the floor everywhere. A climb over some car sized boulders gained us access to great views of the chamber above where we stood and admired the amazing typical Stoney shell beds lining the walls of the chamber.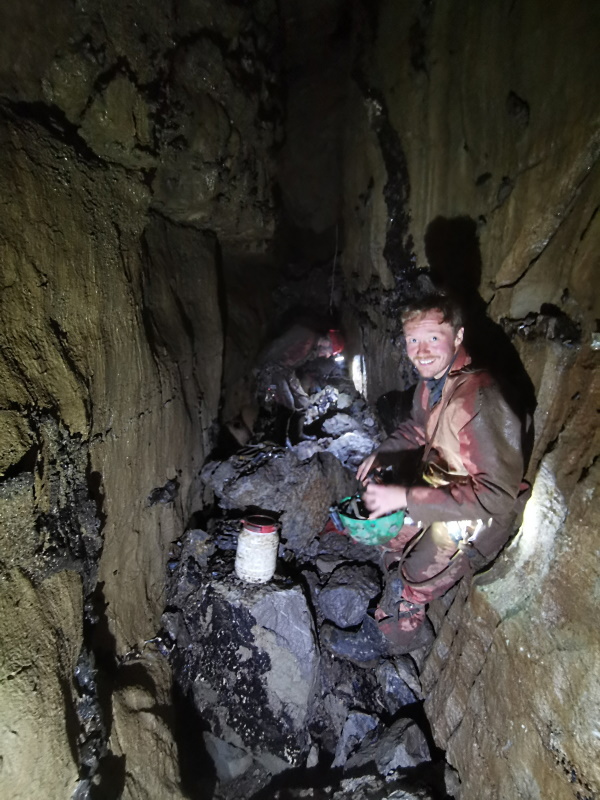 The excited Team at the bottom of NCA Pitch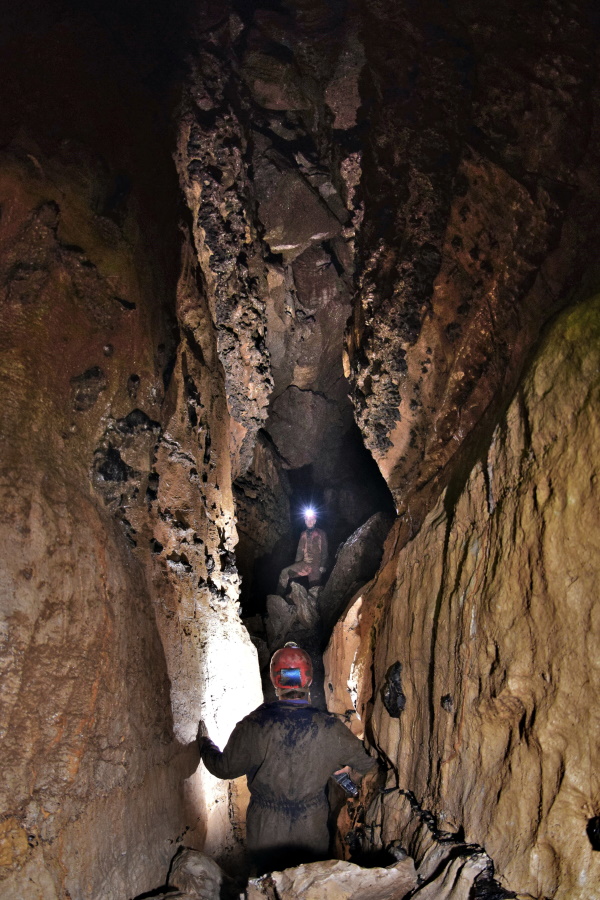 Looking east long the rift - Photo by JonP
We first looked at the eastern end of the chamber and a squeeze through some poised boulders gained us access to the base of The Black Aven which at this level the walls were completely black, and the floor choked with boulders. The roof being approx. 20m above which we later accessed higher up in the choke. We then noted a few more holes in the floor which'd warrant further inspection. A climb over boulders at the southern end we reached a complex area of the choke and after a good fettle which involved poking your nose in every hole we found a solid wall and a funnel of boulders leading to a pitch. Rob chucked down a few rocks and it sounded epic! Boulders would crash down for a few seconds. Having left all our gear back at the bottom of the pitch we decided to call it a night here having to hold ourselves not to spend all night here. We headed back to the main chamber and took a few photos before heading back to surface for a not too late night and agreed to return on Friday to descend the new pitch.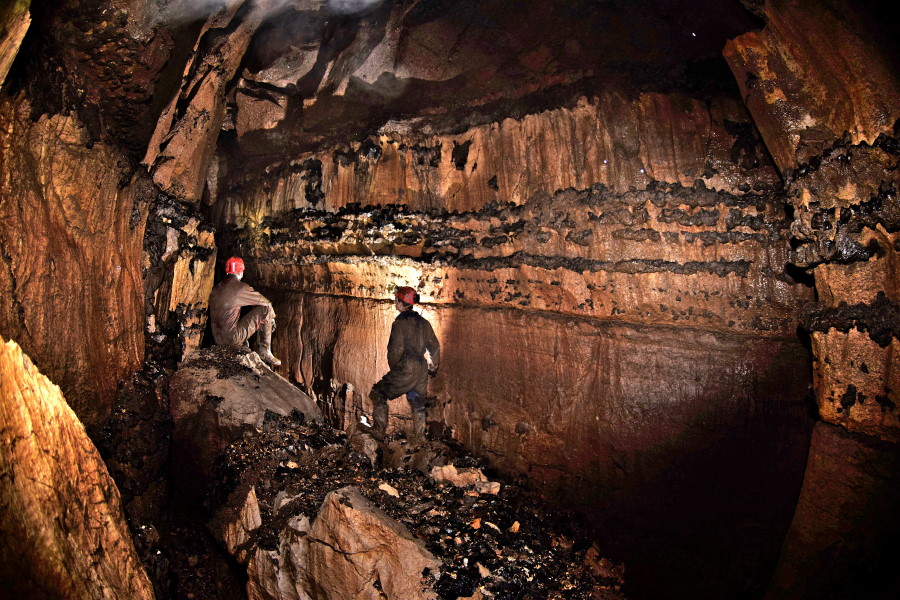 The main chamber - Photo by JonP
We made contact with Hal at the bottom of NCA pitch who had fallen asleep after some fantastic efforts enlarging the squeeze - Thanks Hal.