(Jon Pemerton, James Wood, Dave Gledhill & Bob Toogood)
One thing I've learnt in my caving career is that something good always happens on Friday the 13th!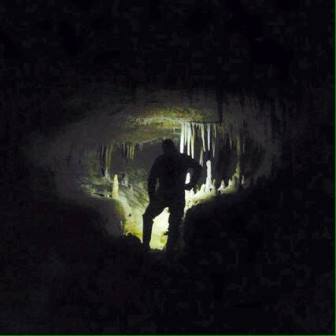 Bob Toogood, Dave Gledhill, James Wood and I decided to have one last trip into Torca La Vaca in Matienzo, a kind of a "Go big or go home" trip, literally. This was on the back of a fairly mediocre week of exploration in the valley but the partying and banter had been second to none!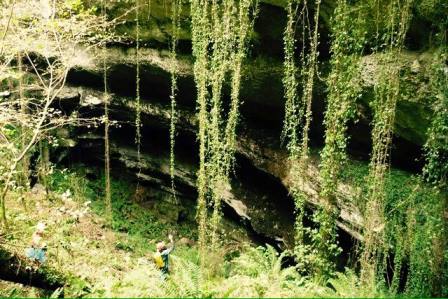 We had surveyed very little to date on what was a flying visit to the valley, we flew into Bilbao rather than the long ferry crossing and had roughly 5 full days to get underground. We had a measly ferret in Cueva Llueva to check out a choke up from the Big Bang Burger Bar which produced zero metres on the Tuesday 10th November. On Wednesday 11th we had our first foray back in Cow Pot. All 4 of us have countless visits under our belt in this cave, Dave and Bob crediting for some of the original explorations in 2008 with Jams and I following shortly afterwards the year after on some of Dan Hibberts explorations after the climbing of Scafell Aven. On this first trip back into the cave after numerous trips in the spring of this year memorising our way through Big Matt's Calf Hole entrance we negotiated the cavern on point and bagged roughly 200m of new passage at the start of Suit Wrecker Inlet at the "known" far reaches of the system. The Suit Wrecker Inlet was first pushed way back in 2009, Jams and I did most of this reaching a point some 1 mile (in a straight line) from the start of the passage. As we all know Caves don't normally form in straight lines (except for Dowber Gill Passage). The already known end felt remote and not a place you'd want to risk an injury. Although pretty much all horizontal with the new entrance, the never ending scrambles, dodgy boulder chokes and literally kilometres of crab walking left something to be desired for.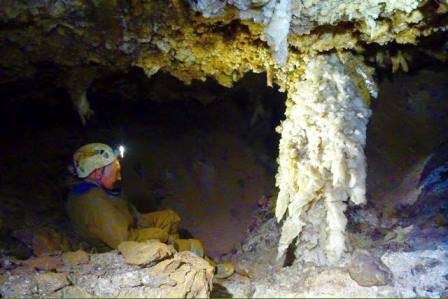 The 200m we bagged on that day was mediocre to say the least; we were used to bagging metres by the thousands. Yes it was 200m of freshly explored cave but it was nothing significant. We had one great moment when Jams dyno'd for a hold to climb over a hole which led back down to stream level only to fail and slide his way back down whilst we all observed from our vantage point. The reason the exploration halted was due to a 5m climb up a really tight slippery boulder filled – too tight rift which none of us could muster the strength or enthusiasm to scale. We checked off a few more question marks from the survey and made a retreat to Bar German after some 10 hours.
I should point out that most of our week in Matiezo was heavily fuelled on drinking as much beer and wine a possible and still being able to get underground the next day. Most days we'd stay up until the early hours of the morning only to get up a few hours later, eat breakfast then head underground. We rarely had or saw any daylight during our visit.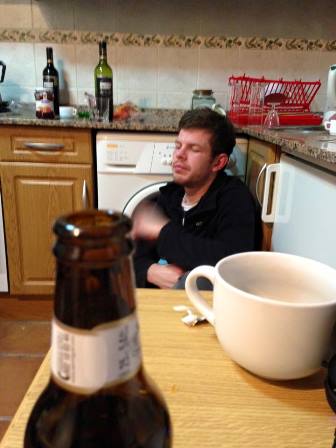 On Thursday 12th Bob and Jams had an easy day mooching about on surface whilst Dave and I went to check a lead in Torno. It was my first trip in this system and was fun being in a different cave for a change. We tackled one climb which led to nothing and bitched out on another agreeing to return on a blue moon. We got back to HQ early that day, got the beers in and with Jams and Bob rested we agreed to have one last push to the end of Suit Wrecker Inlet. Nobody had been here since Jams and I had discovered and surveyed the place way back in 2009, nor was anyone likely to head back. Why not? – We thought.
We spoke with Juan and Big Steve who were the only people about in the valley at this time of the year and they seemed pleased that we were going for another look. Fuelled on a few more beers we printed of surveys and noted places to check out along the way and due to the nature of the trip Big Steve had agreed to cook us a big pot of Chili so that when we regained surface some days later we could just crawl back to our digs and eat hassle free.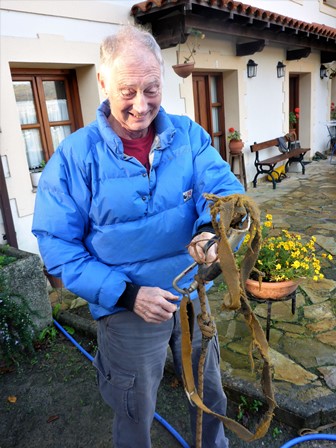 So we began our journey, Friday 13th! The early start did not hamper our previous night of drinking. We rolled out of bed and made sure to eat a good hearty breakfast. We made a bit of snap and ensured we had everything we needed for the long day ahead; we only forgot one thing – a fucking camera! We were underground at 11am which seemed reasonable and after route finding during the previous trip we made little mistakes on getting to Nearly Dan chamber. We made sure to pace ourselves with Bob taking his pacer duties seriously in the V75 category. We started our way along the Suit Wrecker Inlet, passing our find from Wednesday "The Passage formally known as Bernard" roughly a third of the way along the inlet. We then came to a place that Jams and I had not seen since the original discovery some 6 years ago. We had only been there for a few hours or so and no one has ever been back since. It was nostalgic to pass places I vaguely remembered from this time, passing certain way markers and features which triggered memories. We finally got ourselves to the climb up which leads close to the terminal choke and the complex area surrounding it labelled on the original survey as Suit Wrecker 4 shortly followed by Suit Wrecked. Juan kindly asked us to re-survey this area as the original data was not great. We found a station from 2009 and started to re-survey closely examining the question marks on the original survey but found nothing new.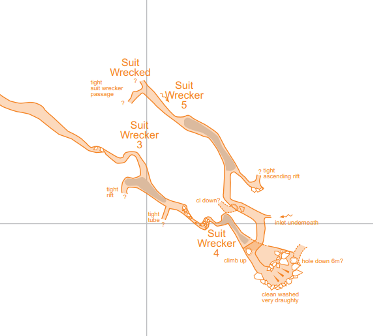 We then examined the terminal choke, I remembered a climb down last time, a sort of slot which maybe with the use of a hand-line we might be able to descend. On arrival it was soon obvious that the whole choke had collapsed since the previous trip some 6 years ago – I remembered nothing of what I was now looking into, no trigger points, no nostalgia – nada! I'd pretty much given up and optimism from the rest of the group was waning. We'd already travelled a long way and were thinking about the journey back and most of all beer. Jams had scurried off down a small hole for a look. We made contact and asked him what's happening? He said that it continued and looked to open up with a "hum" and an "arr" under his breath. We asked if he'd go a bit further rather than us make our way down through the choke. He went off for a few more minutes. He shouted back up, "Yeah it goes guys! What do you want to do?"  "What do you mean it goes? Back into the inlet passage? Solid passage?" – "Yeah, choke free! What do you want to do?"
Jams with his ever monotone reaction… He surely didn't sound like he'd just passed the terminal choke at the far reaches of Cow Pot! Jams came back to talk us through the complex boulder choke and we soon began surveying through and beyond. At this point we were all giddy and raring to go. The choke dropped us into a lovely clean washed meander some 3m high. We followed this through a couple of joints to where the passage started to rise and the floor became sandy. After 200m passing a hole in the floor and a potential climb we came to a much larger chamber. We were standing in the roof of a chamber to which the floor dropped away to a canyon with a stream flowing in the bottom heading back towards the choke. Up here was pristinely decorated with large Stalagmites and crystal flowstone formations. At the far end of the chamber a step across the canyon led to the continuation of our passage. Jams climbed down the canyon to check out the bottom which was about 4m deep. The stream flowed back towards the choke but was not pushed and there looked to be another route at roof level across the canyon but out of reach for today.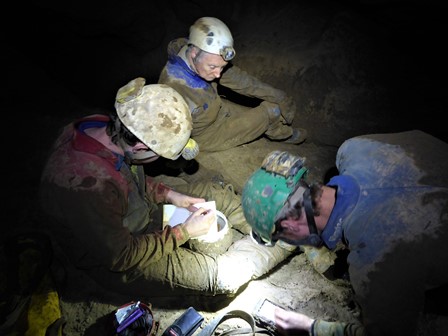 Toogood took a bold step across the canyon and traversed the roof meander by himself whilst we started to survey along the continuation. He only stopped where he thought it may be worth a bit of protection, being alone some 5hrs from the entrance of the cave.
The main passage continued to rise with a nice higher level feel to the place, decreasing in size somewhat. We were now stooping and crawling over a sandy sometimes calcited floor with loads more formations. We passed a small oxbow and a small tube in the roof and suddenly the passage dropped steeply on a sandy floor. We'd been here before. We slowly surveyed down the steep slope to a pool of water at the bottom – buggery!
All things were pointing towards it being sumped and in bad weather probably is. Lucky for us we were coming off the back of a long dry spell, "the driest November in 55 years!" now had come the time to get wet. The small pool chamber at the bottom was stooping height, the passage did a weird dog leg and we could see just beyond that the continuation began to rise again, in the opposite direction it appeared to sump. We checked out one more lead in the pool chamber, a passage heading off east. This looked to continue and had a great echo but none of us thought it was worth getting completely soaked for (one for next time).
We surveyed the pool chamber and continued up the slope on the far side, regaining access to the higher level passage. We followed this for a further 300m with various small leads heading off but nothing mind blowing. The characteristics of the passage suddenly started to change within the last 50m or so. The floor became more clean-washed uncovering a hard on the knees crawling passage which made tough work for surveying and suddenly we came to a boulder choke!
This couldn't come at a better time as we had been surveying for a good few hours by this point and as you're already aware you can lose countless hours with exploration fever! We were all questioning when we should call it a day and leave this potentially vast open lead wide open. Surely someone would come snooping? Anyone with capable fitness could get here after all as Bob says, it's just a really long ramble. With politics in the Matienzo Valley and people having their leads snapped up/stolen we agreed to have a quick look to see if we could pass this choke.
Dave crawled his way through some boulders and passed above the choke into a void. We followed him through and were delighted to see a humongous 4m straw hanging from the roof in the centre of the chamber, (we were that amazed by it that we surveyed its length!) The way on looked obvious but choked. Dave had already fettled with the boulders whilst we had been surveying and had uncovered a small hole poised between some rather large boulders. Not to leave any stone unturned he gave me pushing rights. I slowly lowered down my legs to feel for some purchase. With steady footing I lowered the rest of my body through, the squeeze being only just passable on my chest. I soon confirmed to the other guys that the passage continued at similar dimensions to the passage pre choke. This time completely clean washed and a small trickle of water at floor level.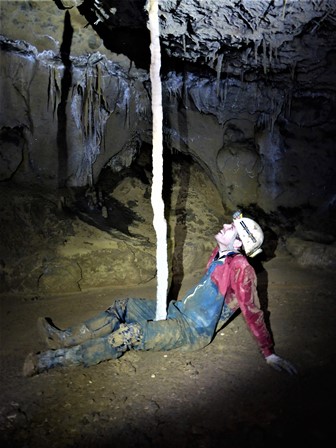 Dave and Bob gave Jams and I permission for a quick snoop. "OK, shall we take surveying gear?" "Of course," was Dave's answer! Once Jams had squeezed through we continued with the survey. The passage now twisted and turned in razor sharp rock, we were traversing as quickly as possible in order not to leave the guys waiting too long. After 50m we encountered a large sandstone choke. We had passed these chokes before in Matienzo, sandstone being a lot softer than limestone they had always been super necky in our experience. Luckily it wasn't too bad at this point. Passing over large sandstone slabs just above the stream we stopped at a point where ahead we could just make out large black voids. We couldn't contain our excitement and hastily made forward progress into what we now call "Home Time Terminal Choke".
Things were starting to get exciting again, this chamber reminded me of the passage along Henry's Way with its similar ginormous dimensions and eerily, dark sediment. We gazed up at the choke which looked impenetrable. We took maybe 5 minutes for a quick look around to see if there was an obvious way on, something to draw us back but alas nothing seemed good for an easy breakthrough. This was it, home time. Jams and I sat for a brief moment to regroup and came up with the conclusion that we're probably the only people who are ever going to see this place! We'd felt like we'd achieved something big, finally pushing past the far reaches of Cow Pot for a further 600m! We'd put our cards on the table ready for the next would-be explorers to counteract – a message, "Here's what the Eldon have got, your turn…"
We started making our way back turning up the pace a bit to return to Bob and Dave who were patiently waiting in the 4m straw chamber. I got to a point where I started yelling through to Bob and Dave – No reply. Odd, I thought. I'm sure this is where we climb up. I got far enough to poke my head up into the squeeze only to be greeted within licking distance of another large boulder. Bloody hell! This isn't right! Either the squeeze has collapsed or I've gone wrong. All of a sudden a trickle of steamy hot water started to spill through the choke. This I soon realised was Dave's piss… He shouted down to us 'effing and blinding' – "you've been gone an hour! We're bloody freezing here!" Turns out they thought it would be funny to put a good sized rock of the squeeze, switch their lamps off and wait for us to come back. Pissing down the hole on top of us was just the icing on the cake.
We explained to the others what we'd found and finally decided to turn around after being 9.5 hours underground. We made a pit stop at Nearly Dan Chamber as we have with every trip to the far reaches of Cow Pot, ate some Milka chocolate, tuna mayo sandwiches and always followed by a chaser of juice (beers felt more appropriate). We continued our long journey out and were all flagging through the entrance series and the climb back out of the entrance piping. We regained surface some 5.5 hours after calling it a day, all of us feeling somewhat accomplished after our mediocre week of not bagging owt as far as cave discovery. The surface temperature was pleasantly mild although it was now something like 2am the following morning. We slowly got changed and piled everything back into the rental car and drove back to our digs where Big Steve greeted us with his cauldron of Chilli and a bonus stocked up fridge with beer – Steve you're a good man!
After copious amounts of celebrating it didn't take much for us all to fall asleep. We woke up a few hours later ready to clean gear, sort out our hangovers and smugly give Juan the survey data. We flew back the same day and slipped back to reality…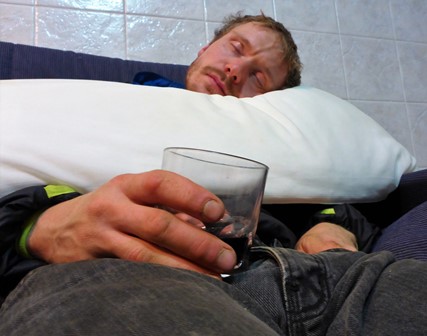 This concludes my story of how the Eldon ruined the Cow Pot survey. It went from being an inverted map of the UK, The entrance being John o'Groats and the previous end being Lands End. Big Matt entrance being something like Snowdonia, now we've ruined the thing and it can no longer be printed with ease thanks to the Suit Wrecker Inlet now being somewhat positioned in the middle of the Celtic Sea! – Sorry about that.
I don't know why it's taken me so long to write this up as it's got to be up there as one of my greatest ever caving trips. Even Bob has said so himself and with a career stretching somewhat nigh on over 6 decades at the sharp end I'll take that.
I still wonder if anyone will ever go back there?