So after a late start arriving at Rowter Farm around 3pm we (we being Sam T, Andy Chapman and Dave Ottwell) kitted up in freezing temperatures whilst sorting out what ropes we'd need bottom (by bottom I mean top out Rowter Hole). All my three accompanying companion cavers (ACC) had not stepped foot beyond The Ice Cream trail or beyond the ginged shaft so this was going to be a classic trip. Knowing in the back of our minds that it was the Eldon Xmas piss up straight afterwards we still caved on the side of caution wanting to get out in time for a pint...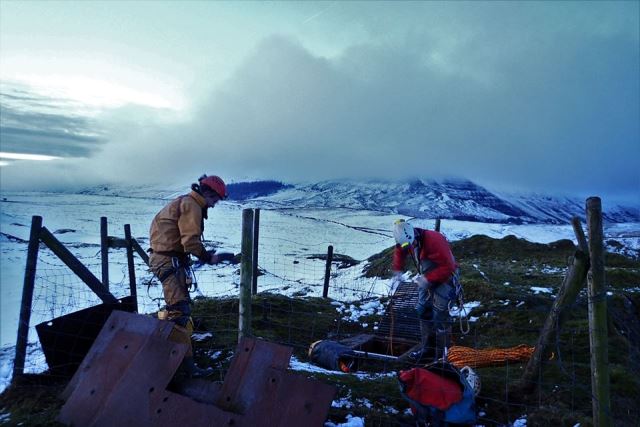 We dropped the entrance around 3:30pm and quickly made progress down the Ginged shaft ready to tackle the Badger extensions! Once through the Badger Choke stood atop of Two Left Wellies I was happy to turn around a get my ACC's expressions and this super find within one of our Derbyshire Caves. This truly is my favourite trip in Derbyshire! We quickly dropped the two pitches and whilst waiting in Decisions, Decisions had a quick drink ready to tackle the Ice Cream Trail. 
It had been a while since I had last been here and was sure that it wasn't as tight as people had made out. I managed to keep my harness on the whole way through chucking my metal work in front of me at times. The squeezes were negotiated by all not giving a second thought to if they'd but any harder on the way out. I was happy that all the climbs in the Ice Cream Trail have been left rigged with either hand-lines or a ladder which made out trip much easier, albeit the 35m rope which was dragged along for shits and giggles. We had now finally reached the breathtaking Crystal Orchasm!
Entry into this massive 100m+ rift/fault is quite fun and involves abseiling through a tight rift to then make a mid-rope change and start the long prussick up to Sunrise. This took some time with 4 people but was nice to reach the top and have a bite of SamT's twix and psyche oneself up for the long journey back out 2hrs and 30mins to get here, rigging. Abseiling down from Sunrise is a bit sketchy at times but nothing hectic. We used lots of caution when doing this to avoid killing one another.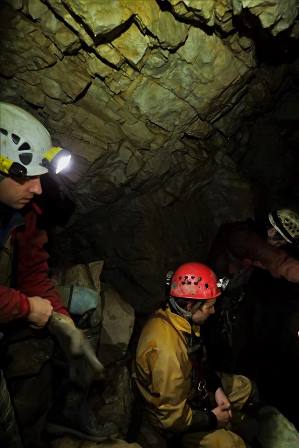 At the end, Sunrise
 And there goes the journey out. Chrsytal Orchasm, Ice Cream Trail (slower), Decisions Decisions, Two Left Wellies, Badger Choke, Ginged Shaft, Entrance shaft... I was just happy to tick them off as they came and went. Reaching surface at 8:30pm. This trip really does give you a good run for your money. It beats you up and gives you that self satisfaction knowing that you have earned that pint! 
Unlucky for us by the time we had got changed back at the cars we were all freezing! Our windscreens had to be de-iced and by the time we reached the pub it was 9:40pm and we'd definitely missed any chance of some decent grub... We snacked on crisps and peanuts instead and quenched our thirst with some much needed beer in The George. Moving on to the Peaks and then back to the TSG. 
Note to self: Don't get smashed on an empty stomach...