Sunday 27th December – Rob & Jon
Sneaky trip at the end of the Christmas week. Meant to be a bunch of us but one thing lead to another and just TAP turned up, again.
We legged it to the end, picking up scrag-ends of rope on the way and trying not to get soaked through. Jon put some bolts in to drop the pitch found on the last trip. Turns out the two ropes we found, tied together in a semi-professional manner, just reached the bottom. Here to the west met a solid rock wall (the first we've encountered West, not a good sign) but in the floor to the east looked just like a reet dodgy choke with Jon's name on it. He dug it out and sure enough as much hanging death as you need above another pitch down. I came down to inspect and Jon decided I should go inspect, thanks. Unfortunately the 5m climb down lead to more collapse with no draught nor easy digging. On the plus side I climbed out without getting minced.
We surveyed out and then headed to Isolation passage where I did a survey whilst Jon tried to avoid hypothermia by pissing off. On the way he managed to get an owie on his shoulder by prussicking like an idiot, which meant when we got to the next lead (two juicy climbs off TAP Traverse) he was too sad to do anything useful. I inspected both leads but both lead to (easily diggable) chokes with black space beyond, one along quite a nice coffin level which I think may well be the main climber entrance to the mine. I surveyed back and met up with Jon at Tap Room, where we both then headed out.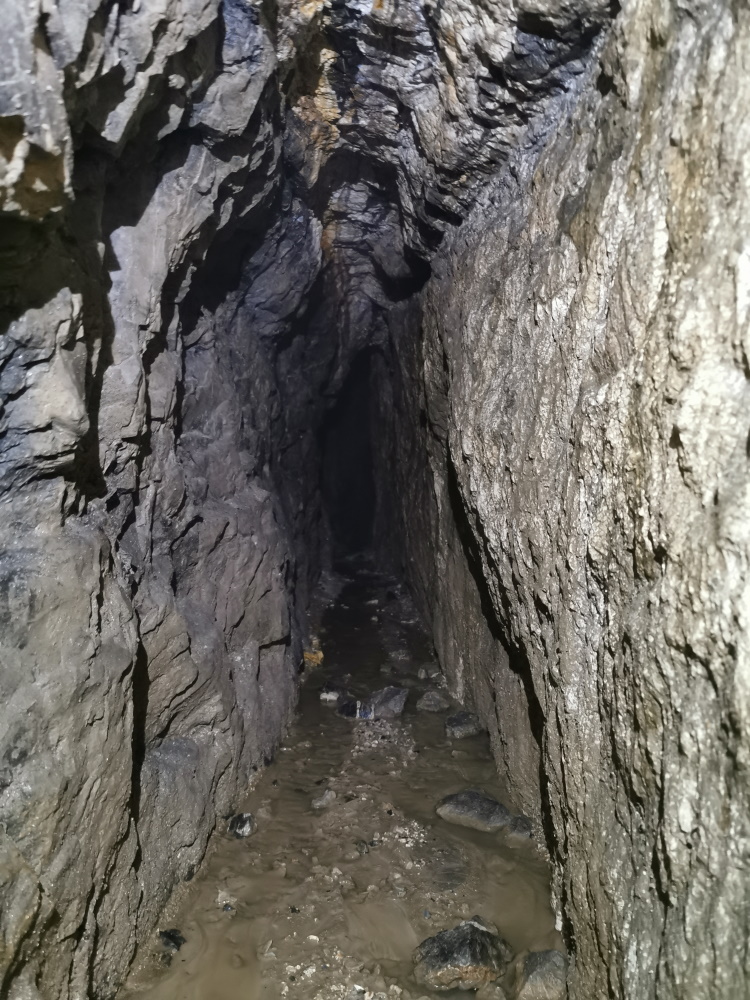 Coffin level leading to a climbing series?
Interesting to note was that just before the last climb up to the Engine Shaft you could really notice the inward cold draught (it was -1DegC on the surface). Nowhere else this trip did we feel a strong draught, suggesting the that main way on west and up dale is somewhere hiding in the roof.
All the surveys now added in, Intake is now at 800m long and 85m deep. And I's guess there's a lot more to go at…