Bagshawe Cavern
The Eldon always have a number of active digs undergo in Bagshawe.
One that is currently receiving quite a lot of attention is the "Dead Ahead Dig" in the Full Moon Series.
[For more information regarding Bagshaw Cavern go to the dedicated page]
---
Blog:
Details

Written by

carl bergmann

Hits: 1203
Bagshawe cavern - Dead ahead dig 12.04.2016
Carl Bergmann - Dave Cowley
After a long wet winter of excuses we finally got back to digging dead ahead . First job was to pump the water out of the dig ,which was about all we managed , but it gave us time to work out how we would syphon it in future. All the talk of Bradwell on UK caving has got us fired up again , fingers crossed .
Details

Written by

Jon Pemberton

Hits: 1765
Bagshawe – Back to Calais 15/01/15
Sam & I along with a couple of Orpheus members went for a look down Bagshawe Cavern, intentions being Orpheus to have a gander around the Madame Guillotine vicinity whilst Sammy and I went to assess the situation in Calais crawl.
We left Calais a couple of years ago as an unstable void in a boulder choke that looked very promising but unsure where to go from here. we've removed quite a substantial amount of choke fodder into the passage enabling the climb up to the choke to now be a short thrutch. With the choke having had a fair amount of time to reflect on life as a choke it has completely broke down physically its tears cleanly washing the whole place with the vast amount of water falling through the choke (it's constantly raining up there, even in the summer)which makes it a very good prospect for discovery and now a slightly safer place to dig.
We spent a good 30min removing the boulders blocking the way up before getting a look at what the roof was like in the void again.  If you've never tried before it's quite hard to look up into the rain and see whats going on above but from what I could see, it had changed from last time. So we're heading back next week for a proper look/dig. As it was only a prospecting trip we'd never even planned to do owt! – Things are looking up though.
Other things to mention: No draught through the connection, initial thoughts were it was going to be sumped. The bowl at the lowest point in the connection was quite full but the top crawl was easily passable. Secondly the choke to Madame Guillotine has slightly run in, a massive boulder has slumped, it's still passable but with caution.
Details

Written by

Jim Thompson

Hits: 2052
After protracted campaigns elsewhere in the system, Dead Ahead Dig in the Full Moon Series has finally received 18 months of long overdue attention.
The highly scalloped, wide bedding passage shares characteristics with other significant parts of the system, and may be a continuation of the Aven series.
It is however heading into a blank space on the survey – toward no known passage.
The initial difficult effort won 2m of progress through heavily calcited fill, which yielded to many techniques, ranging from brute force to bottle jack.
A solid roof was met and has been followed for 3m, before rising for a further 4m to the present limit.
In exceptionally wet weather the low section fills with water and pumping becomes essential. Work continues…
Details

Written by

RobEavis

Hits: 2481
Some great new photos of the Dead Ahead dig have been released by Dave Cowley: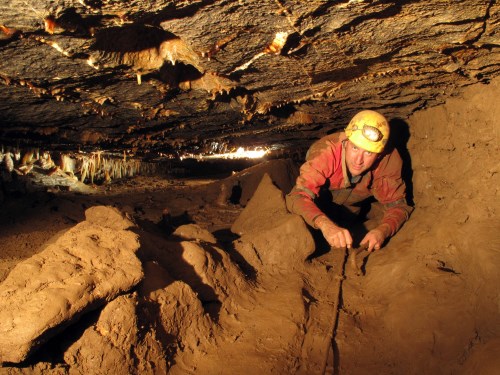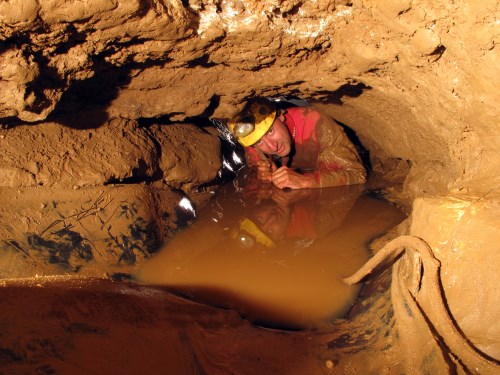 A dig update to follow soon.....
Details

Written by

RobEavis

Hits: 1978
Heard on the grapevine that progress is going well at the "dead ahead dig", with a team in there every week at the moment!