Only Jeff and I tonight so rather than not doing much down IDM we thought we'd not do much down Waterfall Hole instead! Jeff had never been down in his extensive caving career and I'd not been down for years. We had our normal pre-beer and could hear the Waterfall pounding down in the shake-hole, it had rained all day but the clouds had now moved on leaving a crisp, cold, clear night. 
We headed underground around 8pm (late for us), the shake hole was still backed up with water but appeared to be going down rather than coming up. The entrance crawl was pretty grim as was Wardwins Crawl but not a rank as my memory served. We SRT'd down Hockenhulls Rift and got lost straight away. Our main aim was to get to Waterfall chamber and check out Great Gunns Rift then head down to EPS aven. We succeeded in the first aim after some novelty route finding efforts but I couldn't for the life of me find the way down to EPS Aven. Water was still high in the cave which restricted us from entering certain parts/voids. After an hour or so's pottering we decided to head out and vowed to return in slightly dryer conditions for a proper good look.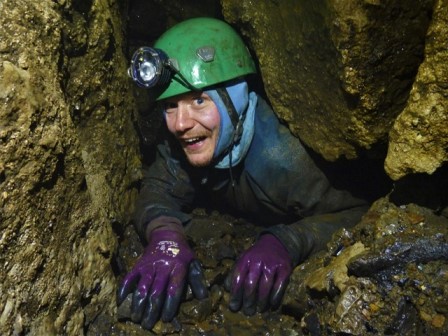 It's certainly an unusual place and as the late, great John Beck wrote in an old TSG journal, The cave is in a constant state of change and one day some keen (or lucky) explorer will eventually find (or stumble) across the continuation which must lay below.