Intake Dale Mine – 12th Feb 2020
JonP, JeffW, RobE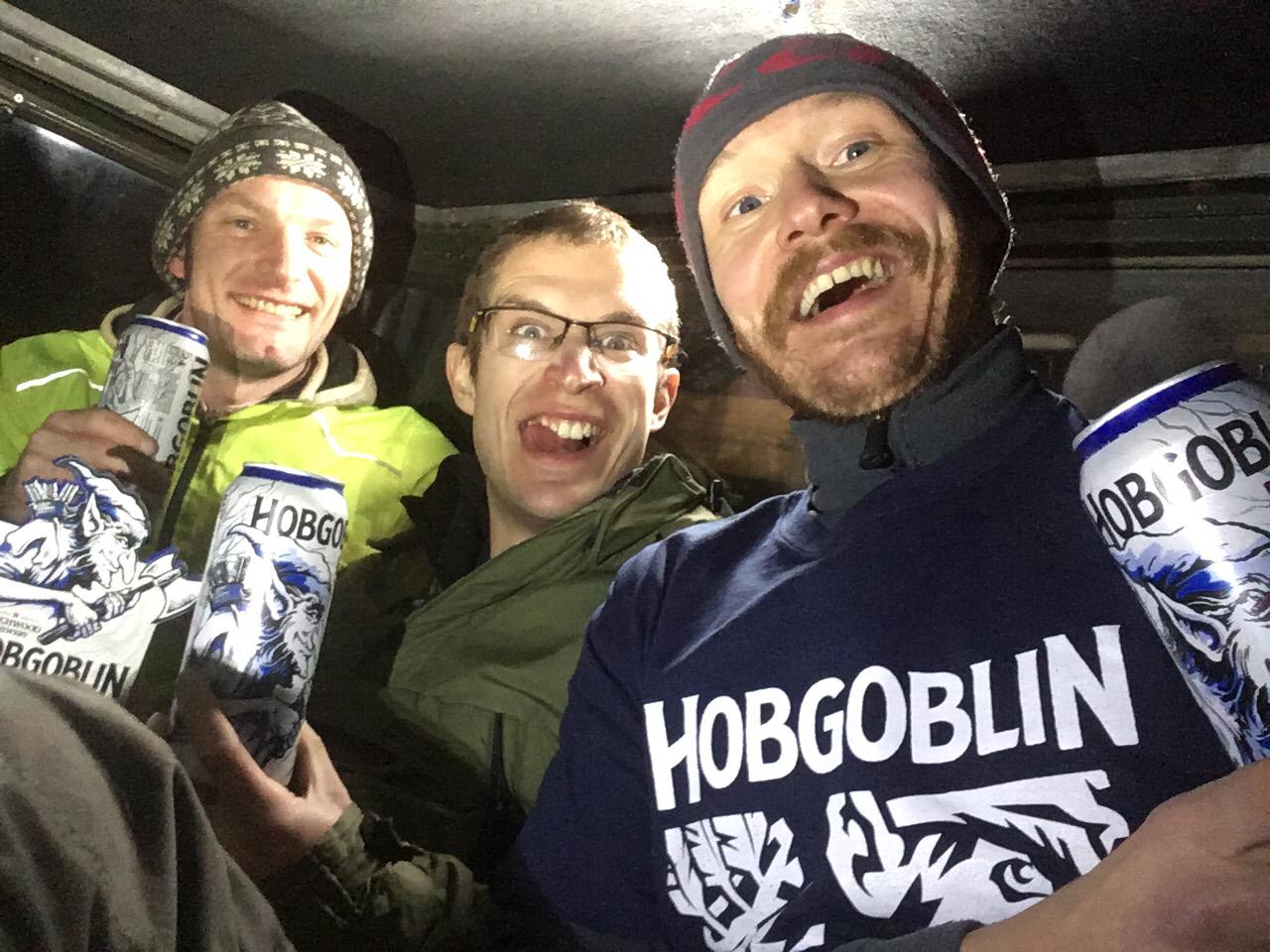 Hobgoblin is surely the best prebeer
With the scene set last week, we knew we had to hit it hard this trip. Tooled up to the max we sunk our prebeers and chased Jon down the cave. On my way through Blackjack Choke I installed the last scaf clip and then went down to sort a bit of rigging. Jon then lead Jeff through for his first time and we rendezvoused at the bottom of the engine shaft. After a passive aggressive discussion about how much gear to take on we fully dekitted and went pushing. Whilst award winning Jeff took some photos of my face Jon freeclimbed up 12m above the cartgate to where the rift enlarged in all directions. After a furtle about he came back bouncing about open leads and draughting digs. We finished up and surveyed up to him.
Indeed the rift here is impressive. At places nearly 1m wide and 15m high, most impressive of all was how natural the wall seem. Either it's was a naturally open rift passage (unlikely) or the mineral was so easy to extract that T'Owd Man didn't need to use tools. At the far western end a small climb down lead into a very natural looking boulder choke, similar to Blackjack. At furthest reaches a few small gaps between big, calcite rimmed blocks reveal some enticing black spaces which take a steady draught and will need a better study another time. Back at the climb it was Jon's turn to pose for Jeff whilst I climbed up the rift to check for leads in the roof.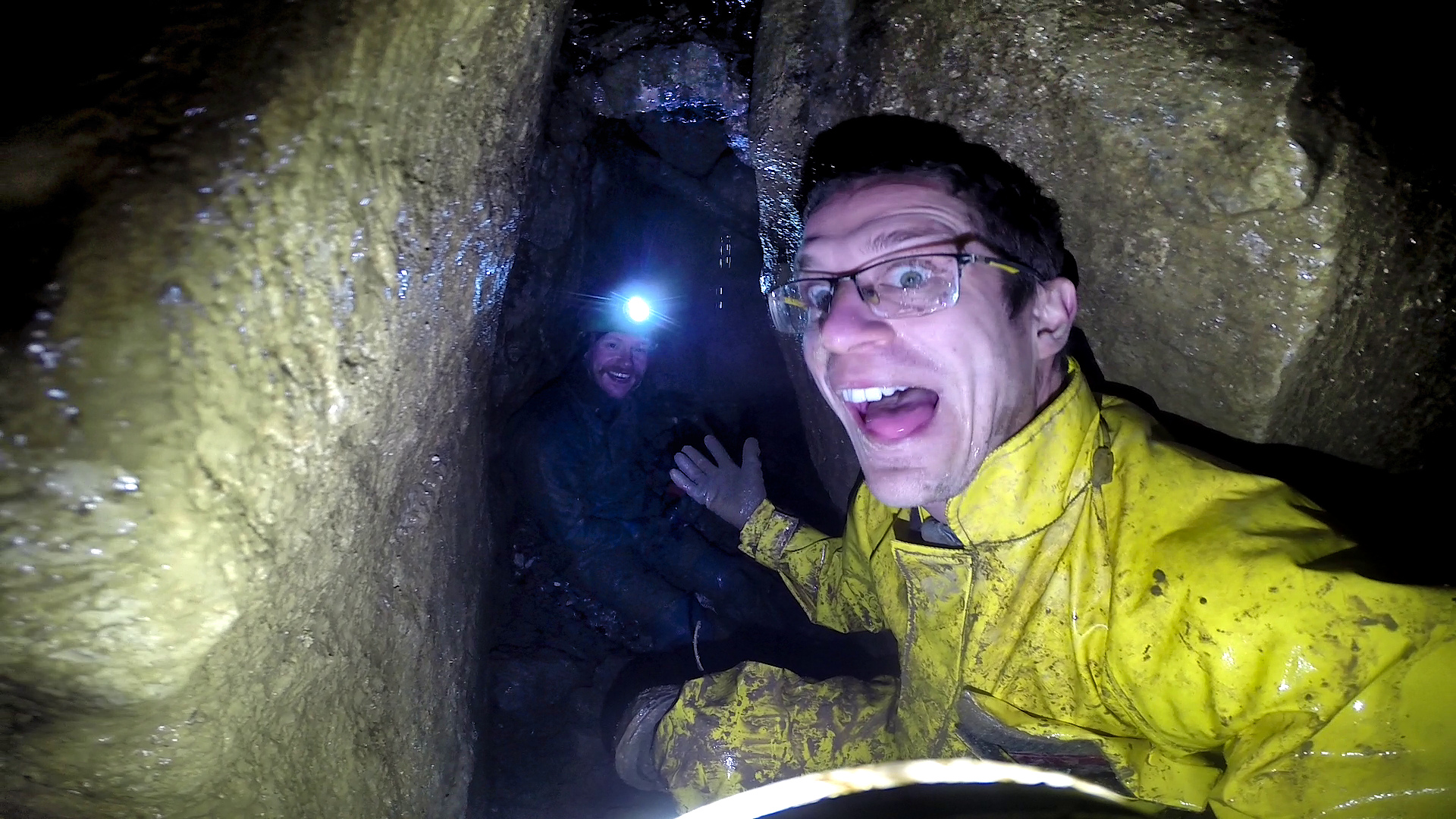 Enjoying finding another natural boulder choke that we'll have to dig someday
The roof is made from an undulating bedding plane which can be followed east all the way to the engine shaft and beyond. To the west a tightly ginged wall rises up above the bedding, holding back a solid mud collapse. Another shaft reaches up even further but this also ends in a muddy choke. I slide back down to reach the guys and we have an important discussion about pub or postbeers in the car. We were all keen to keep pushing and Jon liked the price of Jeff's postbeers so we kept hitting it.
We rendezvoused again at the bottom of the engine shaft and this time headed east into the Goblin's Lair. Only briefly perused previously by Jon, this loppy section heads back towards Blackjack Choke and the old cave with the closest section being Brexit Rift. Surveying our way in, Jon on point spotted another "JF" inscription on the walls before climbing up over a loose wall and around the top of a dodgy looking collapsed shaft. Here he started getting a little excited. By a thick stemple seemingly holding up the roof a clear view ahead shows how the vein has been bent 90° from vertical to horizontal, this now the 4th known example of this happening in this mine. A small ramp to the north meets the vertical vein again but it closes down quickly. Heading further east the passage is quite large and slopes steeply down to soon reach another natural choke. Here again a small gap can be seen through boulders to a continuation and a good draft in our faces keeps us interested, but this is surely very close to the old known cave. Just before the choke Jon slid down a small hole in the floor to a tight restriction down through which a large void can be seen! No noticeable draught here but a good echo and now deeper than anywhere else in this system puts this high on the agenda to push soon.
We start making our way out, but before we can award winning Jeff takes a few quick snaps looking down the engine shaft. Jon will agree this was a very quick process and we were all out of the cave before old age took us. Enjoying the postbeers over midnight was extremely welcome and we all went home thinking of what else lay down there to explore next.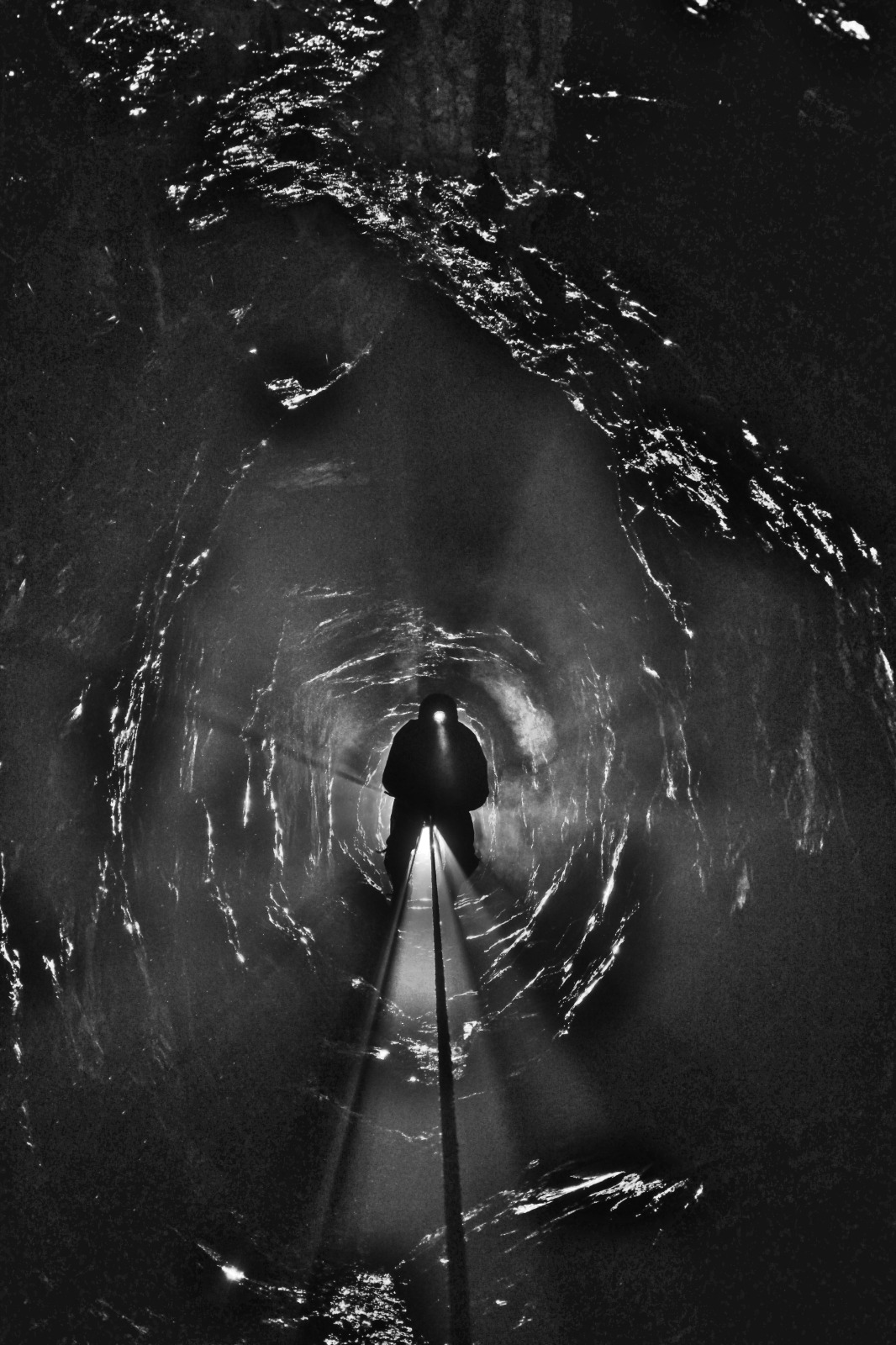 Looking down the engine. Worth the wait Jon? - Photo by Jeff Wade