Well last night was a trip to remember, at least for me and Dave!
After our pre-beers we again split into two groups, one poking the natural choke at the bottom heading back east towards Brexit Rift, and the other inspecting a lead heading west off the engine shaft about 20m from the top. The choke didn't do much, but I think Jon is keen to have another furtle there sometime. Or at least he was until we told him how we'd gotten on!
So the best lead left in IDM is the natural choke heading west at the bottom, because it takes the draught and is heading into blank space. However it's a big undertaking and the general consensus was that this would only be attacked if/when the engine shaft could be opened and so provide a much easier and safer route in whilst carrying scaf. There was however one lead to the west that we'd seen whilst bolting up the engine shaft which had the potential to bypass the (significantly lower) choke, but because we'd never really noticed much of a draught up there I wasn't convinced. Today was therefore more of a box ticking exercise as I just expected to find some narrow worked out rifts.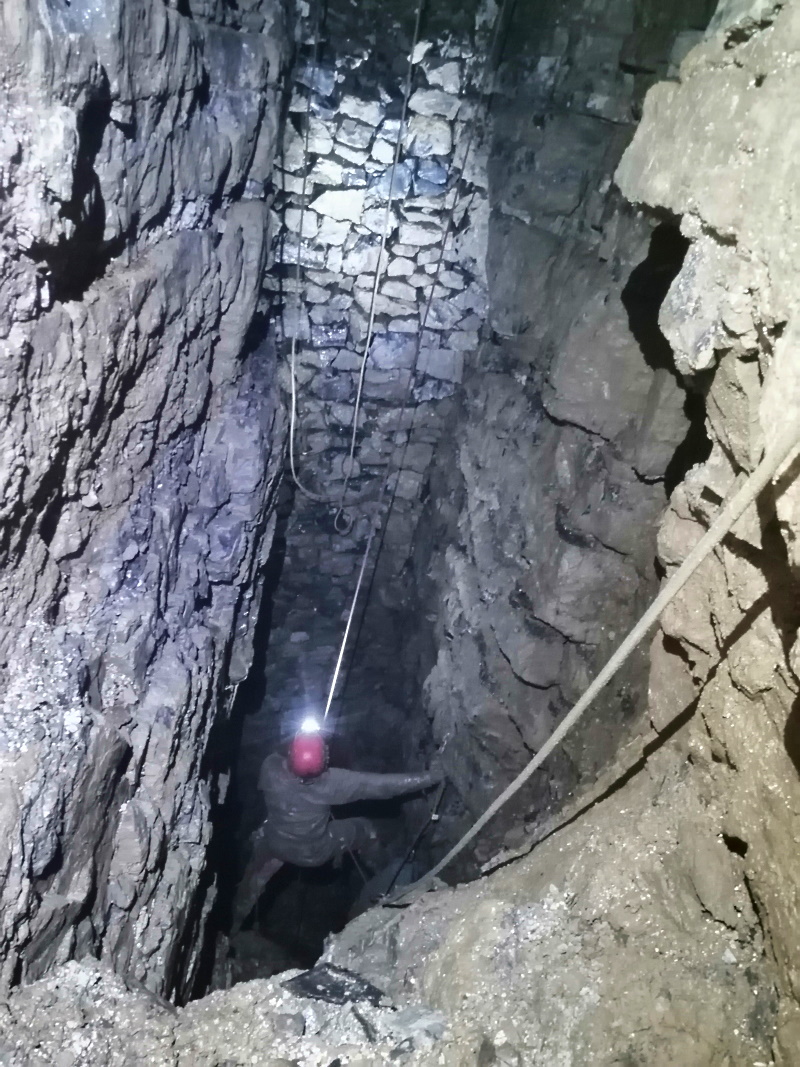 Looking across the Engine Shaft to the awesome ginged wall
However as soon as I'd bolted across to the opening I felt a strong draught going in and knew we were onto something. Dave came up to join me and we set off exploring. Following the rift it soon opened up slightly and after a bit a gardening we could progress quite easily along at this level. There are ways up and down and the whole place echoes well. For some reason at the narrowest bit I decided to put in a bolt and abseil down to inspect a lower section. Here large waves of calcite flow over the walls and rotting stemples, giving a strong contrast to the loose and dull rifts from before.
Soon we got to a bit with a solid roof (for once!) and we continued on in comfort until the way on west got too tight. An obscure way on was found in the floor back under the hanging floor where we'd just come from and instantly any comfort was quickly lost again. The draught was whistling down this route and Dave suggested I go first as it did look proper dodgy. Instead of doing any gardening I decided simply not to touch anything and it fortunately worked well. I was now working my way down a vertical rift and I could see a boulder floor about 6m below. As I got further down I realised that the walls belled out above the floor and really quite drastically! Judging the exact distance was very tricky from this perspective and I was worried I might not be able to get back up into this rift from below. However it looked really good beyond so I apologised to Dave for the potential consequences and jumped down. Thankfully it was only about 2m so I knew we'd be ok getting back up and I shouted for Dave to join me.
The Tap Room is a fully natural bedding chamber about 10m by 5m, and 2m high. Small stal stumps line the roof and there's even a small nest of cave pearls on the floor.It has a very Bagshawe feel about it. We were buzzing! To the south a bedding passage heads off but soon fills to the roof with sediment. A dribble of water flows away down here and it definitely warrants another inspection. To the north a small passage heads off which looks like the miners have dug it open a bit. We didn't have a proper look along here. Back in the Tap Room the main way on is to the west. A nicely ginged hole in the floor leads down into a large rift at least 20m deep and with a huge echo. The draught going down here is strong and beyond is a definite sound of water; maybe just an accumulation of a lot of drips, but it's hard to say.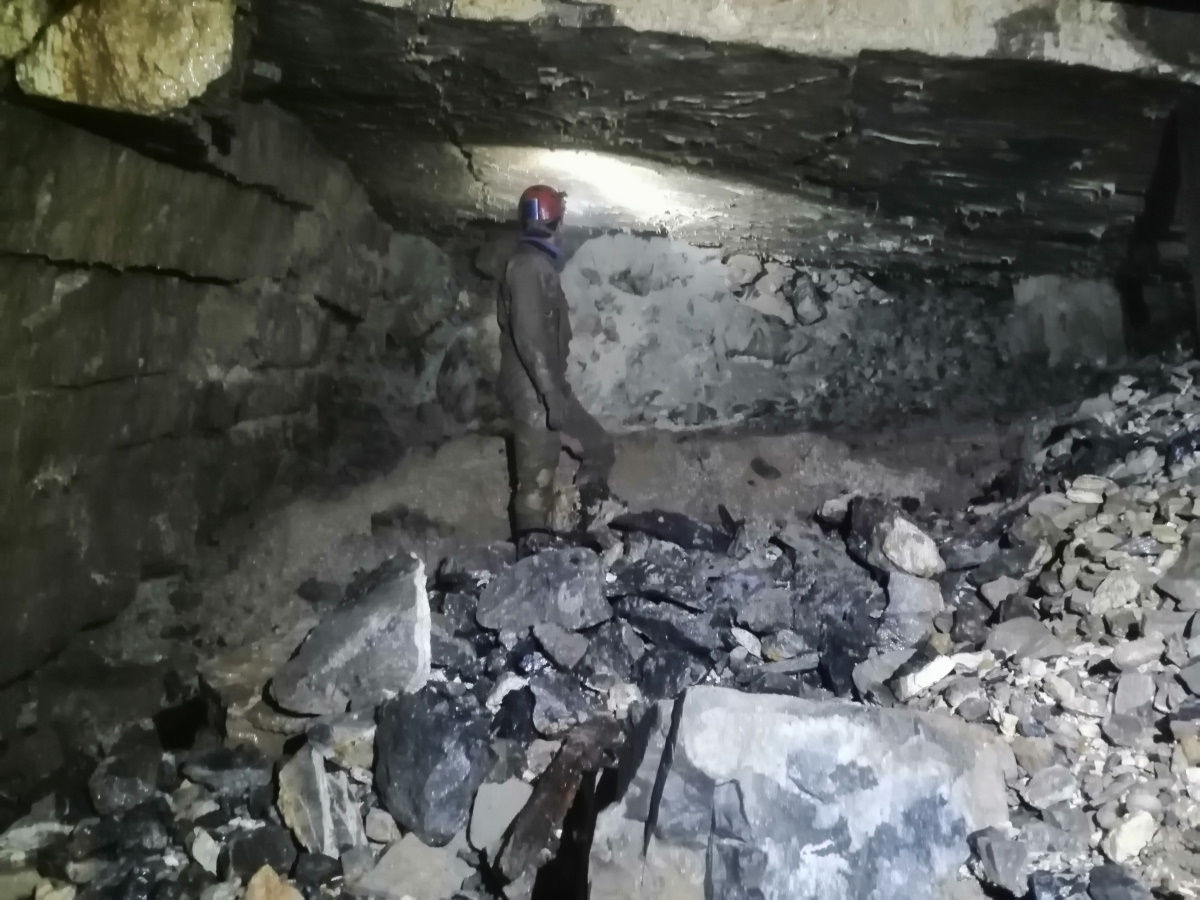 Dave Harley in the Tap Room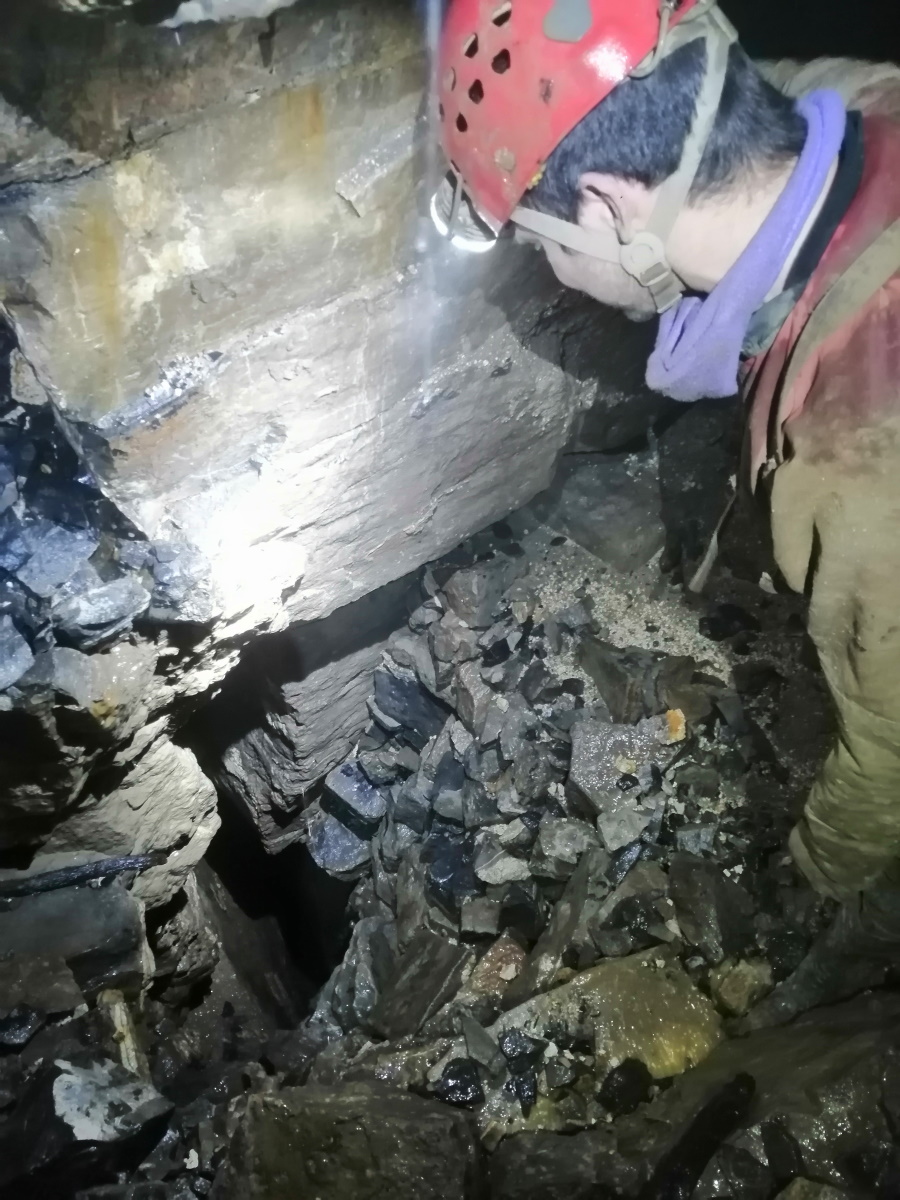 Dave looking down to the big way on
As we were really missing Jon and Luke who'd put in so much effort to this project we decided to turn around. Although to be fair had we any rope and bolts it's unlikely we would have been this altruistic! Dave built a rock cairn to allow us to climb out of the Tap Room and we surveyed our way back to the engine shaft, bouncing off the walls as we went.
Luckily the others had got to the pub in time so we recounted our tales to them. Even more luckily the pub was cleaning the pipes through so kept bringing us an assortment of free beers! This extension now puts the survey of Intake Dale Mine at over 500m long and it's definitely showing all the signs that it'll keep growing…