Intake Dale Mine - 19/12/2019 - Rob & Jon
An early start allowed for a relaxed pre-beer. Compared to the mammoth carrying session last week I made easy (and very delicate) progress to the dig. Meanwhile Jon went for a gander in a boulder chamber above the Blackjack Choke. We had clear voice connection through the choke although it was hard to know exactly where from. That might one day provide another option to attack the choke from, especially as digging down in boulder choke is generally the easiest and safest option, but for now we must continue as planned.
Jon did a sterling job of cutting some scaf bars whilst I did a pretty poor job of getting a "vertical" pole in. Obviously forgot my spirit level, again! I then spent some time digging the face to make more room for more scaf. At first this involved pulling spoil back for Jon to sort but soon it was easier to just push it forwards and left, down into the big hole. The sound of some of the rocks falling was very encouraging, if not a little foreboding. The draft is noticeably increasing too now. The last rock was probably too large to safely drop down the hole so I pulled it all the way back then headed in to see if I could get through. Very carefully I quietly moved beyond the scaf, being very aware of the horrendous looking choke now all around me. A small funnel lay beyond with a hole in the middle leading down out of sight. I lean out to get a better vantage and see a pitch down heading off West into a tall rift. Solid wall on each side, the first seen in the whole dig, we've made it through the choke! It looks to be at least 12m deep and too wide to safely freeclimb down.
Any jovial feelings are quickly thrown away as I contemplate the challenges that we must overcome to abseil down this pitch and explore what's below. The relative safety of the existing scaffolded section stops ~2m before the pitch and the hanging death is totally surrounding. Any structural integrity gained from solid walls will have to wait at first, so the rough plan for now is just to fill it with any remaining scaf and see if we can fit through the Kerplunk that's left!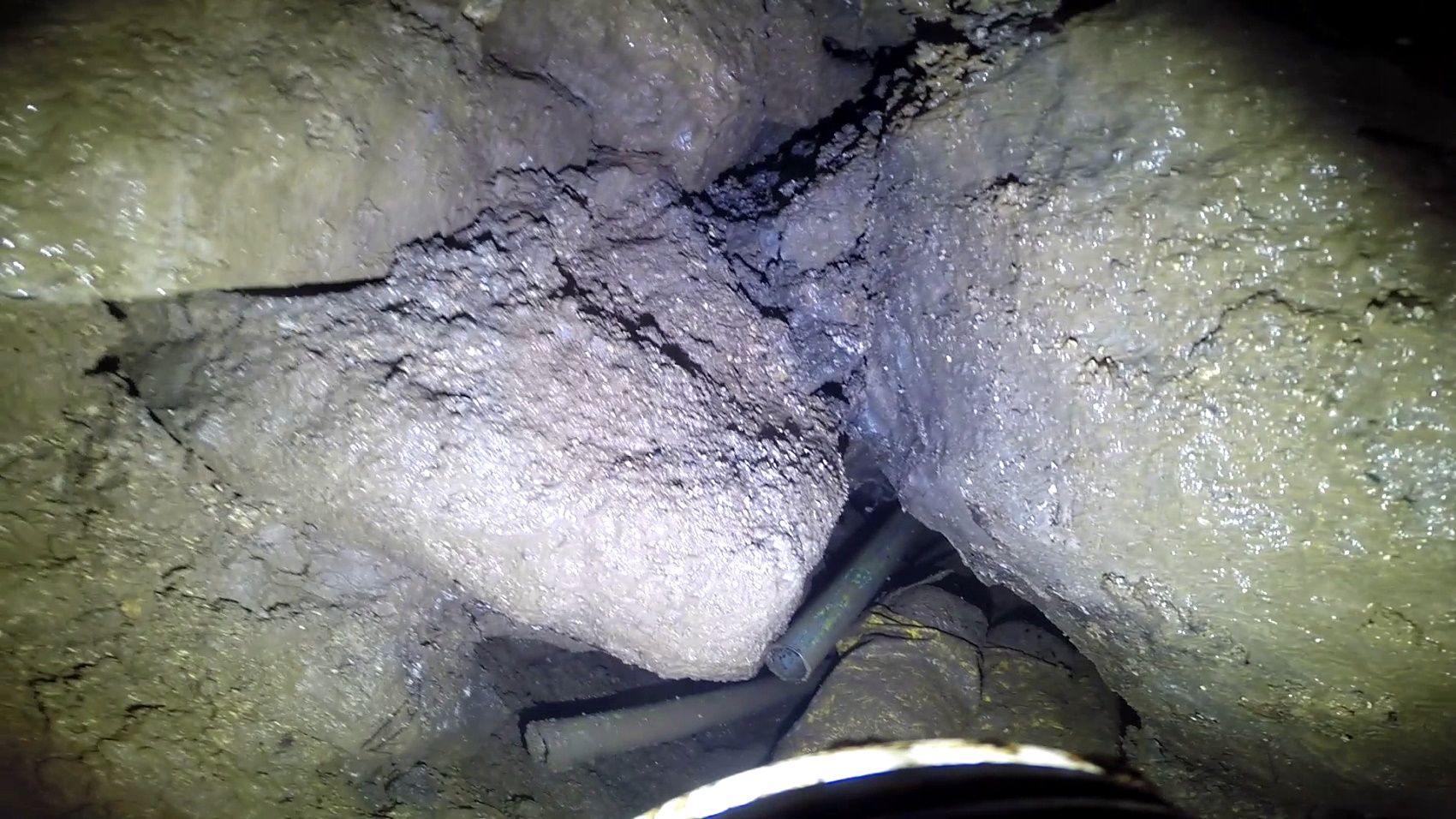 Squirming beyond the "safety" of the scaffold
We do a bit of tidying of the scaffold frame and head off to the Anchor to contemplate further. Lots of options, none very appealing. I'm hoping time will heal both the dig and my worries….