After a meeting up of the usual suspects at the usual time and place we descended the mine at 7:15pm with our most geared up trip to date. 2x 15m ropes, a ruck of long stainless bolts and hangers, a fistful of krabs, surveying gear and Rob's photography kit (making its first appearance underground since Mulu 2015!)
I made my way down with the drill whilst Rob and Luke rearranged some rigging on the way down to make it a little safer. Once in the Chamber of Secrets the climb down has now turned into a gently descending slope thanks to the gardening from last week. We drilled a couple of holes for when we descend the Climber and placed a rope on the short pitch to avoid the stack of dead's. Once at the steep slope I geared up for bolting with Luke belaying me whilst Rob captured the moment on camera.
After a couple of bolts I was standing on top of the large boulder slope at the west end of the chamber. I placed a couple more Stainless bolts for a Y-hang without even checking the way on and shouted for the others to come up. After knocking some loose rock down on to Rob I surveyed our situation. We had climbed up on to a large chocked mud/rubble slope which appears to have peeled off from high in the roof creating a large alcove above. A steep mud slope descends straight on (west) to a complete choke of miner's back-fill. A way over the top continued but would require a short climb or traverse from the head of the pitch. A small eye hole similar to the one in the entrance series heads south but would also require a short sketch climb with its location right above the pitch head.
We made for the eye-hole first. I cleared off a couple of muddy foot holds as the mine beyond the Chamber of Secrets had started to get pretty squalid compared to the lovely clean entrance series (don't get me wrong it's still no Gautries!). Luke spotted me on the pitch head so after pulling some rope through my stop I started to climb and with a decent footing from an old stemple pocket pulled my body into the eyehole only to be prevented access from a tight rope (bugger – not enough slack!) Back down, back up and I was safely in the eye-hole. I pulled the pitch rope up with me and poked my head into a small stopping height blasted out chamber containing lots of T'owd Man's tools including sledge/lump hammers, picks, stemming poles etc. Luke passed up the Disto and I surveyed The Tool Room and climbed back down with Luke spotting.
We checked the time (9pm) and started the climb at the westerly end. This was fairly easy and a after a short traverse from a low level, I gained a good footing and only one bolt was required to protect the climb which soon left me standing on the far side on some good solid rock. I placed a bolt creating an abseil prussic enabling the others to join me without creating too much faff!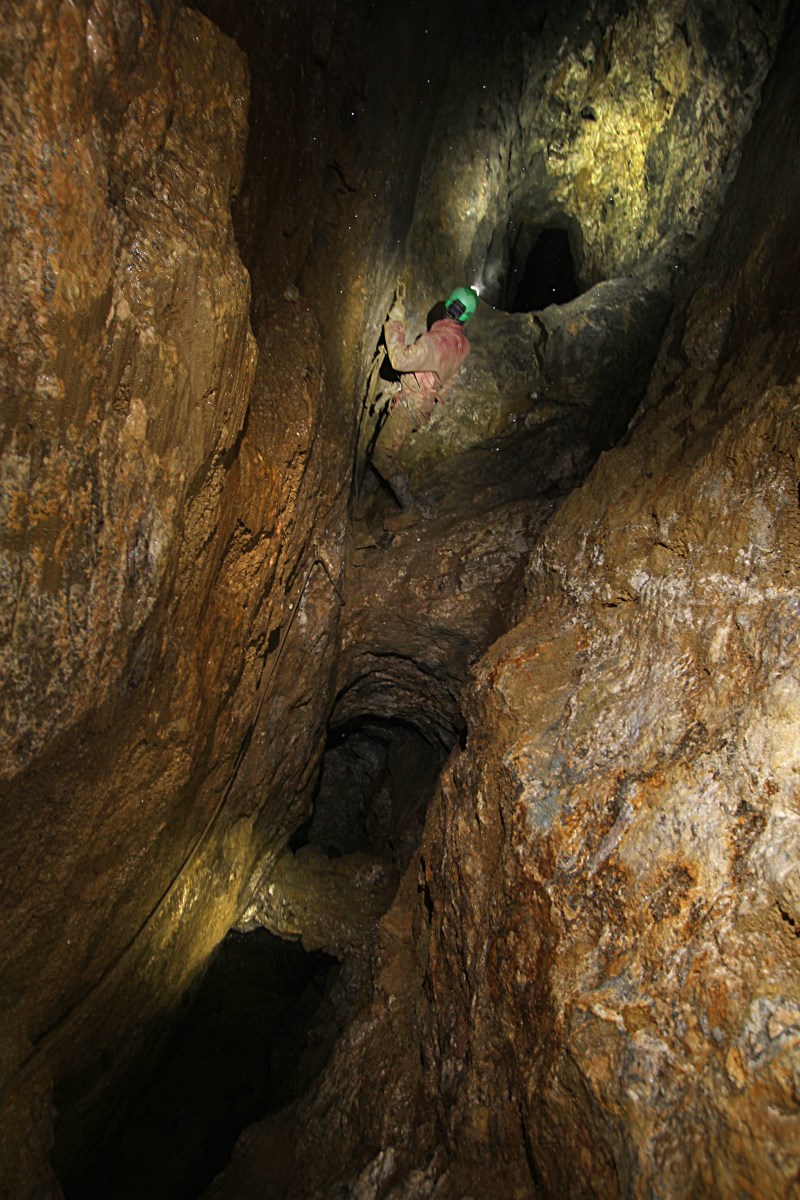 Jon finishing off the traverse
Once Rob and Luke were up they continued to survey whilst I re-rigged the pitch head.  A short step up led to the top of a 13m pitch containing a couple of deteriorating stemple's which will require removing and precariously stacked wall right next to where the rope will hang. We could all feel the draught up here which was encouraging.
Now 10:10pm we had to hastily make our retreat to ensure we made the pub. I headed out first followed by Luke whom I almost killed on the way out after a collapsing pitch head – sorry Luke. Talking to the others it sounds like we were all pretty spent ascending to moonlight. I must've tweaked my left shoulder on one of the climbs and struggled on the traverse lines. Actually sweating enough to soak my hair through by the time I had reached the entrance pitch.
Positive notes
-          Still going (draughting)
-          Made the pub
Negative notes
-          It's turning into a longer trip
-          Buggered shoulder
-          2x near death experiences!