Having not assembled 'Team Awesome' for some time now, Luke Cafferty decided we should finish off the Ghost Rift re-survey of a passage which has now come to light as 'Bad light passage'! This passage was first explored for "200 agonizing feet" by Bob Toogood, Henry Mares, Grotty Gill & Clive Westlake way back in 1967. This leads to a series of pitches down (one 8m) to an impossibly tight crack where the stream sinks. It is thought that the water sinking here is next seen in 5/8's Inlet on Oxlow Caverns but has not been concluded. (note. 5/8's Inlet is also on the re-surveying project 'to do list'...).
----------------------------------------
We had a fairly uneventful trip to Ghost Rift where upon I set my efforts to calibration the DistoX using Topodroid. Having calibrating a DistoX a few times before using PocketTopo I sort of knew what I was doing, shooting the laser 56 times within a box etc. Having some technical issues this finally worked on the third time (~lucky and all~) which was good as we were all now pretty cold after our soaking through the Windpipe. 
We quickly headed up the rope noting previous survey stations from where Luke & Rob Eavis had surveyed through to The Earth Leakage Trip which is located through a boulder choke at the end of the main passage. After a quick look in the alcove just beyond the pitch head Luke checked out the tight agonizing crawl and shouted back he thought it looked bigger last time so I carried on to the base of the boulder choke just to confirm the passage was correct - which it was! We decided to strip all of our SRT kits of all metal work just leaving our harnesses and take one set of uppers and downers which we could pass back and forth as needed, knowing two of the three pitches were short and probably free-climbable but unsure of the 8m pitch. Since the trip was Luke's idea he was nominated to carry the bag with 25m of rope and metal work whilst Rob followed surveying followed by myself checking and uploading data to the Android device.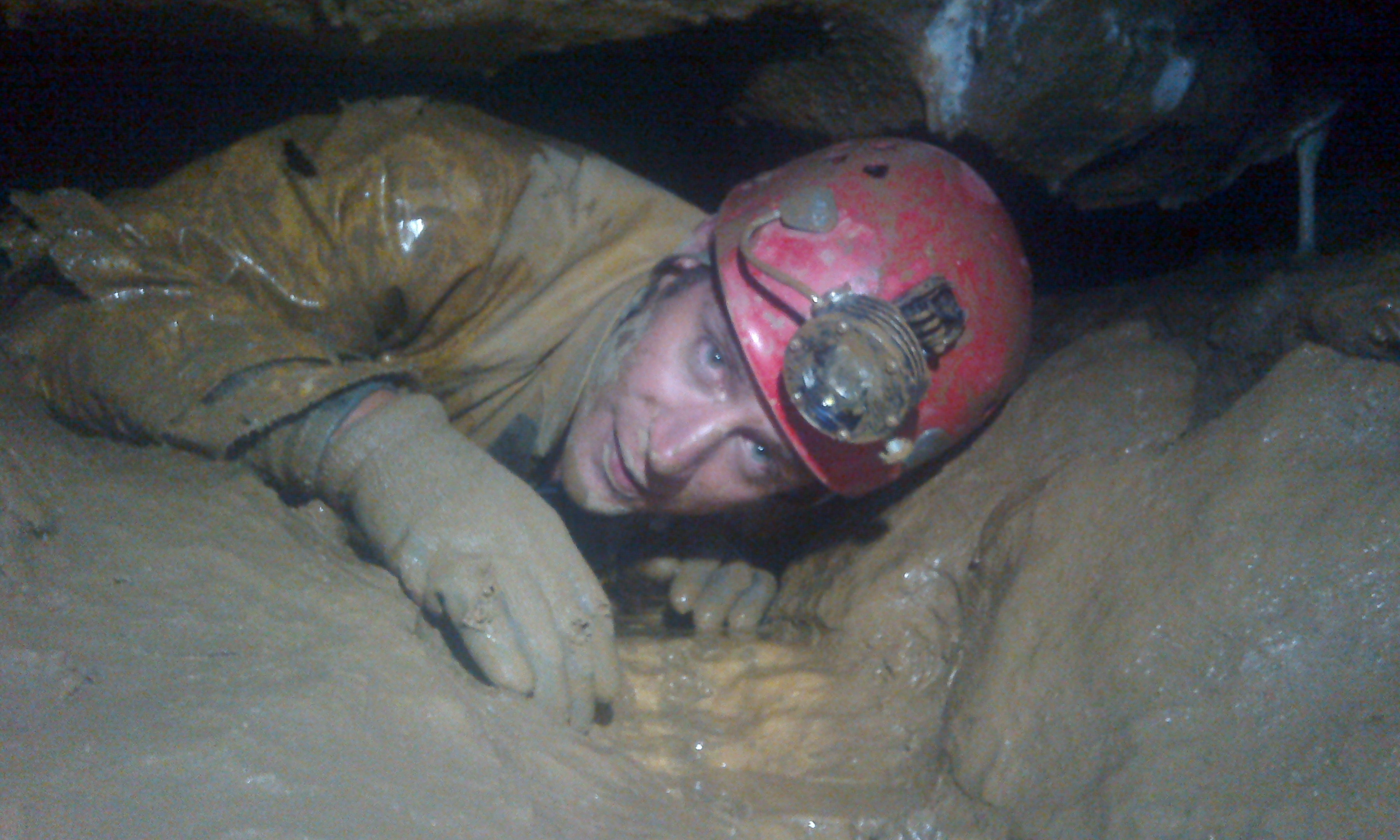 The Passage was agonizing from the start. A flat-out keyhole shaped passage with only one place where you could turn around/crouch up about half way, a claustraphobes nightmare! Luke complained the whole way as the bag got caught on everything. I wasn't having fun having to lick the Android every few body lengths and Rob was just being Rob with bags of psyche.
We eventually stopped hearing Luke complain and assumed he had reached the pitches. Bad Light Passage breaks out into the roof of a Rift. The passage continues to where the stream emits with the draught, but it's too tight (or is it?). The rift drops 2m to a small rocky floor which is the start of the 8m pitch. Luke started to free climb down and almost nearly reached the floor until he shouted up he was unsure of what he was standing on, Rob assured us all that this was not a place to be having an accident so we quickly found a belay for the rope which Luke could climb back up only to grab our stop so he could then safely reach the floor, Rob quickly followed. I remained at the top of the pitch mainly jumping around trying to warm myself up. After a few mins they came back into voice contact and were soon climbing back up the pitch.
Having a quick chat at the top of the pitch and coming to terms with missing the pub we hastily made a retreat with Rob doing all the hard work at the back carrying the bag (whilst sniffing out some leads) and Luke and myself just bossed out as fast as sluggishly possible in this agonizing passage! Lucky for us the return trip is mostly down hill with a tail wind. I was somewhat deluded by the many 'false summits' this passage had to offer; always getting my hopes up to crush them around the next corner. 
Once all back at the main passage it didn't take us long to reach the surface. All feeling rather battered after the trip and knowing we'd probably be suffering for it in the morning. It's worth noting that Bad Light Passage has an outward draught and at the upstream end it is still 60m from surface....