Joe Buck, Rob Eavis
Work and last minute dropouts left just the two of us, so plans of a big hauling effort were out the window. That at least may allow us to just go for glory and not worry too much about moving spoil, and to be honest after last week I was pretty excited. Pre-beers in carpark to keep things quick and straight down to Inglorious where we derigged the old 9mm that's been on there since we broke through and swapped it out for some new (old) 10.5mm. Loper Lust was a pleasure as always without a bag and we got to Wet West passage pretty quick. Joe then had a crash course in how to use a DistoX and we surveyed from the previous extent of our modern survey (where Draft Black turns off) all the way to the dig. Once done we couldn't hold off the urge any longer and dived head first into the slop.
Joe went first with me closely behind. We joked about how silly it was us trying to stay clean and dry. It's now a good 30m or so to the face, all of which is either crawling or flatout. In places the slop was over 30cm deep, the trickle of water that flows out of the dig really hasn't done much to clean it out! A few fresh wall collapses greeted us which Joe just broke up and crawled (slid) straight over. We were keen to push the end. Joe spent a while making the bit I reached last week a wide enough trench to get into and after a few metres reached a left hand corner. Behind him all I could do was jeer him on and occasionally sweep away a wave of slop that he managed to extrude from around him. Soon we were both half buried and pretty cold so we decided to try drag our respective pools of slop back out with us. This was a surprisingly tiring task, especially for the arms, and once back in the main passage we were both pretty knackered.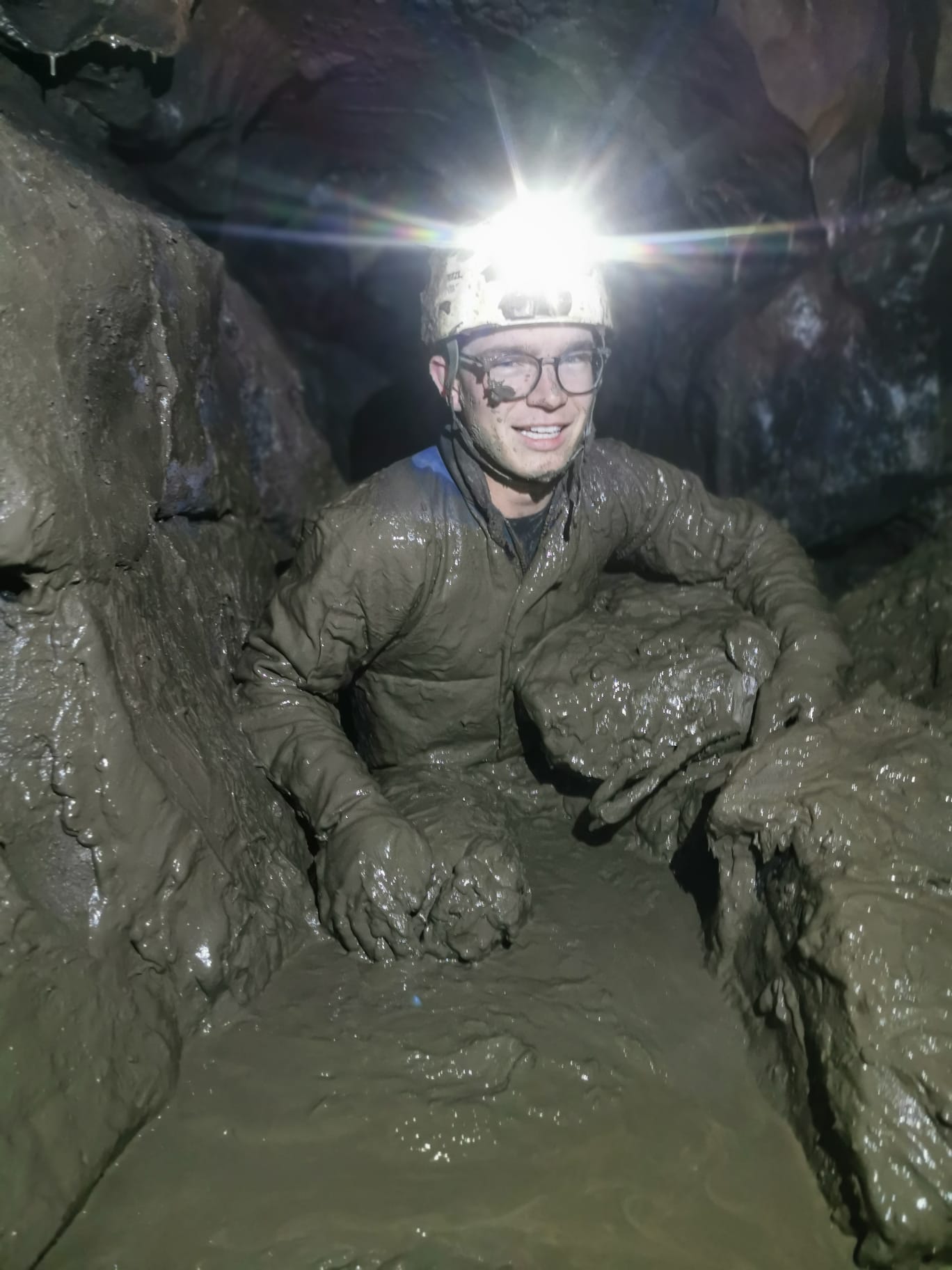 My turn now which was good as I was keen to see the end. Getting there was definitely easier now we'd each been up and down it a few times. I think each trip the passage will just get a bit bigger, which is a positive feature for the future. This is a really interesting dig, especially done "on the cheap" like this without hauling. After a while I got a method going. It was a case of grabbing a handful of mud from the front and somehow chucking it behind me, although it tended to land on my legs and back. Once it was a slightly scary load on top of me I'd then try to wiggle my body up so it dropped below me. I would then do a sort of reverse worm dance to try to push the fluid backwards and then kick it a bit more. Lush.
Whilst I was doing this Joe had come up with his own method of clearing slop involving filling a drag tray with ideally solid chunks of wall. He'd then drag the tray backwards whilst laying down. This actually gave two additional slop removal mechanisms; that of the wave pushed by the tray, but more impressively the wave in front of his body. This actually extended a good few metres ahead of him if done at the right speed. Note to self, bring GoPro next trip.
After over an hour of digging we got to a point where we had made maybe 4m and could now see a further 2m where the passage runs right and the roof steps up, at least a little. Next trip we'll make it there, probably, but there's a lot of mud to shift if we're going to make it a comfortable size. At this point the slop had successfully entered my oversuit and furry and I was getting pretty cold. I tried out Joe's sliding/dragging technique to great effect and was soon back in the main passage and glad to be sat up. Joe was loving it and headed back in for another flush. Meanwhile I risked getting my DistoX out and took a few survey legs into the passage to at least give us a direction to be thinking about.
We headed out, taking any opportunity to roll around in a clean puddle on the way. Loper Lust was pretty knackering and I was glad to be in Inglorious. I was grateful of Joe taking the rope bag out and we on surface soon after 10pm for a quick bathe in the Saltpan.
This dig shouldn't be enjoyable and to be honest it isn't. But by the time we were back at the cars, changed and supping our post-beers, we were both ready to go again. It felt strange, like we must be messed up in the head. But then we both agreed that it's more acceptable to enjoy doing this than it is to hate it and do it anyway. Bring on next week…