Team A (Rob & Luke) - Team Doom.
Team B (Jeff & Jon) - Team Cussey.
Great trip this evening making 2 vocal connections from Cussey to Doom. After leaving appropriate time Jeff and I bimbled down Cussey and with our agreed meeting points and times made our way to location A @ 1920 hours (Loper Lust). Jeff got stuck right in and inserted himself head first at the end of the dig. We made radio contact and shortly after crystal clear voice contact with Team A who were located in the flat out windy dig above the bendy ladder (http://www.eldonpotholeclub.org.uk/homepage/current-uk-projects/doom-articles/341-best-lead-in-derbyshire). This was great and meant we could roughly orientate our survey to the presumed location, although no light connection made.
Next location was at the bottom of the mine workings in Cussey for 2000 hours this proved to be pretty tricky as neither of us had been there before. The pitch up had an awkward free-hanging traverse to get off the rope and afterwards we had to re-rig the pitch down as it had been de-rigged and unfortunately we didn't have a spanner. We gained radio contact but failed on the vocal connection after failing to get down the pitch. Although we did uncover a nice sized tubed at the base of the hauling shaft.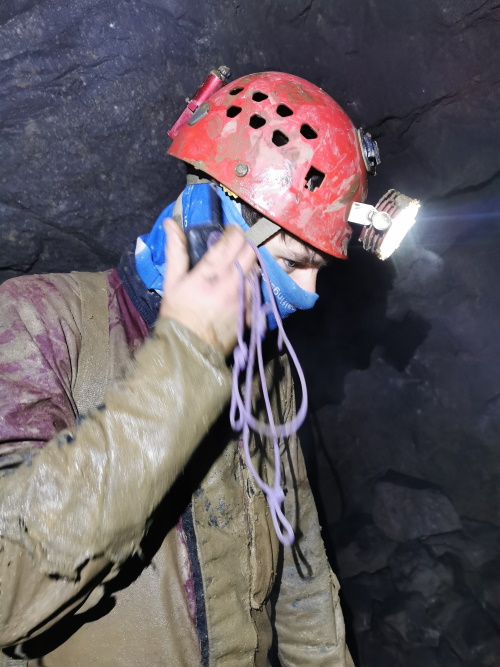 Luke radiolocating from Doom
On to point C for 2015 hours which was much more reasonable. This was at Rob and Jeff's quick poke in the base of IG chamber. Here again we made radio contact but no vocal connection after loads of serious banging - nothing.
Last but not least point D - Black Draught. Here Jeff offered to insert himself into the end of the crawl whilst I kept my SRT kit on. We made radio contact then eventually Voice contact but barely audible. Although it sounds we were more clear at their end in The Wet West than we they were at our end. That concluded our trip so we slowly made our way to surface - mission accomplished!
Sounds like Team Doom had a great trip checking out some old haunts and had a good look at the end of the Western end of Doom which the survey does not do much justice.
Next week we'll start to dig Loper Lust as it seems the easiest which sounds like something we'd do.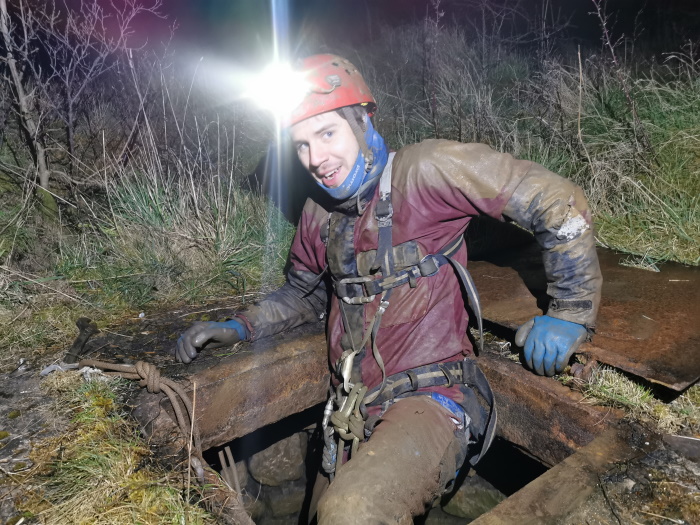 Luke exiting from Cliffstile