Just Rob and I (TAP) on this evening's escapade back in Cussey after a few weeks break in IDM, I was keen to get back and see how the boys had progressed with the Shattered Dreams dig. Lurking in the far Western extensions some 5 mins from the entrance. After a couple of pre-beers we made our way through to the dig. Rob described it as, "we need to cap the shit out of the floor!" So once there Rob set himself up at the base of the pot with me perched a metre above amongst the boulders. Luckily the draught was small tonight compared to what the lads have normally expressed which meant I wouldn't get too cold sat about. 
Rob started capping and within minutes had the bar stuck! This seemed to be the theme for the next 30min as everything he did seemed to bugger up. I told him to increase the dose and things soon started to go his way albeit after hilariously lobbing a hammer down the unexplored hole below never to be seen again. Shortly after the removal of two large boulders Rob deemed the squeeze passable and passed everything back up and placed a bolt to secure a ladder just in case, then attempted the squeeze. He spent approx 1 min trying to turn his head through the squeeze it being just about helmet sized and suddenly he just popped through.
FIRST BREAKTHROUGH OF 2021!!!
Rob was through... standing in a funnel of boulders at the head of a short pitch leading down to some chocked boulders. He dug out the squeeze from below which was much easier and then we de-rigged the ladder to use below, luckily I found an extra through-bolt in my oversuit pocket as Rob had only brought the one. I squeezed through to join him beyond with the ladder. He guided me down so I didn't fall down the pitch as he whooped away super excited convinced we'd accomplished a goal we set out to achieve years ago, if not we'd discovered something pretty significant in Stoney, again. We had a quick look around this upper chamber which was superbly decorated with some large straws and beehive slopes but got carried away and sacked off the lead heading west for the big space below, worried we might not be able to reach the floor.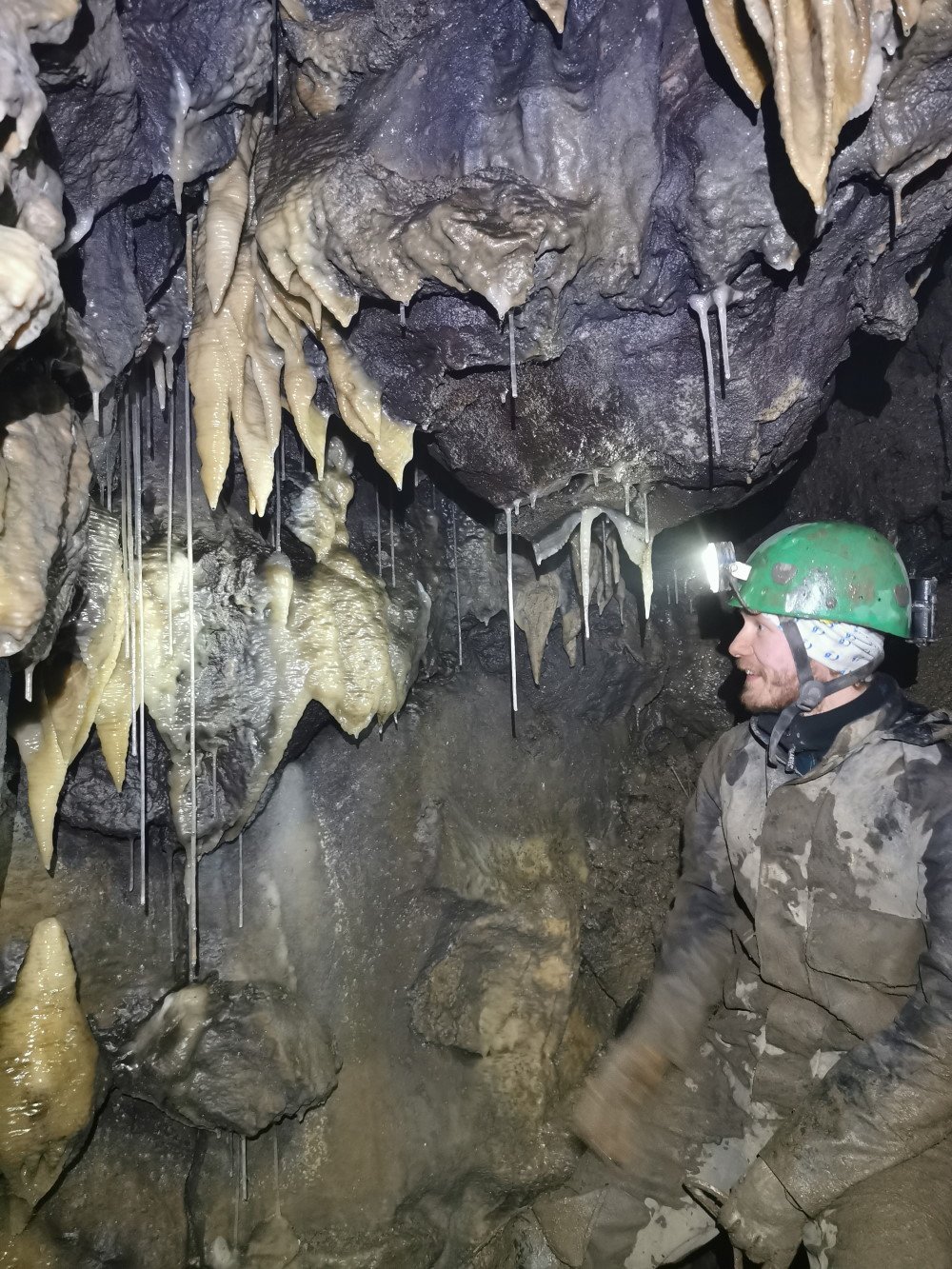 Jon in the breakthrough chamber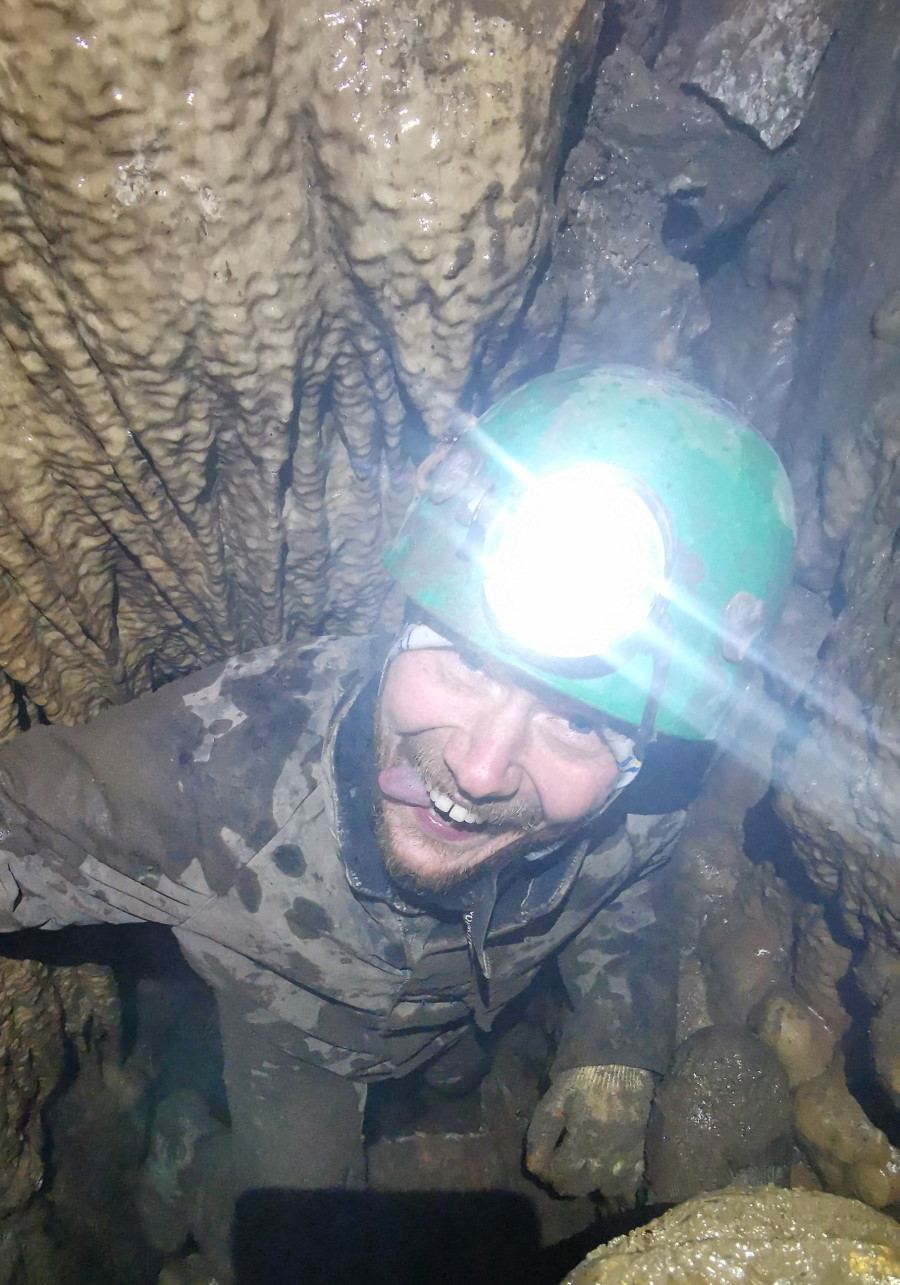 Happy Jon
We gingerly climbed down to the chocked boulder platform and could see a boulder floor at least 10m below us. Rob sparingly placed our last bolt albeit a little too high as we were still some 5m from the floor at the bottom but luckily it was easily climbable. The walls were smothered in calcite down here and in front of us heading east was a large boulder slope which seemed very out of character as it was a little too clean for the place. We decided to head west as west is the place to be in this place. A further climb down a boulder slope amongst a huge fallen beehive formation led to an enticing black hole below. I went for a quick look see and after cobbing a rock from above the whole floor dropped from where I was stood. Rob seemed keen and pushed down through the hole to a not so nice void below but a promising looking dig in the floor which was draughting on a night with little draught - Impending Doom!
We both safely exited this area and headed west at this level to a pretty chamber with large straw formations and a dig in a small tube heavily blocked with stal which we aptly named The Pearly Gates due to its resemblance to the dig in Eyam Dale House Cave, this was draughting inwards. We went a short way back and climbed up and over on some delicately balanced calcited rocks which felt flimsy. A short bridge over a deep hole gave access to a further boulder slope up to a higher level chamber. Here a boulder blockage and a low muddy slope stopped us progressing any further west.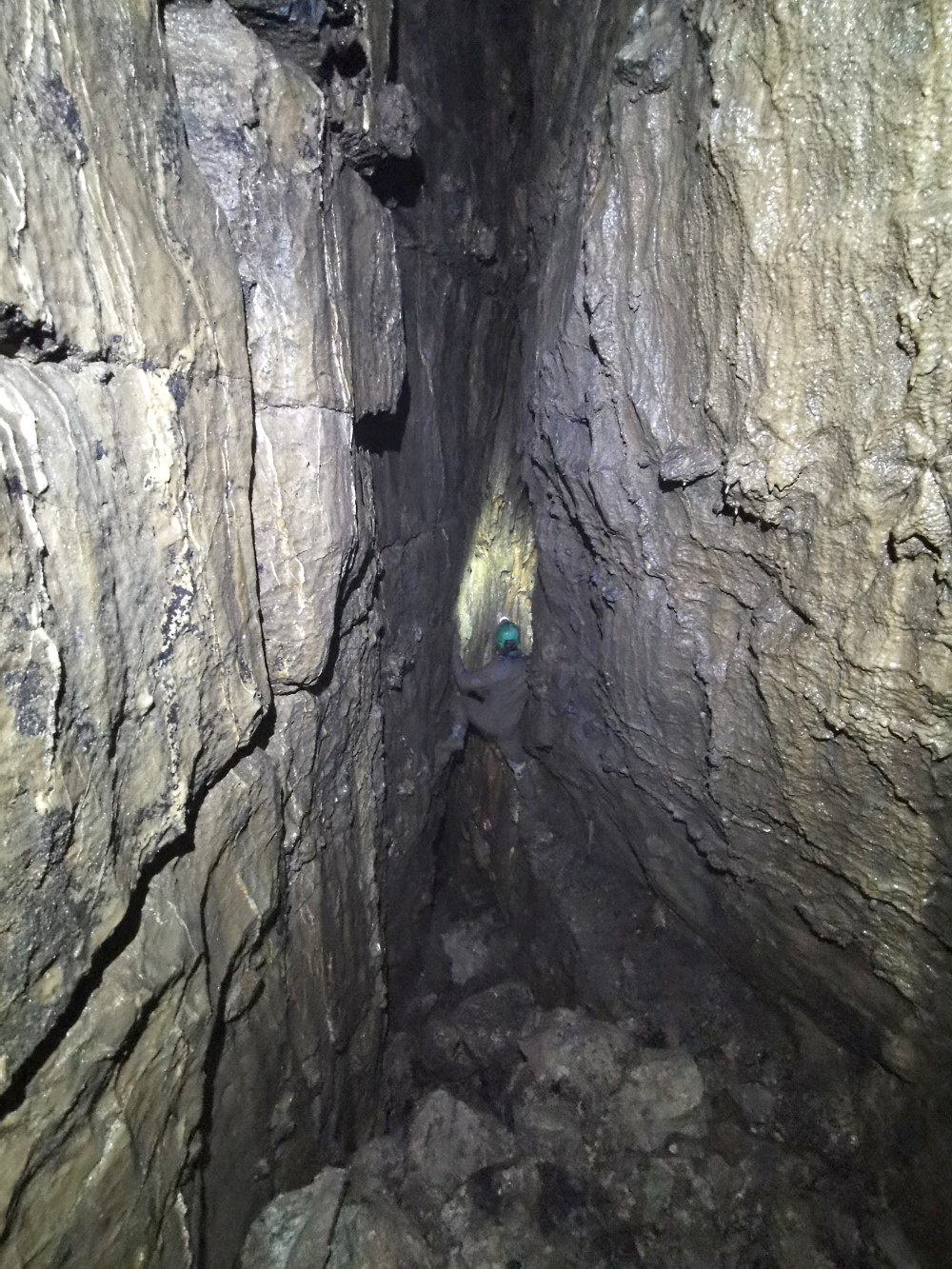 Jon climbing back up to the bottom of the ladder
Back East at the bottom of the pitch we climbed the clean washed boulder slope to a large boulder lined floor section. Here a couple of inlets led in from above and a couple of dodgy ways led off through the boulder floor. Rob pushed the first one and after a few minutes and a jump completed the first and only round trip in this extension which led back to an aven in Impending Doom. I pushed the second hole thinking I'd hit it big. I could see a cross rift below me which was wide open and what I thought was a pick axe resting on a boulder (it was only a rock). After moving a few boulders and scaring myself Rob inserted himself and with brut strength moved a large boulder just enough for it to be out of the way and hopefully not block us in the new extension. Rob pushed down into the rift and I quickly followed him and then passed him,  a climb over a boulder led to a short free-climbable pitch. From here we traversed the tight awkward rift over a further pitch which we could down climb from beyond to a draughting muddy dig in the floor amongst a large fin of rock.
It was now getting late so we started to make our way out, it was only meant to be a 2hr trip which had now doubled. It was now 10pm when we reached surface, super excited with over 100m found and 3 enticing leads.
Rob returned on 7th December and surveyed the place, plus also confirmed that both the Impending Doom and Pearly Gates leads were draughting out really well. The former is now seemingly only 10m away from known passage!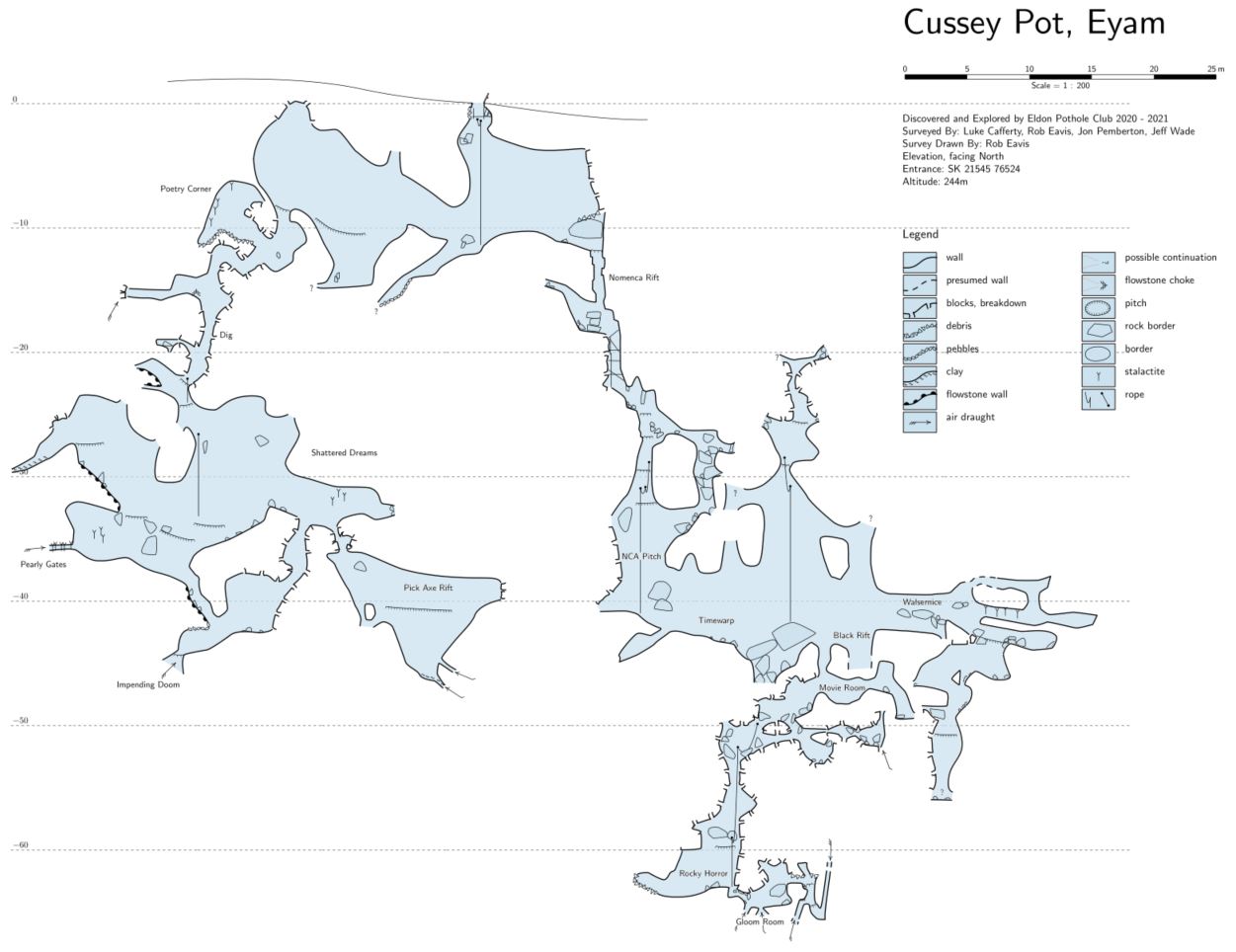 Click on image for PDF