Team TOJ; Rob, Jon & "Souless" Joe Buck.
We sat in the Miners and discussed plans for tonight. Due to only having 3 we were not venturing into our sloppy new dig now named "Vulgarious Bastard" or Vulgarious for short, tonight was to be a clean night, an easy night...
We were to check out the lead from last week - a continuation of the mine level above the Waterfall Pitch heading NW. The waterfall pitch was the original entry to this wet West series back in the late 80's but it appears as though the original explorers we're dead set on pushing the natural rather than mincing about in the old mine workings, that and the rather bold step to access it. A quick look at the survey revealed the mine workings to lay very close to the mine workings heading off in a similar direction in Inglorious. - could this be another route into the WW series if Loper Lust were to sump?
We wasted little time and made our way to Inglorious. Rob shot off front to grab some tools from Draught Black and Joe and I made our way and started to place some bolts for a handline traverse over the bold step atop the waterfall pitch. We were soon back together and Rob jumped across and finished bolting the other side. A short stooping level reaches a pitch down and a 2m x 1.5m rectangular shaft up, approx 5m high in poor rock and clay (some humongous bore holes remain at the bottom which were possibly used for a platform at some point). Rob and I climbed up and jointly rigged a handline for the climb which doubled up as a rope for the lower pitch too. Joe came up and Rob made his way up the corkscrew to dig the boulder blockage. Dithering around waiting made no sense so we jumped back down the pitch and started to explore below.
=EASY PICKINGS=
Joe traversed across the pitch first and I followed. It seemed a fairly bold move as we're all fairly short and the shaft below is in similar dimensions to the one above. From here we continued NW along an old level which gave an amazing echo. This continued for approx 20m to a forefield with more modern workings. A climb led off to the west but crapped out in solid. On the way back we noted that at a certain point the level almost resembled a coffin level and the miners old clog prints could still be seen in the mud floor which was pretty neat. We retreated back I inspected a short dodgy climb near the entrance, this crapped out to the NW but running back SE a crawl over boulders led to another corkscrew heading down and west but not pushed.
I climbed back down and traversed over the shaft back to the bottom of the pitch where Rob was. I could hear him capping above and Joe descended the pitch below first. Again a bold descent and even scrappier climb back up. SE this leads back to the bottom of the waterfall pitch, we followed this under the waterfall to reach a spectacular pitch looking down which we'll bolt down one day as an alternative route to the lower series. NW a short duck under led to a further corkscrew heading down and west. The whole place was dry as a bone and the air was pretty stagnant! Down and down we spiraled passing lovely picked out workings to a small climb down between stemples. This led to a further corkscrew passage comfortable in size (walking/stooping) to a large shaft approx. 2m in diameter and loads of large stemple's supporting it. The whole place looked like it was crumbling in on itself probably because of how dry it was. It kind of reminded me of a large sandstone choke we found in Matienzo which was terrifying and this place felt the same.
Joe peered over the edge of the shaft. It wasn't deep but you'd hurt yourself if you fell (about 6-8m) just beyond and underneath a stemple which appeared to be bearing one of the walls was a huge enticing black space! I edged around the shaft and reached a col between the shaft and a large chamber. Here a 2m iron ladder led down to the floor of the chamber. Joe traversed across and I asked him if he thought it was safe before kicking the top rung and climbing down. Joe quickly followed after taking a quick snap on Rob's phone which he had for some reason and we explored the large chamber finding only 2 leads to poke. One a climb up a mud wall to a small crawling sized black hole as seen in the photo. Two a hole (possible shaft) in the roof which I wouldn't even shake a stick at due to the nature of the place because bolts are definitely not going to hold you in here!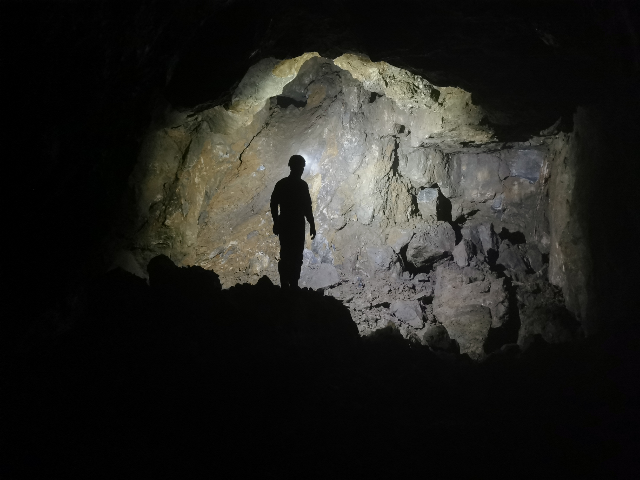 We made our way back to Rob after scrapping up the pitch on the hand-line. Rob sounded like he had a fun time by himself digging along side the large boulder blocking the way on. He managed to get through without capping but unfortunately the passage ended shortly after in boulders. He then removed said rocky ready for if/when it needs digging properly for the connection. We surveyed back to the main drag and made our way back through a rather aqueous Loper Lust which means we need an alternative connection for the winter months!