Team Awesome back in business once again for the stand out outing of the year (my summer vacation)!!
After humming and arring somewhat and numerous trips thought up with flawed plans I had to stand up once again and decide the trip, DOOM! Being summer and the water levels pretty low we decided to head up the sough tail as we were all virgins ans this seemed just the right time for TA to lose their virginity's!
We met at a nice time and having all day to play this was certainly gonna be fun. We made sure to take food, sandwiches and beer! - Luke forgot his wetsuit (typical rookie error)! We hopped the fence and were ducking under the garden by 10:30am. The sough tails a lot longer than it seems to Rock Cottage shaft, stooping for most of the way with a bit of crawling thrown in. The start begins with lots of tree roots in the water which makes it all seem very toxic and plague like! it took us 25min to reach the bottom of Rock Cottage and the rest was plain sailing.
So first point of call was to check out some loose ends in Doom. With water levels being so low Mark had been banging on about checking out Elastic Passage. When we got to this it was already flowing which meant progress beyond the previous limit would be impossible (sumped)! We then had an Awesome look along the levels. We checked out another dig where the water sank just a little further along from elastic passage which Rob thunks was the original water course before the miners fucked about with it. After a quick fettle it was proved to be impenetrable. 
We then had a rather funny moment...
We checked out a top level where we knew was a little leap cum traverse over a floor collapse. 
This is where Doom lived up to its name...
We had to step across a bridge of death. For anyone who does not know what a bridge of death is, its a not so 'Bomber' improvised bridge over a drop, the above mentioned bridge being made from railway tracks over a 30ft drop to the below level. Rob stepped across first as he was the fattest. Surely if it took his weight it'd just about take mine and for sure take Luke's 9 stone WET frame. He made it across and giggled with excitement. I headed across next - no big deal. Just as I was about to turn around and make a joke about Luke collapsing the whole thing I heard the floor rumble away and Luke halfway across the bridge of death fearing for his life! I'm pretty sure I saw his life flash in front of his eyes! I managed to jump back and quickly grab Luke and save him from certain death. He would have been dead for sure! - Luke you owe me your life. FYI.
OK... now we had a problem as we now had no bridge and a rather long sketchy traverse. This we could worry about later. We continued on to another collapse which Rob said we could jump. Rob must've been off his tits or the floor must have collapsed since he was last here as there was no way in Hell we'd be able to jump across this massively hole! We turned around and had a look down under to where we had knocked the bridge. The lower level ended in a collapse but had a cool little tool room off to one side which was well worth the look. 
We headed back up and thought about how to cross over the now, huge gaping hole! Rob plucked up the courage and did a midget traverse over the hole, I followed and we both watched Luke with caution, bless him, he's not been caving that long.
We had a look up one more level where Rob did a ridiculous free climb up to a blind level and almost died but less on that.
We now headed back towards the entrance of Doom and the Wet West where we had two more leads to inspect. The first one was at the top of the Ladder of Doom where the original breakthrough took place. Basically instead of bearing left, you hung a right. I was the first one up and FUCK ME!!! the draught was MAD! this was definitely The strongest draught I have felt in a cave in Derbyshire that wasn't the entrance. I could hear the draught flying past me and here were 180ft below the surface and miles away from any entrance. A flat out crawl led to an open air-space and a hole in the floor which marks the dig. This was certainly the place to be and doesn't feel miles away from home.
After getting a smidge cold waiting for Rob to have his fettle we then trundled up the Wet West towards a dig that him and Dan had inspected years since and which is also not on the survey. After a constricted flat out crawl through water, a climb up on the left leads through boulders and mud to a crawl with a large slab blocking the way on. This was also heading in the same direction as the draughty dig and also carried an outward draught!
It was now getting to a turn around point so after climbing down Doom ladder we had our beer and final snacks and headed out towards the sough. Pretty uneventful exit from the mine except for the part where Luke saved my life from almost certain death (but that's another story)... We broke surface after 7hrs underground and made our way to The Moon for some rather expensive £4 pints.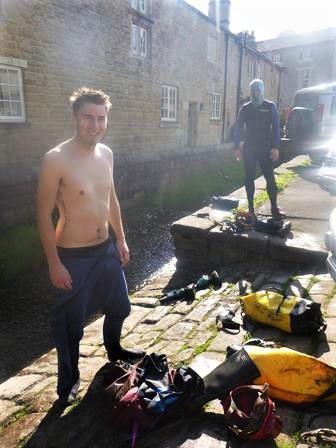 Luke and I getting naked
After my lift home never arrived I had to jog 10 miles back home in my Vans and short shorts which was fucking Awesome!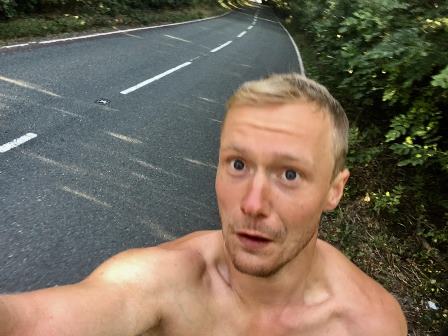 Me jogging back up the Froggatt road
Great trip, with great prospects!
Team Awesome for the win!