Team: RobE, RobM, JonP, BenS
This was my second trip with the Eldon crew and as per tradition we met at the Miners for a pre-cave drink. Rob was a bit worried about Loper Lust being sumped based on the previous weeks water levels, but he reassured us he had numerous other back up plans.
As we approached the entrance to Cussey you could see the strong draft billowing at the trees and I felt the thermal top under my furry was going to be a good choice. Last one in I shut the hatch and slipped down the rope. The boys clearly were happy with my abilities from last time as I got to the bottom of the pitch alone. I remembered the route and its intricacies well and quickly caught up with Jon after posting myself down the vertical squeeze.
The four of us gathered at the bottom of Inglorious and ditched the SRT and headed for Loper Lust. Jon led the way in dubiously checking the water levels whilst holding his peli case up like a silver service waiter. The previous week's water had effectively turned Loper lust into a muddy slip and slide, and as it is a gently descending tube it was easy going. At the second steep bit Jon took some time eyeing up the water before ploughing through. I allowed myself to slide into the pool, turned my head side ways for the air space and promptly had a face full of water. My spare light lives on the side of my helmet and was pushing my face into the water. Drowning here would not do my chances of joining the club much so I unclipped and held the helmet out in front of me. Once that was off it was a pleasant albeit cold duck.
The going to the dig after this was fast and Jon and I sat for a while as the other two caught up. Rob appeared to be carrying a dairy milk chocolate bar, which actually turned out to be his phone that did not enjoy the submerging as much as we had. 1 press of the screen and about 7 million functions started occurring.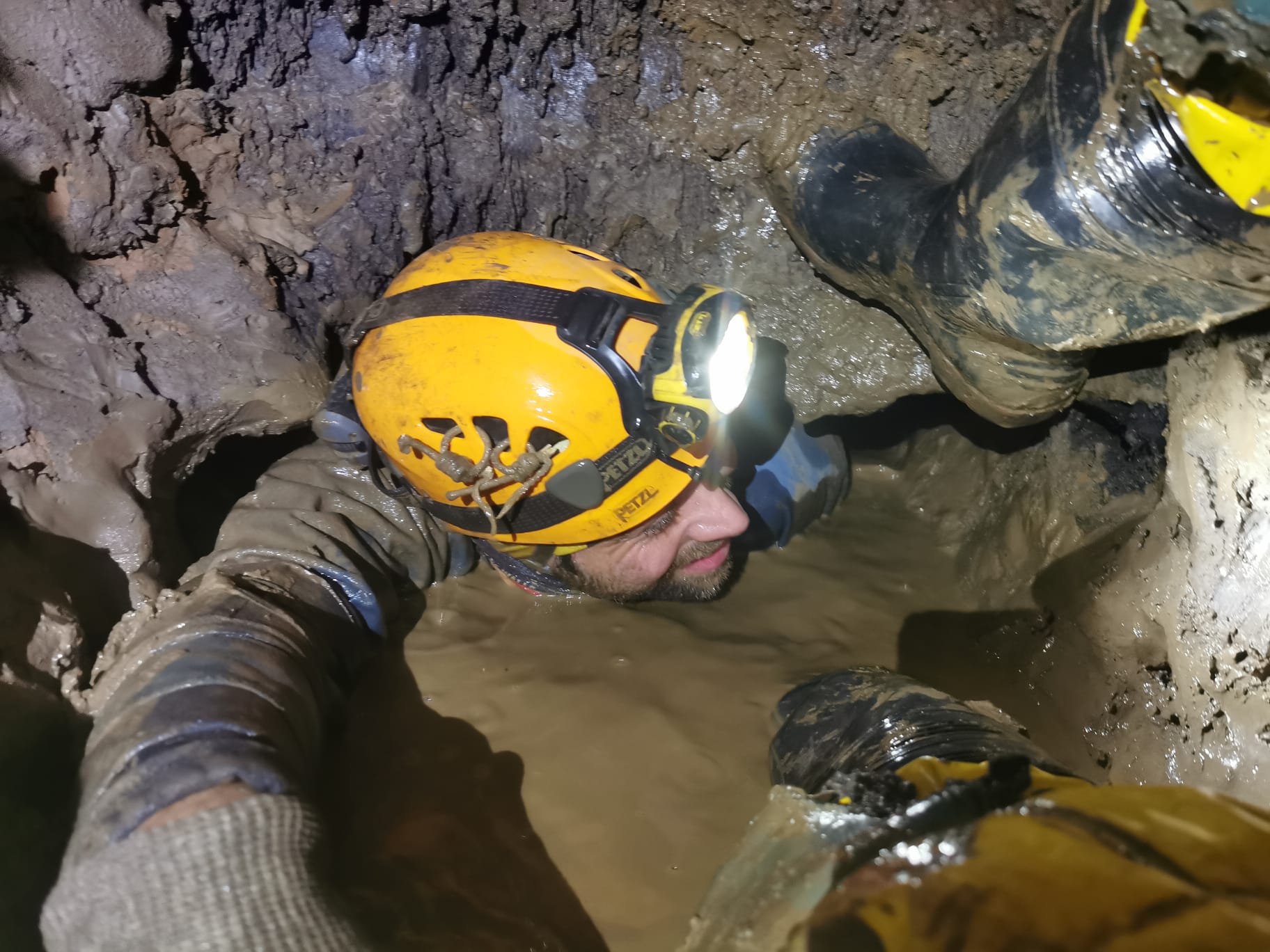 RobM coming through the wettest bit of Loper Lust, by RobE
We agreed on the same hauling system as before, so Rob headed into the dig first with me taking up the position in the cross rift, Jon on the corner and RobM at the back. I made a seat out of the spare dig tray to avoid being swallowed by the slop and began my job of hauling and switching trays.
After quite some time we switched positions to let Rob (Middleton) have a go at the dig face. I took up Jon's position, which I must say, I was less of a fan of. It was an easier job which meant it was colder. Eventually we all got cold and decided to go and look around Doom. Good progress on the dig meant we all felt that it had been worthwhile.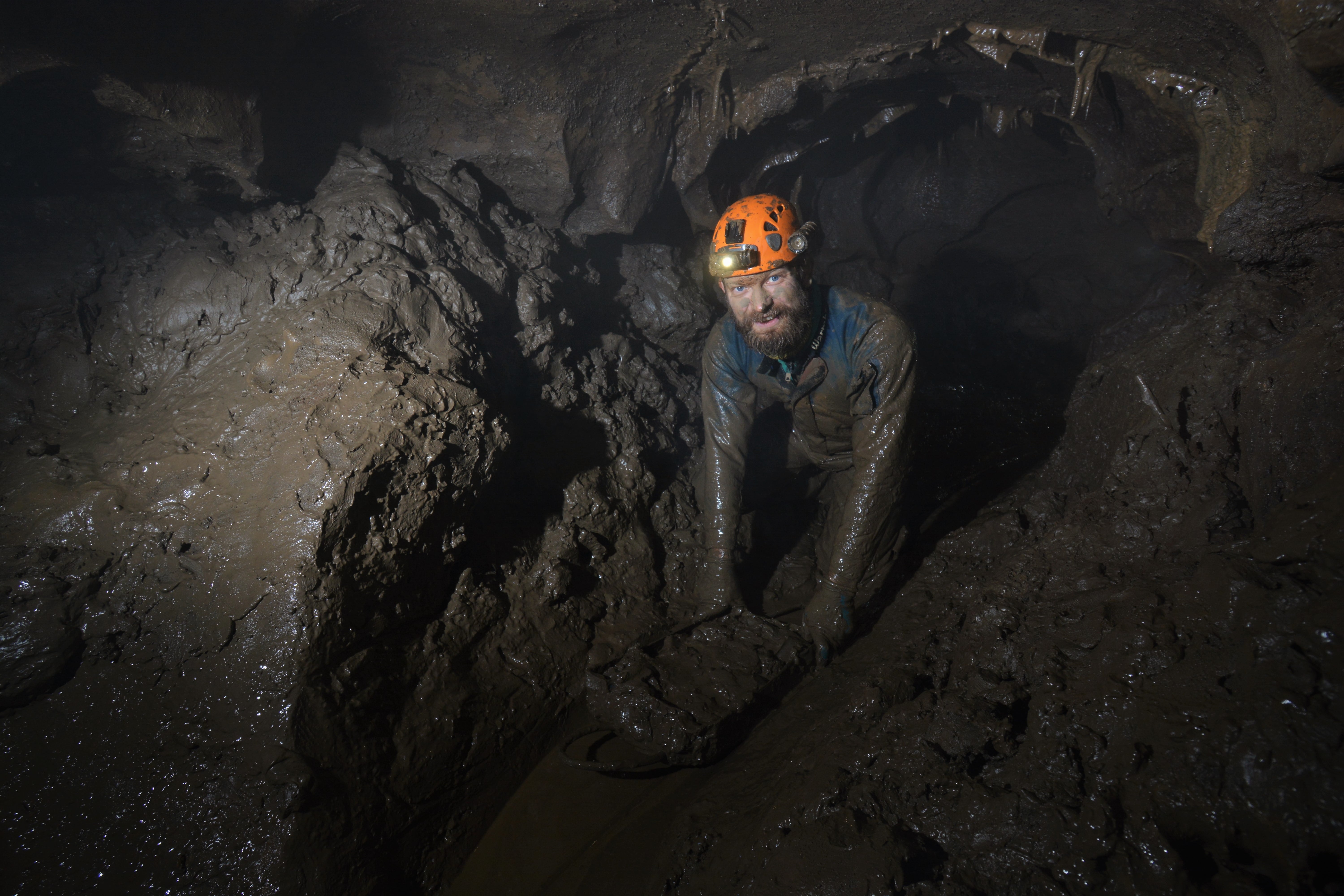 Ben shifting buckets in Vulgarious Bastard, by JonP
I was excited as I had not been into Doom before, RobM expressed interest to go and look at a sump that he intended to dive and so we dropped down the ladder and made our way into Doom. We had gone from flat out crawls to huge walking passage, the whole nature of this place is different, with old mining artifacts lying around. We climbed up a rope to be greeted with a big drop into blackness. "Yeah don't fall down there" Rob nonchalantly said as we traversed higher into the mine.
The entrance to Elastic Passage is interesting as it is a letterbox slot next to a waterfall above stacked deads so I was careful about my footing as I climbed into the slot. Rob and Rob leading the way up the streamway it was a mixture of hands and knees and flat out crawling. Behind me I could hear Jon, "no chance am I carrying bottles for you Rob" he has a point, this would have been hard work dragging diving gear along. Eventually we got to the sump. Rob Eavis decided to let Rob Middleton have a look first so that he didn't silt it up as Jon and I headed back to get some photos.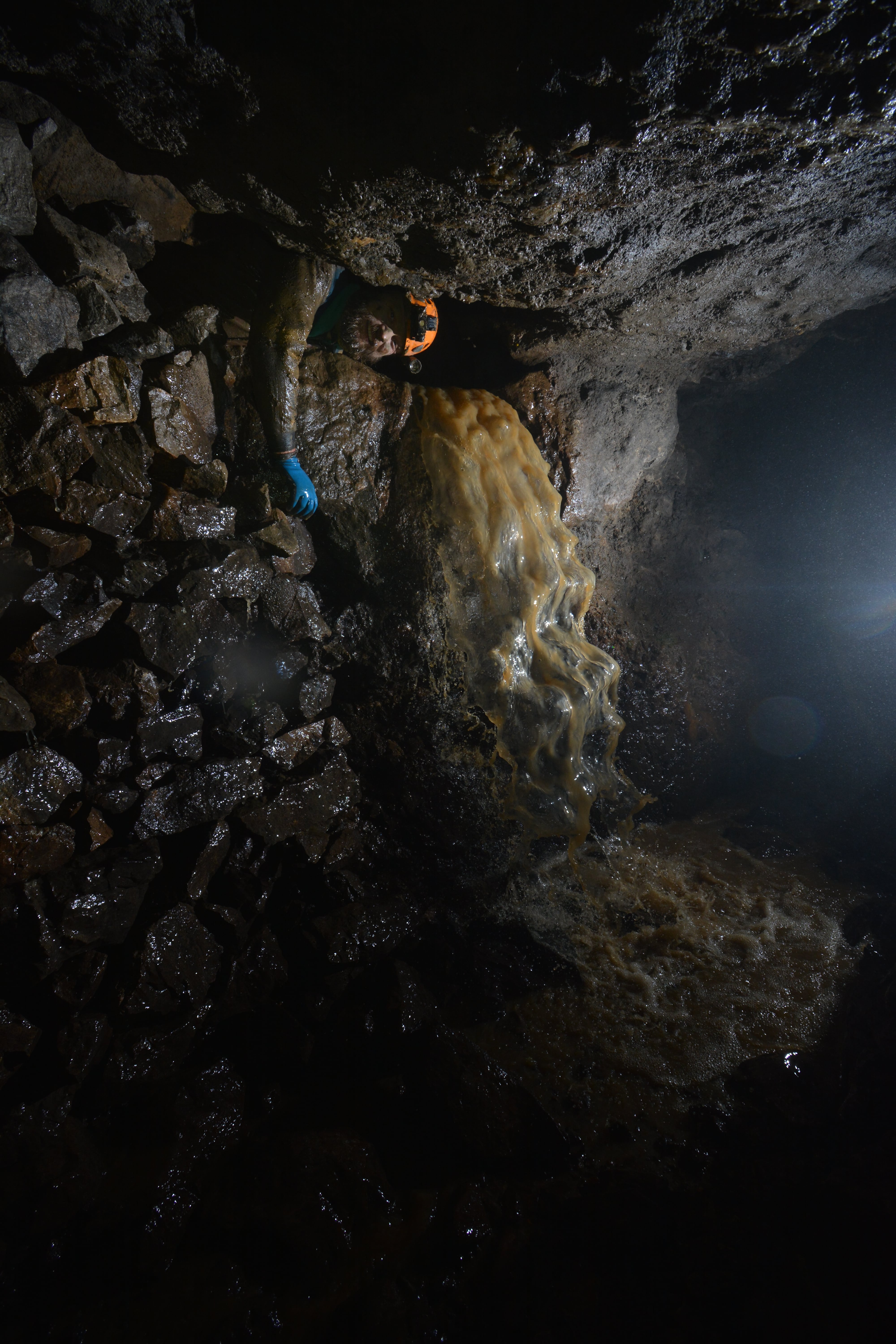 Ben at the start of Elastic Passage, by JonP
Eventually the Robs returned. "what do you reckon then Rob?" I asked. "Yeah I'm not diving that" came the very unimpressed reply. That's that then. However there are plenty of more leads to explore which I am looking forward to.
The good thing about Cussey is that no matter how cold you get, you will warm up on the way out. The ducks through Loper Lust did a good job at cleaning some of the slop off of my over suit, but I was still absolutely caked. (some people pay a lot of money for a mud bath so I wasn't complaining)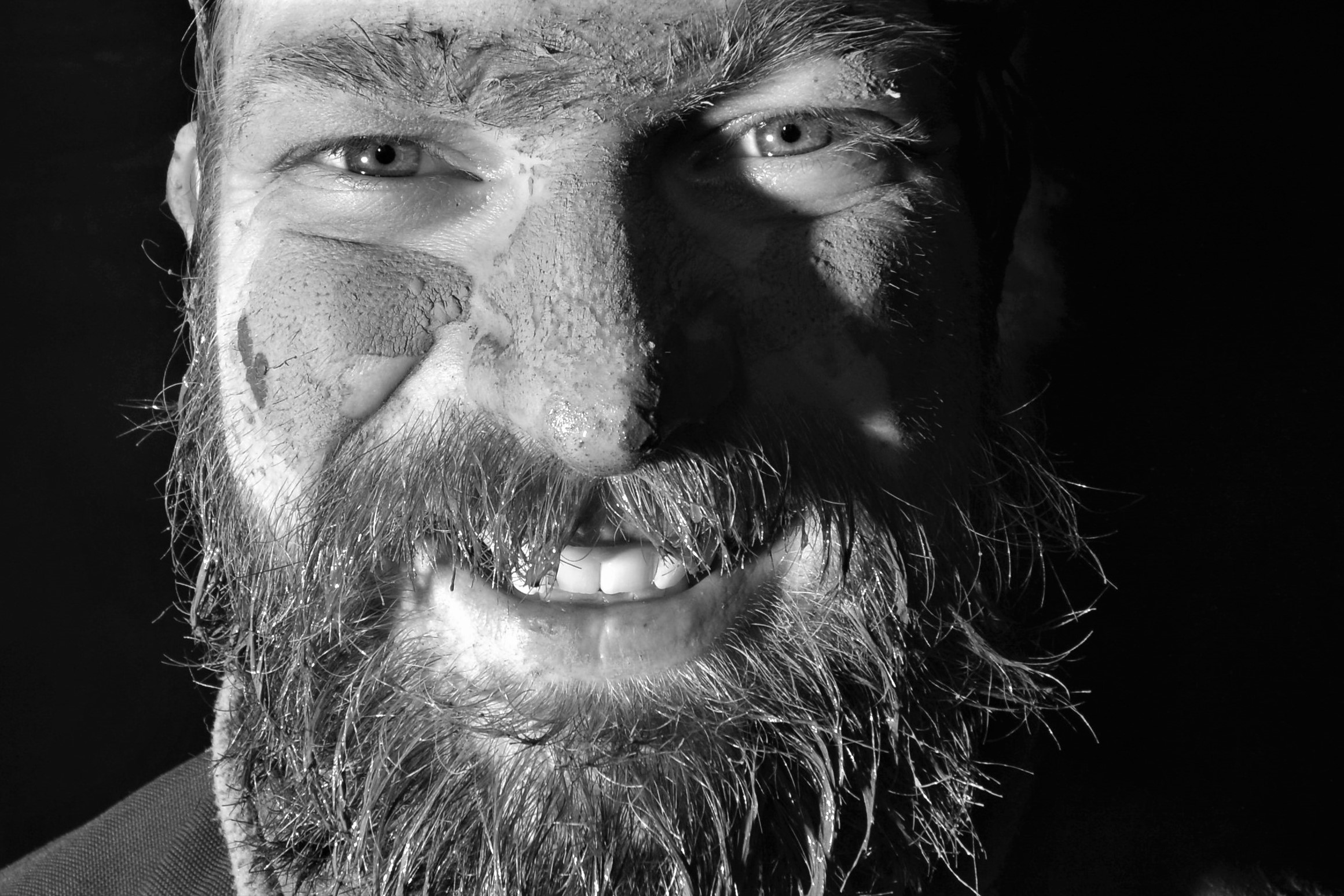 Happy Ben, by JonP
One thing I learned last time, is never stand anywhere near the bottom of the Inglorious pitch whilst someone is on the rope, this includes the hand line. Standing well back with Jon, a large rock came flying down and hit with a loud crack. "You're next" Jon said laughing.
The pitch following Inglorious is just plain awkward being in a narrow rift. Last time I prussicked like a frog but it was really hard work. This time I clipped my chest jammer on and climbed up as there are plenty of holds and was a really fun climb and much easier than silly prussicking.
The feature that I struggled with most last time was the vertical squeeze. Now I am good at squeezes, but with gear on I was getting trapped with my chest jammer or cowstails. This time I pushed myself as hard left as I could possibly go and managed to thrutch my way through. I was crying inside as I could hear all of my gear scrapping against the rock. (note to self, take the time to take the chest jammer off before ascending next time)
The final obstacle is the stemple climb in a tight rift (Coconut Airways). I still havent quite got the right technique right here because on reaching the second stemple I feel like I am missing foot holds. Lots of thrutching, wriggling and squeezing was working. I stopped for a breather and could hear my heart beat in the rift. Finally I managed a one arm muscle up to get my left foot jammed enough for some purchase and eventually freed myself.
The final pitch is effectively a steep slap with a back wall, so I clipped on the chest jammer and did my best Jonny Dawes impression to get out and avoid another prussick. Eventually my head popped out of the entrance shaft into the night.
Everyone was cold to the core, so we all piled into my van, I had set the heater to 24 degrees before we went underground, so we sat in beautiful warmth with post session drinks and Christmas cake. The conclusion to a fantastic trip.