All systems go on tonights trip featuring a full roster of Team Awesome; Rob, Luke, Jeff & Myself. We got the band back together for one night only.
After a quick pre-beer in the car we agreed on the trip, Rob and Luke were to finish the bolt climb up the Engine Shaft whilst Jeff and I were to head down into the Hobgoblins Hideaway to cap our way down into the enticing looking void below. Jeff and I went underground first whilst Rob and Luke checked out the Rake on surface with enough fresh snow covering to check for blow holes (nothing to report). We had to make sure we wouldn't kill each other whilst we ascended the Engine Shaft after our trip down below whilst Rob and Luke minced about upstairs some 50m above us. Anything that would be dislodged would most definitely end up at the bottom of the shaft almost certainly killing us below!
We made our way to The Hobgoblins Hideaway without mishap picking up the crowbar and lump hammer en-route. Once Jeff had caught up with his bag of tricks I made quick progress in removing some stacked deads on the floor giving us a bit more room to literally swing a hammer. Jeff took over from this point and started drilling some short holes so we could remove some on the east wall to enable us enough room to fit through. After a few very loud bangs with zero ear protection Jeff felt he had moved enough rock for it to be human sized. After passing me the gear back out from the constricted space We tied the rope on and Jeff slowly made his way below into the deepest known point of the mine. It seemed very un-nerving as Jeff "ummmed & Arrrrred" is way down through the constricted body sized hole. He came back out and decided to put his descender on his short cows-tail giving him just enough room to get comfortably through.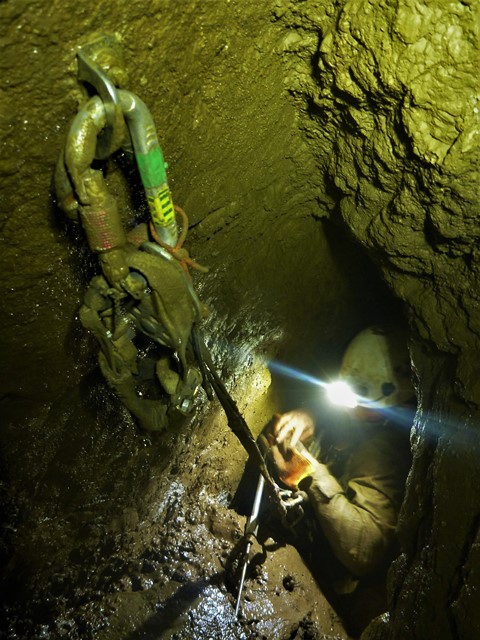 Jeff above the constriction in the Hobgoblins Hideaway (JRP)
Once down, the "ummmming & Arrrring" continued as the air was quite sour, still filled with fumes it looked pretty much like a white out down there! Jeff continued to inspect the area progressing east to a void above in deads but no way forward. West headed back in a pool of water to a very low level continuation with only 10cm of airspace. On closer inspection whilst trying to avoid taking a plunge this also seemed to reach a collapse after a few metres. Maybe worth another inspection in summer when the water levels are lower.
After Jeff had finally removed himself from the depths of the Hobgoblins Hideaway we retraced our steps back to the bottom of the Engine Shaft. It was getting late and we were close to not making the pub. I quickly ascended to a point where I made contact with Rob and Luke above, It's safe to say this made me ascend a lot quicker than I'd planned!. Once at the Y-hang and in a safe position to chill I sat and waited for everyone else to join me. 
Rob and Luke had climbed within 5m from the top of then Engine Shaft but with not much point in reaching the top just surveyed up to it and headed back down, surveying en-route. This leaves the 2 Westward high level leads still to look at and the bottom east choke which'll make for one more trip until we gain proper access to attack the Natural West Choke.
& we managed to make the pub - Bonza!